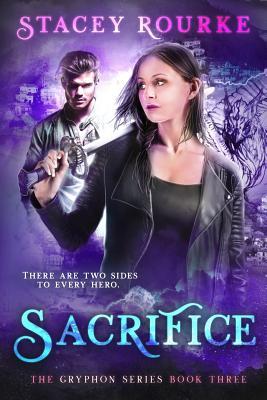 Sacrifice
by
Stacey Rourke
Series:
Gryphon #3
Published by
Anchor Group
on November 14, 2012
Pages:
222
Format:
eBook
Source:
Purchased
Amazon Kindle
Goodreads

Celeste Garrett has finally found a happy balance in her life as the Chosen One, thanks in large part to a certain hunky Irishman. But if there's any lesson she should heed since receiving her calling it's that everything can change in the blink of an eye. Soon a terrible new threat, unlike anything she's ever encountered, causes her to make a gut-wrenching choice that will strip her of someone she holds dear.
As much as she'd like to have a pity party for one, there's no time for that now because wedding bells are ringing in Gainesboro! In between dress fittings and rehearsal dinners Celeste will have to fend off attacking demons and leering pirates. As if the Dark Army wasn't scary enough our heroine is faced with the horrifying trauma of attending a bachelorette party with her mom and watching Grams do Jello shots. Is a walk down the aisle even possible for a member of the Garrett family when the Dark Army is out to destroy them? More importantly, will the Dark Army Glee Club sing at the reception?
Raise your glass to the happy couple, and get ready for a wedding…Conduit-style.
My Review Continue reading →
I received a complimentary copy of the book from the Blog Tour Host in exchange for an honest review. This does not affect my opinion of the book or the content of my review.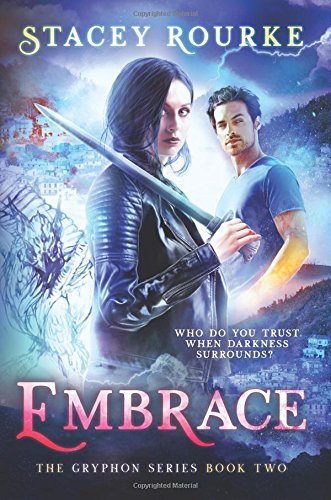 Embrace
by
Stacey Rourke
Series:
Gryphon #2
Published by
Anchor Group
on May 10, 2012
Pages:
184
Format:
eArc
Source:
Blog Tour Host
Amazon Kindle
|
Amazon Paperback
Goodreads

Whether she likes it or not, eighteen year old Celeste Garrett has come to terms with being the Chosen One. She knew having a "normal life" would be tricky, between intense training sessions and epic demonic battles, but she didn't know at what cost it would come. That is, until a dear friend is harmed by the malicious forces hunting her. Now, she'd like nothing more than to retreat into a hermit lifestyle to prevent anyone else from getting hurt. But startling revelations, amazing new abilities, and mortifying moments in front of insanely hot guys won't allow time for that. Soon, Celeste finds herself surrounded by darkness and wondering who she can trust-if anyone.