Review: 'Sacrifice' by Stacey Rourke
April 25, 2013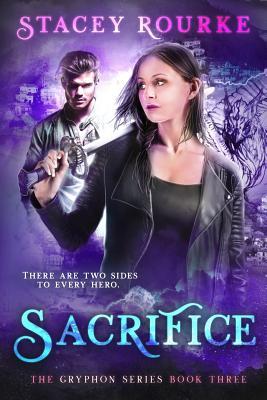 Sacrifice
by
Stacey Rourke
Series:
Gryphon #3
Published by
Anchor Group
on November 14, 2012
Genres:
Young Adult Fantasy
Format:
eBook
Source:
Purchased
Goodreads
Purchase at
Amazon

Celeste Garrett has finally found a happy balance in her life as the Chosen One, thanks in large part to a certain hunky Irishman. But if there's any lesson she should heed since receiving her calling it's that everything can change in the blink of an eye. Soon a terrible new threat, unlike anything she's ever encountered, causes her to make a gut-wrenching choice that will strip her of someone she holds dear.
As much as she'd like to have a pity party for one, there's no time for that now because wedding bells are ringing in Gainesboro! In between dress fittings and rehearsal dinners Celeste will have to fend off attacking demons and leering pirates. As if the Dark Army wasn't scary enough our heroine is faced with the horrifying trauma of attending a bachelorette party with her mom and watching Grams do Jello shots. Is a walk down the aisle even possible for a member of the Garrett family when the Dark Army is out to destroy them? More importantly, will the Dark Army Glee Club sing at the reception?
Raise your glass to the happy couple, and get ready for a wedding…Conduit-style.
My Review
I feel like it has been forever since the last time I read the second book in the Gryphon series. How I missed Celeste and her family, as well as several other characters who stole my heart from the first two books.
Stacey Rourke puts Celeste through a lot harder dilemmas this time. She's faced with choosing between sacrificing what is right to wrong and losing the one person she indeed will anything for and love. She also is forced to deal with new enemies and old enemies together. She finds out though that the one person she thinks hates her, really loves her and will do anything for her…until you break that person's heart again.
The third installment to the Gryphon series leaves you wanting more after you read the last sentence since of course, Stacey Rourke leaves you with a cliffhanger. There a lot of questions in this book that made me even in shock just like Celeste was. She had no clue who to trust, and I do not blame her one bit.
I enjoyed every minute of this book, but it broke my heart what Celeste had to do. =( I am hoping that she will be fixed in the fourth book. I did end up falling for Rowan a little more until of course, he showed his other side again. That demon has me confused. One minute I could give him a kiss and the other I could give him a swift kick in the butt.
One of the main attractions in the book was Alaina and Gabe's Wedding in the book that was spectacular, but they had to deal with some bumps in the road before they got their happily ever after. They had Celeste, Kendall, and Gabe (when he was not coping with wedding fiascos), Sophie, Big Mike, and a few others to help save the day. Even Rowan…but not always. Geez, I have no clue about him.
What had me in shock was one particular character coming forth to help Celeste when she did not even know she needed it.
Stacey Rourke has a way of bringing you in the story and feeling like you are with the characters along the ride and all you want for them is to defeat the demons that want them dead, especially, Celeste, the Conduit.
I give this book 4.5 moons and highly recommend it to young adult fantasy readers out there. Make sure if you have not read the first two books, The Conduit & Embrace, to read those first. Otherwise, you will be lost a bit on what has happened in the previous books.
I look forward to reading the fourth book, and hopefully, Celeste will have a little easier, but that's highly unlikely (poor chosen one and all) and let's hope that Rowan gets his act together (that's another unlikely one).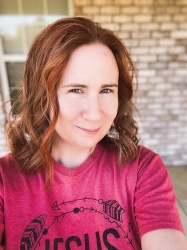 Latest posts by FranJessca
(see all)