Review: 'Embrace' by Stacey Rourke
November 15, 2012
I received a complimentary copy of the book from the blog tour host in exchange for an honest review. This does not affect my opinion of the book or the content of my review.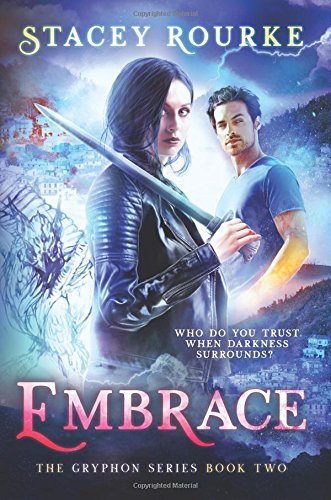 Embrace
by
Stacey Rourke
Series:
Gryphon #2
Published by
Anchor Group
on May 10, 2012
Genres:
Young Adult Paranormal
Format:
eArc
Goodreads
Purchase at
Amazon
|
Apple

Whether she likes it or not, eighteen year old Celeste Garrett has come to terms with being the Chosen One. She knew having a "normal life" would be tricky, between intense training sessions and epic demonic battles, but she didn't know at what cost it would come. That is, until a dear friend is harmed by the malicious forces hunting her. Now, she'd like nothing more than to retreat into a hermit lifestyle to prevent anyone else from getting hurt. But startling revelations, amazing new abilities, and mortifying moments in front of insanely hot guys won't allow time for that. Soon, Celeste finds herself surrounded by darkness and wondering who she can trust-if anyone.
My Review
Excuse me while I contemplate how I'm going to get over the ending of "Embrace" and write this review.  Stacey Rourke left me hanging again.  I love cliffhangers, but the ending of "Embrace" was just mind-boggling for me since I want to know who that is that made Celeste scream.  Ahhh!!!
The torture of waiting since I will not be able to read the third book until I am done with the other review books that I need to read, and I will be finding out though….very soon!
Celeste and her siblings are back, and they are still dealing with the darkness.  At the ending of "The Conduit" Celeste found out some disturbing news about one her friends who she was about to pour her heart out too…instead, she had to break up their friendship.
Now Celeste is determined more than ever to kill who is out there to get her.  She is the chosen one, and she has to keep her self from being killed.  Still being hunted but now from a new enemy that is hiding in the dark.
Celeste ends up quitting school, causing a ruckus at home with her siblings and even gets herself in danger several times where she has found a way out without her siblings.  Celeste has decided to focus on her job at the cafe and focus on her training sessions with her guide and her siblings.
She never imagined a guy would come into her life so soon after Alec…and she also never imagined a second guy who appeared out of thin air, warning her about the new enemy.
Now she has two guys that she cannot keep out her head well three if you count worrying about Alec still.
But can she trust the guys that meet and whatever happened to Alec.
Well, Celeste will find out in "Embrace," and she will have to decide what has to do after she sees him for the first time in months.
She also has to decide if she trusts the guy who keeps telling her about her enemy and even believes the gang of demons who say they are sent to kill her but cannot.  Instead, they want to be her ally.
What is she supposed to do she's keeping her new demon friends a secret from her brother and sister, and she's also keeping another secret from them.
Does she trust her new friends or trust what she's destined to do?
First off, let me say, "Embrace" was very hard to put down the book.  Every time I had to step away from the book to take care of something around the house, I would find myself itching to get back to reading "Embrace."
Celeste had so many inner and outer demons to work out in this book, and I felt terrible for her.  There were several times I wanted to slap her brother and sister for her, for being so cold towards their sister.  I also wanted to hit Celeste around sometimes too because she could not judge who was the bad guy and who was the right guy.  She also tended not to think, but act too quickly.  She should have told her brother and sister from the beginning on what was happening around her.
So many new characters were introduced in this book and may I say I cannot choose who I love more now…Caleb or Rowan (you'll have to find out about them by reading the book) and I still have mixed feelings for Alec after this book.  What the heck is wrong with him and WHY?!!
Stacey Rourke kept me on the edge of my seat in this book and this by far is the best book probably until I read the next one.  I just loved the action in this one and of course the secrets that came out.  (Mainly about Gabe and his new love interest LOL)  Poor Celeste…had no clue.
I recommend this book to anyone who loves reading young adult and loves a little bit of paranormal and fantasy.  You'll enjoy the Garrett siblings even more in "Embrace."  You'll also fall in love with some of the male characters.  *sigh*
Oh…just remember Stacey will leave you hanging at the end of the book.  At least I know "Sacrifice" released on Smashwords, and I can go buy it and read when I have a chance after I am done reading other books.  It's going to take a miracle to hold me back from reading it though.  I need to know what is going to happen next.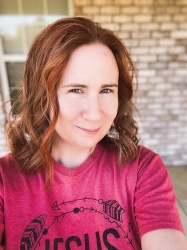 Latest posts by FranJessca
(see all)