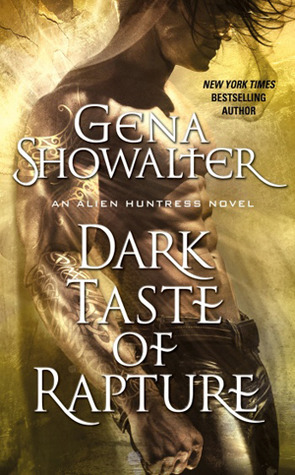 Dark Taste of Rapture
by
Gena Showalter
Series:
Alien Huntress #6
Published by
Pocket Star Books
on August 23, 2011
Genres:
Paranormal Romance
Pages:
451
Format:
Paperback
Source:
Purchased
Amazon Kindle
|
Amazon Paperback
Goodreads

Also see: Alternate Cover Editions for this ISBN [ACE]
ACE #1

New York Times bestselling author Gena Showalter captivates with a dark, tantalizing world of humans, otherworlders, and a powerful AIR agent consumed by his desire for a woman he can never have. . . .
With one caress, he can give unforgettable pleasure . . . or unending pain. . . .
Hector Dean is shaved, tattooed, and totally ripped—and he has a deadly secret. He is a walking weapon, capable of killing with a single brush of his fingertips. Little wonder he's determined to remain on his own. But Noelle Tremain is a temptation like no other. She is beautiful and rich, with a party girl smile that hides a shocking vulnerability, and from the beginning his sizzling attraction to her is undeniable. For the first time, his stone-cold resistance is tested. But to be with her, he risks destroying her.
When a wealthy businessman is murdered in New Chicago's seediest district, the two are partnered, and there's no escaping what they both want: each other. Yet neither Hector nor Noelle knows what to fear more—the killer case, or their own lethal desires. . . .
My Review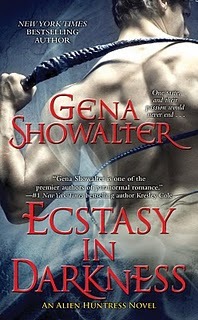 Ecstasy in Darkness
by
Gena Showalter
Series:
Alien Huntress #5
Published by
Pocket Star
on October 26th 2010
Genres:
Paranormal Romance
Pages:
502
Format:
Paperback
Source:
Purchased
Amazon Kindle
|
Amazon Paperback
Goodreads

Growing up poor on New Chicago's meanest streets, Ava Sans had two options: be the predator or be the prey. No contest. Now, working for Alien Investigation and Removal, she's been ordered to capture the biggest, baddest warrior of all—a vampire too beautiful to be real, with the ability to manipulate time. Once the leader of the entire vampire army, McKell has been deemed savage and unstable, spurned even by his own kind.
To McKell, humans should be nothing more than sustenance. Yet the petite, golden-skinned Ava is a fascinating contradiction—vicious yet witty, strong yet vulnerable, lethal but fiercely loyal. Against his better judgment, McKell craves that loyalty, and much more. When the chase leads to seduction, McKell and Ava will race to discover the truth about his past. But the answers will come at a price, even for a woman who thought she had nothing left to lose. . . .
My Review