Review: 'Dark Taste of Rapture' by Gena Showalter
August 27, 2011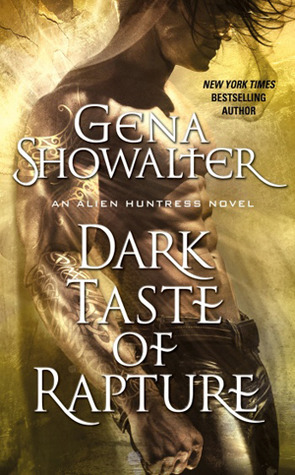 Dark Taste of Rapture
by
Gena Showalter
Series:
Alien Huntress #6
Published by
Pocket Star Books
on August 23, 2011
Genres:
Paranormal Romance
Format:
Paperback
Source:
Purchased
Goodreads
Purchase at
Amazon

Also see: Alternate Cover Editions for this ISBN [ACE]
ACE #1

New York Times bestselling author Gena Showalter captivates with a dark, tantalizing world of humans, otherworlders, and a powerful AIR agent consumed by his desire for a woman he can never have. . . .
With one caress, he can give unforgettable pleasure . . . or unending pain. . . .
Hector Dean is shaved, tattooed, and totally ripped—and he has a deadly secret. He is a walking weapon, capable of killing with a single brush of his fingertips. Little wonder he's determined to remain on his own. But Noelle Tremain is a temptation like no other. She is beautiful and rich, with a party girl smile that hides a shocking vulnerability, and from the beginning his sizzling attraction to her is undeniable. For the first time, his stone-cold resistance is tested. But to be with her, he risks destroying her.
When a wealthy businessman is murdered in New Chicago's seediest district, the two are partnered, and there's no escaping what they both want: each other. Yet neither Hector nor Noelle knows what to fear more—the killer case, or their own lethal desires. . . .
---
(Originally Reviewed on Mrs. Papillion aka "The Book Worm")
My thoughts on this book: Yummy, HOTT, Sexy, Unbelievably entertaining, and funny!!Noelle…one of my favorite female characters now in the series because of her quirkiness, her innocence at times that she loved to play, her creativity, and her fighting skills were AH-Mazing!
My favorite part in the book was when she knocked out Hector. You have to read the book to find out how she did it because usually, Hector can't be a beaten…but boy did he get his ass handed to him with Noelle.
Hector…I would describe him as a tough sex god who I love to have. Yum!! He's lethal though. He can burn you, or even burn your house down. He's perfect for Noelle.
Since the first moment he meets Noelle in AIR Training camp with her best friend, Ava, he is fixated on her, and she is with him. They can't deny it from the beginning to the end of the book. All I can say is Hector met his match when he met Noelle.
I love the storyline in this book too because Noelle and Hector end up being partners to solve missing girls crime…which ends up being human trafficking. While trying to solve the case, Hector tries everything to forget about Noelle, but it's kind of hard when she's all he can think about in his life.
I won't go into it anymore…because I don't want to give it away. I look forward to Gena Showalter's next book in the series…because this book left you wondering what's going to happen next and who will get their book. I hope it's Dallas. That man has been in every book and hasn't reached his storyline.
I loved having the other characters comes in this book. I especially love Devyn!! Yummy!!!
If you haven't read this series why haven't you? This is one series I recommend to anyone who loves otherworlders, fighting, sex scenes and characters you will fall in love within this story.

This post contains affiliate links you can use to purchase the book. If you buy the book using that link, I will receive a small commission from the sale. It will help sponsor future giveaways but costs you nothing extra. You can read the full disclosure underneath the Privacy Policy.
---
---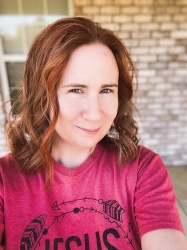 Latest posts by FranJessca
(see all)