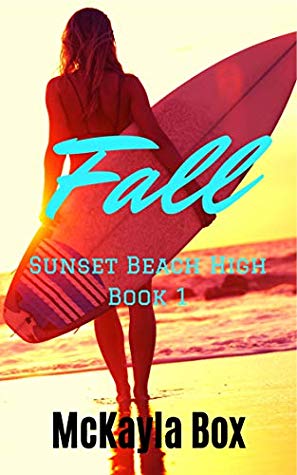 Fall
by
McKayla Box
Series:
Sunset Beach High #1
Published by
Self-Published
on July 30, 2019
Pages:
214
Format:
eBook
Source:
Kindle Unlimited
Amazon Kindle
Goodreads

It's not happening again.
It's the first day of my senior year.
Which should be awesome.
Except I'm in a new town.
At a new school.
And that makes me the new girl.
Which is not awesome at all.
And the guy everyone is telling me to stay away from? The one who rules the school, the one who has mountains of money, the one who is drop dead gorgeous, and the one who does whatever he wants?
He's already made me a target, thinking he can pull the new girl into his world by sheer force.
And that's going to be a problem for him.
Because I've been a target before.
And it's not happening again.
WARNING: Fall is the first book in the Sunset Beach High series. It contains mature themes, sexual content, and profanity. If you're not a fan of those things, this isn't the book for you. But if you like serious stuff mixed with lots of bad words and some sweaty sex, THIS IS THE BOOK FOR YOU. It is the first in a four book series.