ARC Review: 'From The Grave' by Kresley Cole
April 18, 2023
I received a complimentary copy of the book from the author in exchange for an honest review. This does not affect my opinion of the book or the content of my review.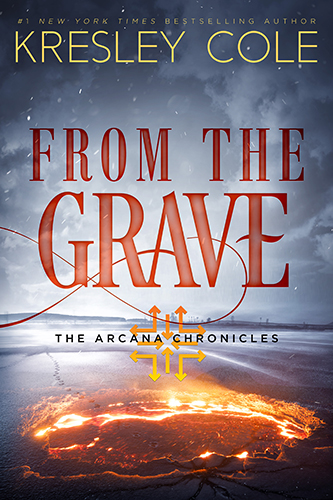 From the Grave
by
Kresley Cole
Series:
The Arcana Chronicles #6
Published by
Valkyrie Press
on April 18, 2023
Genres:
Young Adult Dystopian
,
Young Adult Fantasy
Format:
eArc
Source:
the author
Goodreads
Purchase at
Amazon
|
Barnes & Noble
|
Kobo

Kresley Cole's New York Times bestselling Arcana Chronicles series comes to a spectacular and fiery conclusion in this final installment.
When even the gods hold their breath . . .
To defeat the Emperor and Fortune, Evie, the great Empress of Arcana, must repair her bond with Death, despite the earth-shattering developments between them.
And danger lurks in every shadow . . .
Their allies—a sea witch, a band of roving warriors, and more than a couple of rogues—overcome terrifying obstacles to help them. But when Jack makes a shocking discovery, the fallout threatens to tear their alliance apart.
One girl could deliver salvation—or doom.
If the Empress and her friends can remain united, will their powers be enough to defeat a catastrophic curse on the world, or will hellfire reign forever? The end looms for us all until the best hand wins. . . .
---
It's been five years since the release of The Dark Calling by Kresley Cole. I know readers have been patient and anxious like myself to read the conclusion to the Arcana Chronicles, especially after The Dark Calling's ending. I'm here to say the wait was worth it. Every dang page of From the Grave was worth every second of me not getting anything done during the day because I had to know what happened next.
Storyline/My Thoughts: Kresley Cole gave us every answer we have wanted since book one regarding this series and more. She knew what she was doing when she wrote this series—hints here and there throughout the books, leading up to the epic conclusion. The woman is a mastermind when it comes to writing stories. I already knew this by reading her IAD series and even more now with the Arcana Chronicles series.
I can't stop thinking about everything that happened in From the Grave. My heart hurt reading it because I knew it was the last book, and I would miss all these characters—not just Evie, Jack, and Death. This book will be challenging because the characters will have one final battle, and it's not easy. These characters went through a lot leading up to the ending. I highly recommend a box of tissues, chocolate (or your choice of snack), and a drink of your choice (I had wine).
There will be violence, death, heartache, and so much crying, but don't let that scare you because there are sweet, tender, and funny moments. Thinking about certain scenes still makes me bawl my eyes out. This book is my favorite in the series, and I've already deemed this series my favorite YA Dystopian. Hollywood, take note because this is the book series you need to make into a movie.
I give this book five stars, and I can't wait to share my love of this series with my girls. My oldest is reading romance/fantasy books now, and this will be my next recommendation to her.
Now onto what I put my husband through while I was reading this book and when I finished it.
Me: I'm starting my book. Don't disturb me, please.
Hubby: Okay. (He knew how much this book meant to me and checked on me several times while reading.)
(Five hours later, according to my Bookly app.)
Me: I finished it. (I'm smiling, and tears roll down my face when I tell my husband.)
Hubby: Are you okay?
Me: I think so. No, scratch that, I'm not. I'm going to miss them.
Hubby: Who?
Me: The characters.
Hubby: Okay, honey. But they're fictional.
Me: They're not just fictional—their family. What they went through? I can't get over that ending.—that friggin' ending. I love Kresley, even if she put me through so much, while reading this book. If she were in front of me right now, I would cry and hug her.
Hubby: (He's listening intently but is confused by my reactions because he hasn't read the series.)
The next day.
Hubby: Are you still thinking about that book?
Me: (I'm crying randomly and staring straight ahead) Yes. (sniffles)
Hubby: Do you need a hug?
Me: Yes.
I'm so thankful to my husband for letting me read the book in peace without interruptions and also for giving me comfort afterward. I'm crying right now while typing this review.
Standalone or Part of Series: It's the last book in the Arcana Chronicles series and I highly recommend reading these books in order.
Would I recommend this book? Yes. If you have not read this series, I highly recommend it to readers that enjoy YA Dystopian/Fantasy books. I won't compare it to other books/series out there because it's not like any other series. It's in its own league and deserves ALL the hype to it! ♥️

This post contains affiliate links you can use to purchase the book. If you buy the book using that link, I will receive a small commission from the sale. It will help sponsor future giveaways but costs you nothing extra. You can read the full disclosure underneath the Privacy Policy.
---
---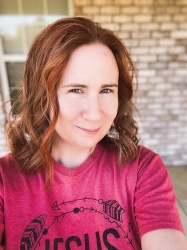 Latest posts by FranJessca
(see all)