Review: 'Archangel's Shadows' by Nalini Singh
April 13, 2020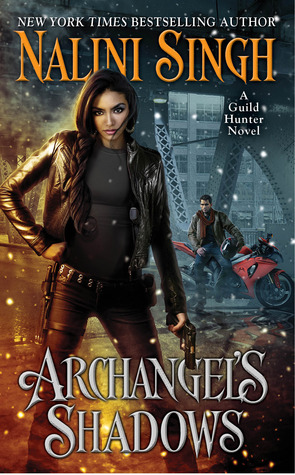 Archangel's Shadows
by
Nalini Singh
Series:
Guild Hunter #7
Published by
Berkley Sensation
on October 28, 2014
Genres:
Paranormal Romance
Format:
Paperback
,
AudioBook
Source:
Purchased
Goodreads
Purchase at
Amazon
|
Barnes & Noble

Return to New York Times bestselling author Nalini Singh's sensual and painfully beautiful Guild Hunter world in her new novel of sacrifice, loyalty, and the choices of love that can shatter the heart.
In the wake of a brutal war, the archangel Raphael and his hunter consort, Elena, are dealing with the treacherously shifting tides of archangelic politics and the people of a battered but not broken city. The last thing their city needs is more death, especially a death that bears the eerie signature of an insane enemy archangel who cannot—should not—be walking the streets.
This hunt must be undertaken with stealth and without alerting their people. It must be handled by those who can become shadows themselves…
Ash is a gifted tracker and a woman cursed with the ability to sense the secrets of anyone she touches. But there's one man she knows all too well without a single instant of skin contact: Janvier, the dangerously sexy Cajun vampire who has fascinated and infuriated her for years. Now, as they track down a merciless killer, their cat-and-mouse game of flirtation and provocation has turned into a profound one of the heart. And this time, it is Ash's secret, dark and terrible, that threatens to destroy them both.
---
I love the Guild Hunter series and can't wait to be caught up with this series soon finally. I need to catch up since the next book comes out at the end of this year (2020). I'm enjoying this series, and I love how Nalini Singh has each book follow along in the story. Not every book has the same main characters, but the first three books in this series have Elena and Raphael as the main characters.
In the seventh book, though, readers will be ecstatic to find out its finally Janvier and Ashwini's story. I have wanted their full story since I read their novella, Angel's Pawn.
These two characters at first had a hate/love relationship, until this book. I fell hard for the sweet-talking tough Cajun Vampire, Janvier. First off, he cares for the kick-butt Guild Hunter, Ashwini, even if she doesn't want him to care because of what may end up happening to her later on in life. Second off, he's always there to help with her missions and vice-versa. They are inseparable, and everyone knows it. Finally, Janvier is one sexy Vampire, and he knows it.
Ashwini is one of my favorite Guild Hunters because she's a gifted tracker and can sense secrets, once she touches someone. Unfortunately, she considers it a curse because of what happened to one of her family members that have that same ability. Readers will get to find out more about Ashwini's past in this book, and it's a heartbreaking one story. Be prepared to have tissues on hand. I felt for Ashwini in this book and loved getting to know her as a whole.
In this book, Ashwini is tasked to find a killer who is leaving bodies in the city that just got over a brutal battle. (You'll need to read the previous book for that battle. It was an awful one.) Raphael's beloved city is still trying to recover from it, but it's up to Ashwini and Janvier to uncover who is behind the killings. This is when Ashwini and Janvier's connection with each other is going to grow more in this book. Janvier's unconditional love of Ashwini is all over in this book, and I wanted these two to be together. Ashwini kept pushing him away, though, but she has her reasons.
Nalini Singh does a fantastic job of writing this PNR with a good mixture of suspense, action, and fantasy elements. She has become a favorite author of mine since she has everything in her stories. Her books are addicting, and the characters are unforgettable. I wish this series would become a series on Netflix, Amazon Prime, or another similar streaming service.
I love how Nalini Singh has the other characters that have an appearance in this book, which include Elena, Raphael, Dimitri, Naasir, Bluebell, etc. are all in this story. This is one of many reasons why I love Nalini's writing style because she has every one of her characters in the storyline. One character that I'm curious to find out more bout Naasir after getting more of him in this book. There is something about him, and I'm happy to know that the next book in the series is his book.
Overall, this book gets 4.5-stars, and I highly recommend it to readers that love PNR and Urban Fantasy books/series. I do recommend reading these books in order because Nalini has each book connect to the next one in the series. Each book leads up to something bigger to come, and I can't wait to catch up.

This post contains affiliate links you can use to purchase the book. If you buy the book using that link, I will receive a small commission from the sale. It will help sponsor future giveaways but costs you nothing extra. You can read the full disclosure underneath the Privacy Policy.
---
---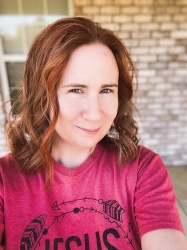 Latest posts by FranJessca
(see all)