Review: 'Beach Read' by Emily Henry
August 21, 2023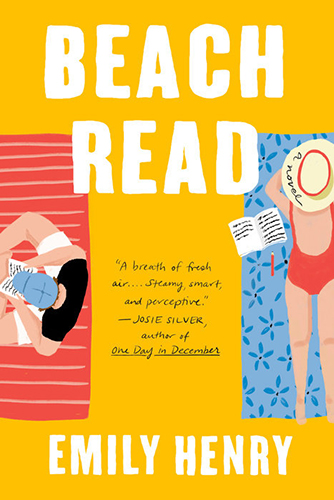 Beach Read
by
Emily Henry
Published by
Berkley
on May 19, 2020
Genres:
Contemporary Romance
Format:
AudioBook
,
eArc
Source:
Library
,
Netgalley
Goodreads
Purchase at
Amazon
|
Barnes & Noble
|
Kobo

A romance writer who no longer believes in love and a literary writer stuck in a rut engage in a summer-long challenge that may just upend everything they believe about happily ever afters.
Augustus Everett is an acclaimed author of literary fiction. January Andrews writes bestselling romance. When she pens a happily ever after, he kills off his entire cast.
They're polar opposites.
In fact, the only thing they have in common is that for the next three months, they're living in neighboring beach houses, broke, and bogged down with writer's block.
Until, one hazy evening, one thing leads to another and they strike a deal designed to force them out of their creative ruts: Augustus will spend the summer writing something happy, and January will pen the next Great American Novel. She'll take him on field trips worthy of any rom-com montage, and he'll take her to interview surviving members of a backwoods death cult (obviously). Everyone will finish a book and no-one will fall in love. Really.
---
I've seen Emily Henry's books around Instagram and Goodreads for the past few years, and I've meant to read them, so I finally took the plunge and read Beach Read. Here's the thing, I wanted to enjoy this book, especially since I borrowed the audiobook from my local library, but unfortunately, this book missed the mark for me. I would have DNF'd the book if it weren't for the narrator. She made the book bearable, but not enough for me to enjoy it completely.
The book is told solely in the FMC's POV, January Andrews, so we don't get to read the MMC's thoughts and feelings. January is a best-selling romance author who used to believe in happily ever afters until she found out her father had been cheating on her mother while her mother was battling cancer. I could understand why she didn't believe in HEAs anymore after finding out her father she respected and loved, was going behind her mother's back the whole time, living a double life with another woman while he was with his wife and daughters playing a good father in front of them. January finds herself inheriting the house after her father passes away, which happens to be the same house he used to bring the other woman to while January's mother was dealing with cancer. She doesn't want anything to do with her father and reading the letter(s) that he left for her, but she does use the house to live for a while, so she can hopefully get over the writer's block she's going through and write the novels that her agent/publisher require her to write.
She finds out quickly that the house she's living in temporarily has a neighbor experiencing writer's block, too, and they used to know each other in college. Augustus Everett is the MMC in the book, but we never get his POV, but we know he's a literary fiction author. We get to know him through the FMC, why they are enemies, why the MMC is grumpy, and what he's going through, but we don't know how he's feeling toward January without his POV.
Here's what drives me crazy lately regarding traditional publishing and how they promote books. They like to market the book to a subgenre, like with Beach Read, saying it's a Romantic Comedy/Contemporary Romance book, but it comes off as more of a Women's Fiction novel. Yes, the book has a HEA/HFN at the end, which puts it in the Romance genre, but the story was more depressing and dramatic than happy and humorous. It also had barely any romance, such as the steam/spice factor. I wouldn't even categorize the ending as a HEA, but a happy for now regarding the characters. (Yes, romance books have HFN, but this one felt off for me, and it's all due to the FMC's thinking about believing in HEA.)
I didn't connect with the characters when it came to believe they were forming an actual romance together. They had the Enemies to Lovers thing going briefly at the beginning, and then they agreed to help each other write their books, but instead of the genres they were used to writing, they would switch it up. Augustus would write a romance story, and January would write the genre he normally writes, and they would go on this journey of researching together. They eventually got out of their writer's block, but there was drama bound to happen between the two.
This book reminds me why I strayed from reading traditional publishing books a few years ago, and I started reading mainly independently published or small publishing houses. It also didn't help when they started making the covers cartoonish, and I was used to the clinch (model) covers. The clinch book covers drew me into reading romance books as a teenager, and I knew the books were romance and would give me that HEA that I was craving.
I'm proud of myself for trying an Emily Henry book, but unfortunately, I won't read another book by this author. I'm not the target audience for her books, so I'll leave her books to readers who have enjoyed her books and prefer these types of romance stories.

This post contains affiliate links you can use to purchase the book. If you buy the book using that link, I will receive a small commission from the sale. It will help sponsor future giveaways but costs you nothing extra. You can read the full disclosure underneath the Privacy Policy.
---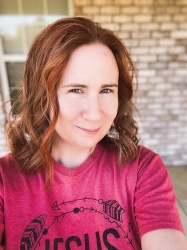 Latest posts by FranJessca
(see all)