Review: 'Flat-Out Sexy' by Erin McCarthy
December 18, 2011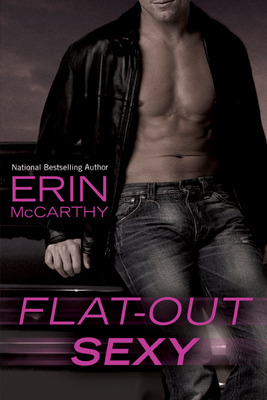 Flat-Out Sexy
by
Erin McCarthy
Series:
Fast Track #1
Published by
Berkley
on November 4th 2008
Genres:
Contemporary Romance
Format:
Paperback
Source:
Library
Goodreads
Purchase at
Amazon
|
Apple
Independent single mother Tamara Briggs wanted to find a new, sexy, no-strings-attached man--just not one as young as NASCAR driver Elec Monroe. But he sure does get her heart racing. And after she's tricked into a blind date with him, Tamara gives in to her passion. Things screech to a halt, though, when he asks to meet her children. Whatever happened to wham-bam-thank-you ma'am? Suddenly Tamara has to decide how much risk she's willing to take to experience the power of true love.
My Review
(Originally Reviewed on Mrs. Papillion aka "The Book Worm")
I chose to one day read from my TBR list from Goodreads.com.  I ran the numbers through random.org and ended up on "Flat-Out Sexy" as my pick to read.  So what did I do…I put a hold on the book at my local library and picked it up in a couple of days.  I was a little skeptical of reading it at first since it was my first contemporary romance on RaceCar Drivers. No Paranormal in this book which I'm a Paranormal addict if you know me well.  I'm slowly, but surely breaking off of Paranormal Romance though and branching out more and I'm so glad I did. "Flat-Out Sexy" had me out of my comfort zone in an amazing way.  I found out "Flat-Out Sexy" was more Erotica than anything.  The sex scenes had my heart stop several times.  Erin McCarthy writes a sex scene where you feel like your experiencing it.  Eek!!!  <~~By the way that's a good Eek!  =) First let me explain the characters, what I enjoyed about this book and why I'm picking up the next book at my local library. Tamara is a Widow of a Race Car Driver…she's a Mom of two beautiful kids.  She instead is single, then hooks up with a Race Car driver again since she lost her husband on the job.  She's trying the dating thing after two years after losing her husband, and she's not very good at it well that's what she thinks. The first guy she hooks up with, she has no chemistry.  Then she meets, Elec…a young race car driver who changes her world. You will learn that Tamara is very insecure about her age, her body, her looks, and her image while she's in public.  I feel terrible for Tamara throughout the book because of her insecurities.  She reminds me of myself sometimes.  I have a loving husband though that has helped me through my insecurities and Tamara finds a Man who helps her through hers too. Elec is one hot young rookie in the Racing Career.  He's just starting.  He's from a family of race car drivers.  You will find out his brother is a Race Car driver and their sister helps get them in the public eyes. When he meets Tamara, he falls head over in heels for her, and he wasn't even expecting it.  He thought it was just for lust. Tamara and Elec end up meeting secretly for sex that way Tamara isn't shunned from her In-laws.   Her Father-in-law has despised Elec's father for a while now, and Tamara never knew why so what do you think would happen if he found out she was hooked up with Elec? My thoughts on the character chemistry Elec is perfect for Tamara.  He may be younger than Tamara and have crazy ex-girlfriend's after him (you will find out if you read the book let's say I wanted to go through the book and slap the crap out of Crystal).  Friggin' Crazy-ASS!!!…but Elec makes Tamara realize what LOVE is again. What made me love him even more, is how well, he took to Tamara's kids.  The kids also adored him. I thoroughly enjoyed reading this book, and glad Random.org chose this book for me to read.  I don't think I would've ever read this book until a couple of years from now. I loved the ending also for Tamara and Elec and hope that the other books will peek more into their lives.
I'm looking forward to the next books now. It's about time I branch away from paranormal every once in a while.  I also love finding new authors who capture my attention.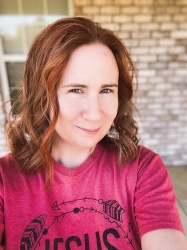 Latest posts by FranJessca
(see all)