Review: 'Savage Saint' by Luna Kayne
September 5, 2023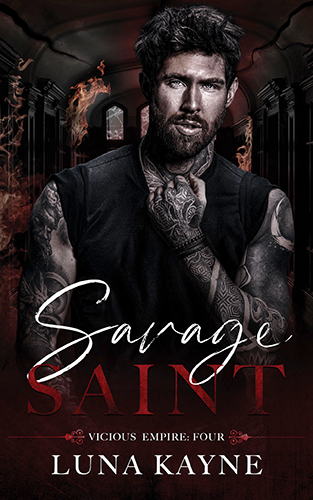 Savage Saint
by
Luna Kayne
Series:
Vicious Empire #4
Published by
Kayne Publishing
,
Self-Published
on November 11, 2022
Genres:
Romantic Suspense
Format:
AudioBook
,
eBook
Source:
Kindle Unlimited
,
Purchased
Goodreads
Purchase at
Amazon
|
Barnes & Noble

REGARDLESS OF OUR NAME, WE ARE NO SAINTS.LUCKILY, THE WOMEN WE LOVE ARE AS WICKED AS WE ARE.
LENNOX SAINTI am who I am for a reason.The monster the world sees when they look at me was born twenty years ago to protect my brothers from the same fate I endured on my sixteenth birthday.After that night, I locked myself away until the night I met Sloane.She was both forbidden and everything I've ever wanted all wrapped into one, but I wasn't the only one who loved her.In the end, she made her choice, and it wasn't me—or so I thought.Now that I know the truth, I'm taking my life back piece by piece, even if I have to carve it out of the flesh of anyone who stands in my way.Sloane is mine, and I will die on this hill—but not before everyone else dies first.
SLOANE PENNERI loved two men once.I made a choice, but the man I chose didn't choose me back—or so I thought.When a secret I didn't know I had comes to light, my life as I knew it ends in a flash.Now I'm a pawn in a game with no rules, and I refuse to play the part I've been handed. The only way to win is to be the queen, and I'm taking the throne to protect my son.I've lost too much, and I've had enough.I will burn this vicious empire to the ground, and from its ashes, I will rise.
* Savage Saint is the fourth and final book in the Vicious Empire dark romance family saga series.
---
Savage Saint is the fourth and final book in Luna Kayne's Vicious Empire series. I don't know why I waited so long to finish this series, but I finally made time, especially since Luna Kayne announced the series was leaving KU. Now that I've read the series, I plan on buying the series in paperback because this series definitely put me in a chokehold while reading it. The suspense and mystery behind what the Saint brothers and their loved ones have endured since book one had me on the edge of my seat. Not only that, but I needed to know the history behind Lennox and Sloane and why they were not together but seemed to have a history.
First, Lennox redeemed himself, and I liked his character more after discovering why he was the way he was in the series. He had a lot on his shoulders for being the oldest son of the Saint Empire. From the age of sixteen, he had to do unthinkable things for his father to prove himself and to protect his brothers from his father. His brothers never knew what Lennox had to endure for them, but he did it because he would rather it be him than his brothers. He also felt he wasn't good enough for someone like Sloane because she was his brother's friend, who was younger and innocent. He was drawn to her but didn't want to corrupt someone so young and innocent, even though Sloane was equally drawn to the older Saint brother.
I knew from book one that Sloane was not a female character you wanted to underestimate. She may have been protected from the beginning due to Ryder's obligation to keep her and her son safe, especially from his father, but in this book, she discovers truths that turn her world upside down. She has to take things into her own hands, and she'll do it without any of the Saint brothers helping her. I loved Sloane's courage and ability to handle what was thrown at her. She also understood what was happening would impact her son, and she would do anything to protect him. I felt her character and everything she was going through, particularly at the beginning of the book. She just wanted answers; the only way to do it was to handle it herself.
I knew Lennox's and Sloane's story wasn't going to be an easy one. But these two characters had history, and I needed answers on what happened to them and why they were not together. We get past details of how the two met, what prevented them from moving forward together, and why Sloane ended up with Grayson. It was emotional because both had to move on from one another, not realizing they had feelings for one another. Sloane would forever love two men; one had given her a child, and Lennox had to continue with his life by doing what his father wanted so Sloane could have a happier life without him.
Luna definitely threw in twists and turns in the last book in the series that I wasn't expecting. I was happy that the brothers got the revenge they deserved from the person who had ruined their lives since day one. However, the person who did take the villain out was the person who deserved to take this person out the most.
It's a great ending (for now) for the series because Luna may have hinted that this is not the end for the Saints, and I'm intrigued to find out if we will get follow-up stories from the brothers and their loved ones, especially Lennox and Sloane.
Overall, this was a steamy, suspenseful, action-packed ride of a series, and I look forward to reading more from this series and other books that Luna Kayne decides to write.
---
Story Rating: ⭐️ ⭐️ ⭐️ ⭐️ ⭐️
Steam/Spice: 🌶🌶
Standalone or Part of Series: It's part of the Vicious Empire series, and I recommend reading the series in order.
Would I recommend this series? Yes. I recommend this series to Dark Mafia Romance/Romantic Suspense readers. The first three books end in cliffhangers, so you'll be left hanging each time until the last book, when you finally get answers.
Genre/SubGenre(s): Romance | Dark Romance | Romantic Suspense
Trope(s)/Element(s): Family Saga | Age Gap Romance | Mafia Romance | Organized Crime | Second Chance | One Night Stand | Forced Proximity | Single Mom FMC

This post contains affiliate links you can use to purchase the book. If you buy the book using that link, I will receive a small commission from the sale. It will help sponsor future giveaways but costs you nothing extra. You can read the full disclosure underneath the Privacy Policy.
---
---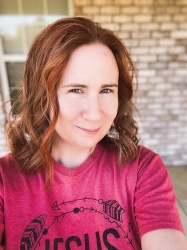 Latest posts by FranJessca
(see all)