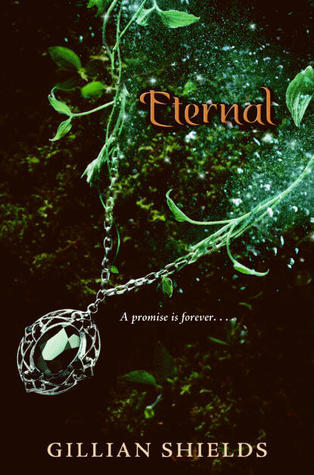 Eternal
by
Gillian Shields
Series:
Immortal #3
Published by
Katherine Tegen Books
on August 2nd 2011
Genres:
Young Adult Paranormal
Format:
Paperback
Source:
Library
Goodreads
Purchase at
Amazon
|
Apple

This third book about the Mystic Sisterhood at Wyldcliffe Abbey School for Young Ladies is another romantic thriller with paranormal elements and deep mystery. This time our heroine is Sarah Fitzalan, the dependable, faithful friend to Evie and Helen, her sisters in the Mystic Way. But this term Sarah finds that their friendship is tested to the limits. Evie is turning her back on the Mystic Way after the sisterhood laid her beloved Sebastian's soul to rest; Helen is distracted; and a new girl, wild child Velvet Romaine, seems set on stirring up more trouble at Wyldcliffe. Sarah struggles to keep the sisterhood together as the threat of attack from the dark coven looms.
All Sarah has to keep her going is her connection with her earth powers and a promise she cannot break. Must she sacrifice herself for the sake of her friends and sisters? Will her sisters join her, or will help come from unexpected sources, like her Romany ancestors, and a love she'd only just dared hope for?