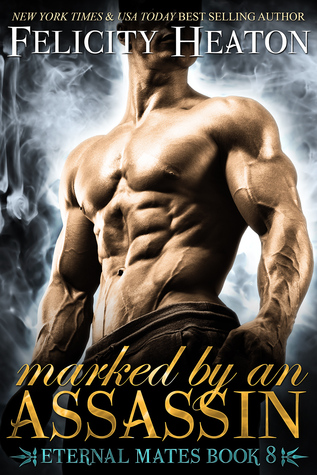 Marked by an Assassin
by
Felicity Heaton
Series:
Eternal Mates Romance Series #8
Published by
Felicity Heaton
on October 30, 2015
Genres:
Paranormal Romance
Pages:
198
Format:
eBook
Source:
Purchased
Amazon Kindle
|
Amazon Paperback
|
Audible
|
Barnes & Noble
|
Kobo
Goodreads

"New York Times and USA Today best-selling author Felicity Heaton presents: " Marked by an Assassin (Eternal Mates Romance Series Book 8) A snow leopard shifter exiled from his pride twenty years ago, Harbin treads the dark path of life as an assassin, driven by a hunger for vengeance, mercilessly hunting the Archangel members who attacked his kin, murdering his mother and sister. When a new contract comes in and the mark is a snow leopard shifter, he can't resist venturing into the mortal world on a personal mission to find out why one from a normally peaceful species now has a price on their head. What he finds in a rundown nightclub isn't quite what he expects-a beautiful snow leopard female that awakens a fierce hunger inside him. Aya has spent seventeen years living in London, immersed in the underbelly of the fae world, keeping her head down and her tail out of trouble. But when trouble walks right into her life in the form of a sinfully handsome, dangerous assassin, she is pulled into a whirlwind of events that stir up the nightmares of her past but might just give her a shot at putting those ghosts to rest-if she can resist the dark allure of a male she knows is her fated mate. Can Harbin and Aya resist the passionate fire that blazes between them as they chase the vengeance they both crave? Or will they surrender to their deepest desires?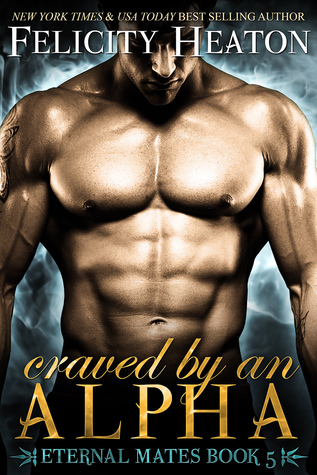 Craved by an Alpha
by
Felicity Heaton
Series:
Eternal Mates Romance Series #5
Published by
Felicity Heaton
on January 27th 2015
Genres:
Paranormal Romance
Pages:
122
Format:
AudioBook
Source:
Purchased
Amazon Kindle
|
Amazon Paperback
Goodreads

Having turned his back on his snow leopard pride, Cavanaugh has been counting the days until he's free of a role he never wanted—one that separated him from his fated female and stands between him and the future he craves with her.
Just days from the night he will finally be free to be with the low-ranking beauty who stole his heart, she walks back into his life and threatens to destroy everything he's worked towards in the five long years they've been apart.
Eloise has traveled across continents searching for the male who was once her best friend and so much more to her, but was now her pride's true alpha. Desperate to fulfil a promise to her kin to save them from the tyrant he left in charge, she convinces Cavanaugh to return to his pride, but as they journey to Bhutan, doubts bloom and old feelings resurface, tearing her between duty and her deepest desires and impossible dreams.
Will Eloise be able to resist the burning need that Cavanaugh reignites in her and remember her place in the pride? And can Cavanaugh find a way to save his kin and claim the future he craves with the woman he loves?

Continue reading →