ARC Review: 'Ascension' by Stacey Rourke
November 21, 2013
I received a complimentary copy of the book from the blog tour host in exchange for an honest review. This does not affect my opinion of the book or the content of my review.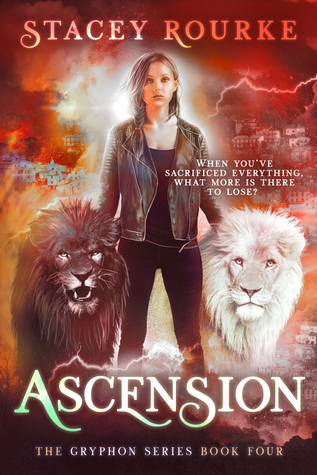 Ascension
by
Stacey Rourke
Series:
Gryphon #4
Published by
Anchor Group Publishing
on November 1, 2013
Genres:
Young Adult Fantasy
Format:
eArc
Goodreads
Purchase at
Amazon

From best selling and award winning author Stacey Rourke comes the heart-pounding continuation of the acclaimed Gryphon Series.
The turning point of the Gryphon saga is at hand …
Battle looms. Three unstoppable forces prepare to clash in a colossal explosion that could wipe Gainesboro off the map. Fate and a sacred calling have landed nineteen year old Celeste Garrett in the middle with nowhere to run.
Her trust wavers as she uncovers dark secrets of the Council, powerful enough to test her loyalty and turn her against those she swore to protect. Playing to the longing of her heart, a malevolent enemy uses her weakness against her to form an alliance.
With the trumpets of war about to sound, which side will the Conduit choose, and who will be left standing?
My Review
Ascension is the fourth book to the Gryphon series, and it is by far the best out of ALL the books(at least in my opinion it is) =)
Stacey Rourke gives you an action-packed, nail-biting story that puts the Garretts in War against the Countess. Celeste will be put through the test in this book, literally and will end up dealing with more than she bargained for in the story. She has to deal with the Council (who have kept a major secret from her and her family), the evil Countess (who won't give up and wants to make Celeste's life difficult), and two sexy guys (who are fighting over her literally).
Be prepared to learn so much more in this book about how Celeste became the Conduit and what needs to happen to the Conduit eventually. Stacey Rourke did a fabulous job building up to the very end of the book, where the big WAR happened. She gave us moments of crying and also moments of smiling. Let's say this book will make the Garretts realize, they need to come together to help save what they have.
We do get the love triangle of Celeste, Caleb, and Rowan in this book and how the boys won't give up on winning over Celeste. They even tried to come to terms until after the major battle. Yup…definitely stubborn guys and poor Celeste has to keep telling Rowan; it will never happen.
We also have the dark army Glee Club that I adore, even if sometimes they are evil. They always manage to crack me up, and Celeste makes it even better with her sarcasm back at them. She knows how to handle them with her witty marks back at them. They are my favorites in the story.
Can I say…the ending as definitely not what I expected at all, but it definitely left me in shock, and now I need to find out what is going to happen next? =)
(I'm still in love with Rowan though) Something about him won me over a long time ago. =)
If you have not read this series yet, you need to. If you love a series that involves paranormal fantasy and you love a series that is like no other out there, then you will enjoy the Gryphon series.
I give this book 5 full moons and highly recommend it to young adult readers out there.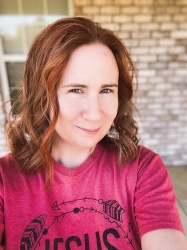 Latest posts by FranJessca
(see all)