ARC Review: 'Bound by Night' by Larissa Ione
September 13, 2013
I received a complimentary copy of the book from Netgalley, the publisher in exchange for an honest review. This does not affect my opinion of the book or the content of my review.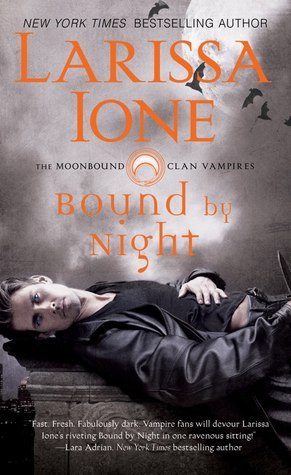 Bound by Night
by
Larissa Ione
Series:
MoonBound Clan Vampires #1
Published by
Pocket Books
on September 24, 2013
Genres:
Paranormal Romance
Format:
eArc
Source:
Netgalley, the publisher
Goodreads
Purchase at
Amazon
|
Apple

A WOMAN OUT FOR BLOOD
Nicole Martin was only eight years old when the vampire slaves rose up in rebellion and killed her family. Now she devotes her life to finding a vaccine against vampirism, hoping to wipe out her memories—along with every bloodsucker on the planet. But there's one thing she cannot destroy: her searing, undeniable attraction for the one man she should hate and fear the most . . .
A VAMPIRE OUT FOR REVENGE
A member of the renegade vampire MoonBound Clan, Riker is haunted by demons of his own. When he recognizes Nicole and remembers how her family enslaved his loved ones, his heart burns for vengeance. But when he kidnaps Nicole and holds her in a secret lair, his mortal enemy becomes his soul obsession, his greatest temptation, and, perhaps, his only salvation—a hot-blooded lover who could heal him with her touch . . . or bury him forever.
My Review
Larissa Ione's Bound by Night is a different twist into the world of Vampires and humans. It's not your sparkly kind of vampires, it's your scary, vicious, kick-butt vampires, who are trying to get revenge on the humans for making their kind slaves and trying to protect their kind from the other vampire clans. Larissa Ione did a fantastic job on the first book to the MoonBound Clan Vampires that builds up the world of the series.
She introduces you to the one human, Nicole Martin, who happens to be apart of the family that captures and makes vampires into slaves. She got attacked when she was young by one of the vampires, who was one of the family's slaves and she watched her vampire friend/nanny be killed by her mate. She has her mission on vampires, but her brother has other ideas. Nicole was always told they were vicious animals, but she could never get over her nanny being killed when she was younger. The nanny's mate though is back with a vengeance and wants to take out the family that helped slave his mate and killed her and also find a vampire that got captured. It is believed that Nicole's family and her company caught the vampire.
Riker is the dark, sexy vampire in the story, who is determined to find the vampire that his Clan is looking for in the story. In the process, he ends up capturing the one person, who he believed helped kill his mate. All trouble is about to break loose between the vampires and humans. The truth is going to be revealed, and Nicole is going to realize her family is not what she thought they were and the vampires are not all vicious. They want to live in this world without enslavement, and other vampire clans are to worry about other than the MoonBound Clan.
Nicole is such a strong female character in this story even when her world falls apart around her. She is trying to get over her past, but the past keeps creeping up. She is forced to make hard decisions and become friends with the vampires; she was supposed to hate. I loved her character, and she was able to adapt to everything that was thrown at her. She was stubborn, though, but I think that helped her in the end.
Riker is not the best male character to love at first because he has so much hatred for Nicole and her family and he blames her for everything that happened. He cannot get over his mate's death, and that seeps into what is going on in the story. There were times I did not like him and other times I wanted to hug him because he was still in pain on what happened in the past. He could not accept Nicole's answers though. I wanted to smack him then.
I loved the storyline of Bound by Night and look forward to the next books in the series. I grew to love the secondary characters even more than the main characters in this story and want to find out more about them in future books. Primarily, I want to know more about how the vampires were created and knew more about the leader of the MoonBound clan. ( He is such a jerk, but I feel sorry for him…the ending opened up to what to expect from him )
I give this book 4.5 moons and highly recommend it to paranormal readers out there. If you are a fan of Larissa Ione, then you definitely should check out this book. If you are thinking about finally reading a book from Larissa Ione, then definitely read this book. =)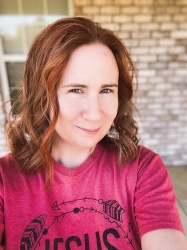 Latest posts by FranJessca
(see all)