ARC Review: 'Crane' by Stacey Rourke
June 15, 2014
I received a complimentary copy of the book from the blog tour host in exchange for an honest review. This does not affect my opinion of the book or the content of my review.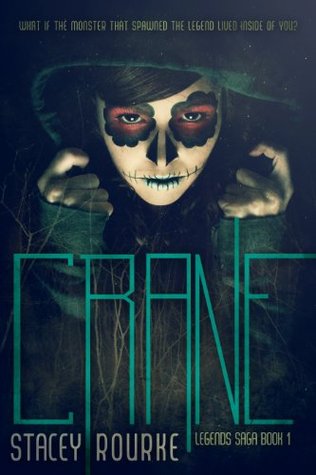 Crane
by
Stacey Rourke
Series:
The Legends Saga #1
Published by
Anchor Group Publishing
on May 21, 2014
Genres:
Urban Fantasy
Format:
eArc
Goodreads
Purchase at
Amazon
|
Apple
|
Google Play

The Horseman is unending, his presence shan't lessen. If you break the curse, you become the legend.
Washington Irving and Rip Van Winkle had no choice but to cover up the deadly truth behind Ichabod Crane's disappearance. Centuries later, a Crane returns to Sleepy Hollow awakening macabre secrets once believed to be buried deep.
What if the monster that spawned the legend lived within you?
Now, Ireland Crane, reeling from a break-up and seeking a fresh start, must rely on the newly awakened Rip Van Winkle to discover the key to channeling the darkness swirling within her. Bodies are piling high and Ireland is the only one that can save Sleepy Hollow by embracing her own damning curse.
But is anyone truly safe when the Horseman rides?
Cover by Najla Qamber Designs
My Review
This is the second book in the last two months that I've read that involves the Sleepy Hollow tale, but both books definitely tell the tale in a different kind of way. I've read Stacey Rourke's Gryphon books, so I couldn't wait to read what she did with Sleepy Hollow in her own version.In Crane, we have two different points of views to the story in two different time periods. We have Ichabod in the past telling what he went through, and Ireland during the present explaining everything that she is going through. Ireland thought moving to a different town, she could live a normal life without the jerk of a boyfriend who broke her heart. In fact, she wrote off men…but it's kind of hard when the owner of the place she lives at has an interest for her. She ends up in the middle of a chaos when people start dying in town from gruesome deaths. It kind of just like what happened in the past with Ichabod. Ichabod's POV is interesting to follow because Stacey slowly builds up to what is may be happening in the present with Ireland, but without giving too much away. The legend is told thoroughly during Ichabod's time and than how Ireland is thrown into it is really amazing.If there is one thing I adored about Crane, is how Stacey had both Ichabod and Ireland's POVs flow well with each other and weave into each other. For example, after reading a scene of Ichabod and going straight into a scene with Ireland, it was easy to follow. I also enjoyed the ending, but of course it left me questioning on a certain thing about Ireland. What is going to happen to her?I loved the character Rip in the story. He played a major part in the story, so don't want to give away his character. He was definitely lively when he could be, but most of the time he was out cold. Let's not forget Noah! =) I loved him too! He was one determined character and I liked how he handled the ending.Crane was a very different twist to the Sleepy Hollow tale, and I enjoyed reading it into two different points of views and not just one. Stacey did an spectacular job on creating a different take on a dark twisted tale, but furthermore adding humor and craziness into the mix. I surely was not prepared for the main twist in the story when it came to light.I give this book 4 full moons and look forward to reading more of this legend in the next book because believe me Stacey left the readers hanging. I need to know who was the culprit behind a certain thing with Ireland.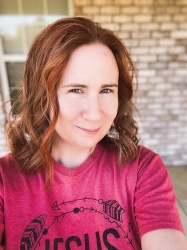 Latest posts by FranJessca
(see all)