ARC Review: 'Falling for the Groomsman' by Diane Alberts
June 13, 2014
I received a complimentary copy of the book from the publisher in exchange for an honest review. This does not affect my opinion of the book or the content of my review.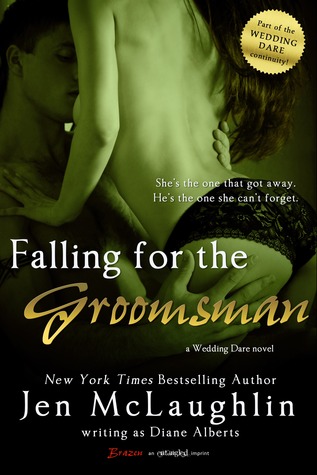 Falling for the Groomsman
by
Diane Alberts
Series:
Wedding Dare #1
Published by
Entangled Publishing (Brazen)
on June 9, 2014
Genres:
Contemporary Romance
Format:
eArc
Goodreads
Purchase at
Amazon
|
Apple
|
Google Play

A sexy category romance from Entangled's Brazen imprint…
She's the one that got away. He's the one she can't forget.
Photojournalist Christine Forsythe is ready to tackle her naughty little to-do list, and who better to tap for the job than a hot groomsman? But when she crashes into her best friend's older brother, Christine realizes her list needs updating. And fast. Tyler Dresco took her virginity during the best night of her life, then bolted. Now that they're trapped together at a destination wedding, she's going to get her revenge.
Tyler has never forgiven himself for how completely he lost control all those years ago. Being in Christine's arms had felt right…until he realized what he'd taken from her in the hallway of a cheap motel. And oh, how she's making him pay for it now. The insatiable heat between them has only grown stronger, but every time things heat up, Christine walks away.
With every encounter, things go a little bit further until Christine's caught in her own trap of seduction. And before their time's up, Tyler's not the only one wanting more…

Grab the rest of the Wedding Dare series!

•
Dare to Resist
by New York Times bestselling author Laura Kaye•
Baiting the Maid of Honor
by New York Times bestselling author Tessa Bailey•
Seducing the Bridesmaid
by New York Times bestselling author Katee Robert•
Best Man with Benefits
by USA TODAY bestselling author Samanthe Beck
My Review
I am really loving this Wedding Dare series so far, and I love that this series is introducing me to new authors to check out.  First off, if you want to read this series, I would highly recommend reading Laura Kaye's prequel to the series, Dare to Resist.  You get to read Colton and Kady's book, and then the rest of the series goes into the maid of honor/bridesmaids/best man/groomsmen getting their stories.  You can read Falling for the Groomsman first, but you will miss an opportunity on learning about the Bride and Groom….and believe me don't miss out on them.  =)
Diane Alberts, also known as Jen McLaughlin has a very unique writing style, and I loved how she had Christine and Tyler get a chance of actually being together.   Although, these two were hard to love at times, let's just say…Tyler started off on the wrong foot with me due to him running away after taking Christine's virginity 8 years ago.  8 YEARS AGO…and Christine had every right to be mad at him.  I was mad at him for her.  (virtual slap to Tyler because he deserved it)  She was young at the time and it broke my heart, how her life story was told in the story.  She was going through a lot when she hooked up with Tyler and well…Tyler just left.  Stupid jerk!  He grew on me though, after he told his side on why he did it.  He's still stubborn and a jerk, but he definitely won me over after a while….especially at the end of the book.
Christine and Tyler end up meeting up with each other after the 8 years thanks to Kady and Colton's wedding…but Christine doesn't want to really hook up with Tyler.  How can she resist him though?  The best parts of the book were the heated moments between the two when they did get together.  Let's just say Kady got hurt, but in her eyes in a good way.  And how Tyler took care of Kady…what a sweetheart…but he did tend to be overbearing at times.  Geez!  He's a doctor, so I'll give him an excuse on that overbearing nature.
I loved the nicknames they gave each other.  Dr. McAss ( and there were several others that Christine gave him ) and Patient McClumsy.  Yup! These two were a riot together.  I think that is why they grew on me because they were definitely immature at times, but they made the story funny and uplifting at times.  Because believe me  the drama between these two was definitely brought up so many times.   I wanted to slap both of them when it was brought up.
The ending was the best part of the story because how Diane got these two finally together.  She didn't make it easy for the two…but when it ended…let's just say it was epic.  Tyler did a great job at the ending.  =)
I give this book 4 full moons, and recommend it readers out there that enjoy stories of characters falling away from each other and coming back together later on.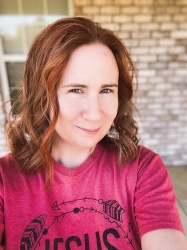 Latest posts by FranJessca
(see all)