ARC Review: 'Dare to Surrender' by Carly Phillips
July 20, 2014
I received a complimentary copy of the book from the blog tour host in exchange for an honest review. This does not affect my opinion of the book or the content of my review.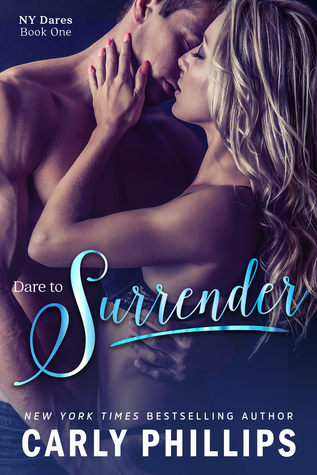 Dare to Surrender
by
Carly Phillips
Series:
NY Dares #1
Published by
CP Publishing
on July 15, 2014
Genres:
Contemporary Romance
Format:
eArc
Goodreads
Purchase at
Amazon
|
Google Play

Isabelle Masters is done...
Done with her cheating boyfriend.
Done with his domineering ways.
Just done.
Taking off in her leased Mercedes to start over turns out to be the best decision she's ever made — despite being arrested for grand theft auto and hauled off to a local police station. Being rescued by the most unlikely person possible, Gabriel Dare, makes it all worthwhile. After all, she's yearned for the sexy man for years—yet now is her chance to finally take the plunge and dare to become the independent woman she's always wanted to be. But can she be in control of her life if she surrenders to a man like him?
The DARE TO LOVE books consist of Miami siblings/halfsiblings and NY cousins (hotter books) and the books ran in consecutiveorder. It makes more sense for the books to be divided by family and so I have split up the series as follows - The Dare to Love Series (Miamisiblings) and the NY Dares (NY cousins). Please note ALL BOOKS CAN BEREAD ALONE but if you enjoy your stories in order, below is the newseries order. I hope you enjoy!
My Review
Dare to Surrender is the third book to Carly Phillips Dare to Love series, and we have the cousin Gabe Dare getting his HEA. Gabe intrigued me when he was first introduced in the Dare to Love series and I'm glad Carly wrote his book. I'm also happy she decided to write this particular book in first person. I loved reading both Gabe's point of view, and the woman who caught his interest, Isabelle Masters. Two people that have been through a lot, but in two different ways.
We have the tortured hero, Gabe who never thought he would love again due to what happened with his ex-wife, and then we have Isabelle who left her cheater of a-hole boyfriend. Isabelle wants to be able to move on with her life and get back on her feet after giving too much of her life away because of her so-called boyfriend. Now, she finds herself handcuffed at the police station due to her ex-boyfriend filing a grand theft auto report. Isabelle is now faced with Gabe's brother as the cop who arrested her, and she ends up seeing Gabe as well when he stops by to see his brother. Gabe has the perfect opportunity now to try to win over the one woman who has interested him since the day he saw her the first time. He's going to have a difficult time because Isabelle is not going to trust so easily, and she wants her own independence back.
Dare to Surrender is also included in the Invitation to Eden collection, which mentioned the island of Eden where you have to an invitation to go. The characters will definitely be invited to the island, but one reason is to get some work done and another as a hidden agenda to win over Isabelle.
I won't go into much more of what is going to happen in the book because it's so short, and I will end up giving something away. The only reason why this book is getting 4.5 moons, instead of 5 moons because it definitely went by too fast and I wanted more of Gabe and Isabelle. Gabe was the domineering successful business owner who had a troubled present/past because he had yet to meet someone who he really could love. Isabelle trusts too fast and ends up getting her heartbroken, ends up losing friends (for a while), and ends up losing the clothes/money she had. (I'm so happy to know what happened to her a-hole of a boyfriend though at the end. He deserved every bit of it) When Gabe and Isabelle are together though, be prepared for moments of both of them jumping each other and tying at least one of them up to please the other. Gabe is very DOMINANT! I can't say enough, how dominant he is, and he loves to please. Holy…moly..does he love to please.
I highly recommend reading the previous books before reading this one, but it can be read as a standalone. You'll miss out on being first introduced to Gabe, and learning about his cousins that have already had their books. I'm looking forward to reading the next book in the series because this series definitely has me intrigued about the Dares. Carly gives us an emotional and sexy series with these Dares. I can't get enough of them! I really hope Gabe and Isabelle have cameos in the upcoming book because I can't get enough of these two. =)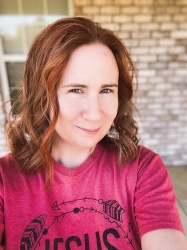 Latest posts by FranJessca
(see all)