ARC Review: 'The Fortuneteller's Folly' by Wynter Daniels
May 19, 2017
I received a complimentary copy of the book from the author in exchange for an honest review. This does not affect my opinion of the book or the content of my review.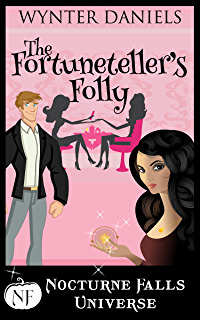 The Fortuneteller's Folly
by
Wynter Daniels
Series:
Nocturne Falls Universe
Published by
Sugar Skull Books
on May 23rd 2017
Genres:
Paranormal Romance
Format:
eArc
Goodreads
Purchase at
Amazon

Palm reader Darcy Kumar is cursed. She'll be dead within a year, so why bother with love? After a brush with death she resolves not to squander what little time she has left. So when sexy firefighter Aiden Becker asks her out, she accepts. As long as she doesn't have a child, the curse will end with her demise.

A Kachina healer and the last of his line, Aiden is compelled to pass along his gift to future generations. He doesn't believe in the curse that Darcy thinks will finish her, but he has second thoughts after she has several close calls. He starts suspecting that her near misses aren't accidents at all.

When they enlist the help of a powerful local witch, they learn there are even more sinister forces at work than just a curse. Someone's gunning for Darcy. Will they find out who before it's too late?
My Review
The Fortuneteller's Folly is another great addition to the Nocturne Falls Universe stories. Wynter Daniels introduces us to two different kind of paranormals in this story and this is one of many great things about these books.
Readers are introduced to Darcy Kumar and Aiden Becker in this Nocturne Falls universe book. Darcy is a palm reader, while Aiden is a kachina healer. Both are unique characters with unique abilities. Darcy unfortunately is cursed by what happened in the past with one of her ancestors. She's close to the age, where that curse will take place. In comes Aiden who is determined to save the beautiful palm reader he happens to save one day, while she's on the job at the salon. Darcy though doesn't want to fall for Aiden, but of course he's kind of hard to resist him. I know I adored Aiden in the story.
Wynter Daniels definitely did an amazing job on having other Nocturne Falls characters appearing in the story. I also enjoyed the mystery behind what is happening with Darcy. I definitely was not expecting the ending at all because I literally thought it was someone else causing the trouble.
Although, the ending was a little rushed at the end. I wish I could have more of Darcy and Aiden. Those two are adorable. I loved how Aiden fought to be in Darcy's life. I could understand why Darcy was scared to have someone in her life.
If you've read the Nocturne Falls books I definitely recommend this book and the rest of the Nocturne Falls Universe stories. If you haven't read the Nocturne Falls series by Kristen Painter then I highly recommend you do.
I give this book 4 stars and highly recommend it to fans of PNR stories.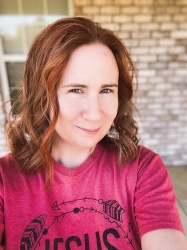 Latest posts by FranJessca
(see all)