ARC Review: 'Invasion of the Alien Snatchers' by Fiona Roarke
I received this book for free from the publisher in exchange for an honest review. This does not affect my opinion of the book or the content of my review.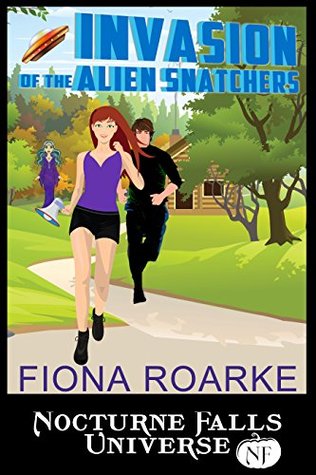 Invasion of the Alien Snatchers
by Fiona Roarke, Kristen Painter
Series: A Nocturne Falls Universe story
Published by Sugar Skull Books on May 23, 2017
Genres: Paranormal Romance
Format: eArc
Amazon | B&N
Goodreads


Pilot. Guard. Prisoner.
All three are crashed in the Georgia woods, lost on a world where extraterrestrials are the stuff of science fiction. Blending into the human world is doable, if dangerous. But what if the locals are far from human themselves, with secrets of their own?
Deliver his wayward brother to the galactic gulag two galaxies away. Stop along the way at the hidden colony on Earth. Find the woman who had been electrifying his thoughts for two years. Crashing in rural Georgia near an odd little town and being taken prisoner was not part of Riker Phoenix's plan.
Warrior woman Elise Midori ran a galaxy away from Alpha-Prime to escape the man she loved, but could never have. Her new life with the Alpha colony hiding in plain sight from the humans in Alienn, Arkansas, is challenging and satisfying. The mission seems simple enough when her retrieval team is called on to rescue the three occupants of a downed prisoner transport near Nocturne Falls.
She didn't count on the prophecy-obsessed Druids. And she most definitely didn't count on seeing a certain sexy lawman again.
My Review
This is actually the story about the Guard getting his happily ever after. If you read the first book from Fiona Roarke in the Nocturne Falls Universe, you would have read the Prisoner's story.
So basically this book is rehashing the crash of the UFO that happened near Nocturne Falls, but instead the readers get to find out what happened to the Guard of the UFO and who ends up winning over his heart. I definitely enjoyed finding out about Riker Phoenix who happened to be the guard of the prisoner on the UFO. He has himself in a bind since he got hurt from the crash. He's about to be rescued by someone he fell for a long time ago.
I don't want to go too much in the story because I could end up giving too much away. It was a quick read for me, especially since I finally got my groove back on reading. It's been a rough couple of weeks. 🙁
Overall, this was enjoyable addition to the Nocturne Falls Universe. I was hoping for more though, especially with the drama in the story. I wasn't really fond of the villains of the story. They tended to be more annoying then anything. There also was the instal-attraction with the characters. They didn't really know each other, but already were in love with each other, but that didn't stop me from reading it though because I really like the story of having aliens come to Nocturne Falls. I find it interesting that the paranormals are trying to hide their identities from the aliens and the aliens are doing the same thing.
I give this book 3.5 stars and recommend it to readers that enjoy PNR with sci-Fi elements to it. These aliens are definitely not your normal aliens, but they are also are visiting Nocturne Falls. 🙂


I guess I should type a bio here. I'm FranJessca or Fran for short. I'm the owner of Book Lovin' Mamas and main Reviewer. I've been reviewing books since I got out of the Navy in 2011. Now 7 years later, I'm still reviewing, but this time with my oldest daughter aka Lil' Sidekick.
When I'm not reading and reviewing, you can find me at my day job during the week and on the weekend taking care of our little farm.

Latest posts by FranJessca (see all)