ARC Review: 'The Vampire's Fake Fiancee' by Kristen Painter
January 16, 2016
I received a complimentary copy of the book from the author in exchange for an honest review. This does not affect my opinion of the book or the content of my review.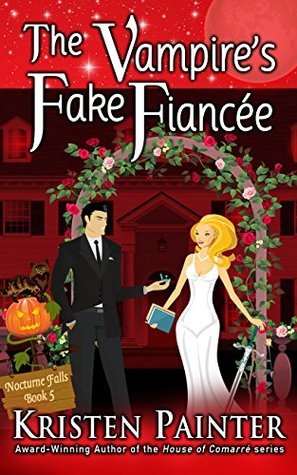 The Vampire's Fake Fiancée
by
Kristen Painter
Series:
Nocturne Falls #5
Published by
Sugar Skull Books
on January 11th 2016
Goodreads
Purchase at
Amazon

Welcome to Nocturne Falls, the town where Halloween is celebrated 365 days a year. The tourists think it's all a show: the vampires, the werewolves, the witches, the occasional gargoyle flying through the sky. But the supernaturals populating the town know better.
Living in Nocturne Falls means being yourself. Fangs, fur, and all.
Sebastian Ellingham isn't known for being a happy vampire. And when his long estranged wife comes to town expecting to pick up where they left off, things take a sharp turn toward cranky. Sure he's been protecting her for centuries, but her assumption that he's still available (he is) rankles.
His answer is to hire a woman to play his fiancée. The lucky victim is Tessa Blythe, sister of one of the town's deputies, librarian in need of a job and, oh yes, reluctant Valkyrie. Playing along with Sebastian is all about the end game for her, the position of Dean of Library Studies at the local private academy.
When unexpected sparks fly between them, they agree to mutually deny the attraction. Fate, however, has other plans…
My Review
Welcome to Nocturne Falls where Halloween is everyday and the residents are actually your favorite supernatural creatures.
The fifth installment dives into Sebastian's life, and I've been anxious to find out more about this unhappy vampire. The moment the story opens I realize why Sebastian is unhappy. Poor vamp had his so-called wife leavve him to go do her own thing. Seriously, woman what is wrong with you.
Now this so-called wife is back and Sebastian ends up lying to her. Now he has to find a willing person to play his fiancee. In comes Tessa Blythe, who is in town for a job. She never expected to play fiancee to someone like Sebastian, but she's willing to do it for the job that she wants. She also finds out how crazy the wife is and wants to help Sebastian.
This fifth installment to the Nocturne Falls series has some light romance in it with some serious drama due to Sebastian's crazy wife. It doesn't have much humor in it like the other books, but it was a very enjoyable read. Tessa is definitely a favorite in this book due to her personality. She's determined and strong-willed in her life, but she has a hidden side of her, especially for being Valkyrie.
I didn't like Sebastian in the beginning of the book, but he grew on me after he opened up a bit. Sebastian went from being unhappy to being excited with Tessa.
The crazy wife Sebastian deals with in the book I could've slept her, but she was predictable in the story. I knew she was after the moment hints were given. I'm glad what happened to her.
My favorite scenes will be with Tessa and Sebastian's wicked wife, Evangeline fencing and the last encounter with each other.
I give this book 4 stars and highly recommend this book/series to paranormal romance readers out there.  You could read this book as a standalone, but I always recommend reading the first book in a series. You'll want to enjoy meeting the other characters that already had their book.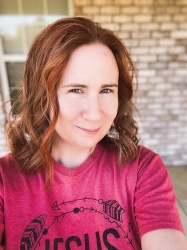 Latest posts by FranJessca
(see all)