ARC Review: 'The Wright Brother' by K.A. Linde
March 1, 2017
I received a complimentary copy of the book from the author in exchange for an honest review. This does not affect my opinion of the book or the content of my review.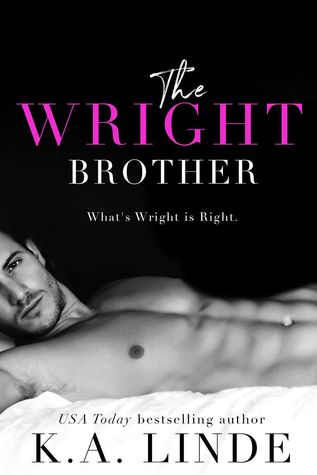 The Wright Brother
Published by
Everafter Romance
on February 28th 2017
Genres:
Contemporary Romance
Format:
eArc
Goodreads
Purchase at
Amazon
|
Apple

A new contemporary romance stand alone from USA Today bestselling author K.A. Linde... I'd dated his brother. He didn't remember and I wish I could forget. I may have sworn off the Wright family a long time ago. But when I returned home, Jensen Wright crashed into my life with the confidence of a billionaire CEO and the sex appeal of a god. Even I couldn't resist our charged chemistry, or the way he fit into my life like a missing puzzle piece. Too bad he'd forgotten the one thing that could destroy us. Because Jensen Wright doesn't share. Not with anyone. And if his brother finds out, this could all go down in flames. When it all was said and done, was he the Wright brother?
My Review
First off, I love the title of this book. It was actually the first thing that caught my attention. Maybe it grabbed my attention a bit because really who can say no to a sexy cover. 🙂 I'm a sucker for a sexy cover and may have to buy this book in paperback to put with my other sexy cover books.
The Wright Brother is the first to a new series by K.A. Linde, but can be read as a standalone.
Other than the title and cover here some other items I really enjoyed about The Wright Brother:
Jensen Wright – He's definitely the RIGHT Brother.
Emery Robinson and how she handles certain situations in the story
The romance between Jensen and Emery. HOT!
The dramas that keeps me turning the pages, so I can figure out what is going to happen next.
Things that I bothered me in the story though:
The crazy spin of Jensen and Emery's relationship, especially when secrets came out and how the characters related to it. These two kept my head spinning.
Jensen's ex-wife. Let's just say K.A. Linde always manages to write characters I either adore and others I want to smack. Jensen's ex-wife isn't the only one that drove me crazy.
Landon and his wife. Grrr! I won't even get started with these two, but I could've did with out Landon's wife constantly going crazy.
I could share several more great items about The Wright Brother, but definitely don't want to give the book away. Here's another plus about the story though, K.A. Linde writes some very detailed scenes in the story. VERY detailed sexy times. 🙂 Jensen is definitely the (W)right brother for Emery.
I give this book 4 stars and recommend it to Contemporary Romance readers out there. I look forward the next Wright brother's book because this time it's Landon. Even though I didn't like him in this book, I may end up likely him in his book.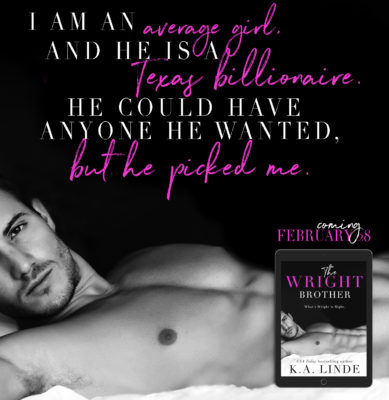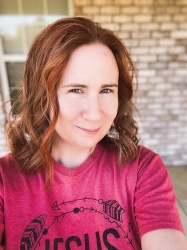 Latest posts by FranJessca
(see all)