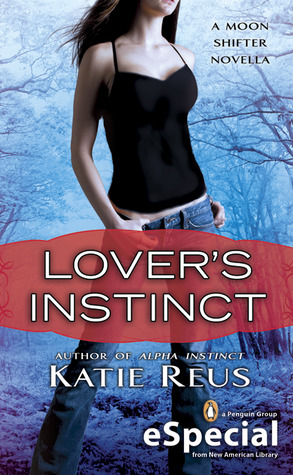 Lover's Instinct
by Katie Reus
Series: Moon Shifter #1.5
Published by Signet on August 7th 2012
Genres: Paranormal Romance
Pages: 105
Format: eBook
Source: Purchased
Amazon Kindle | Amazon Paperback
Goodreads


Lupine shifter Nikan Lawless has it bad for Esperanze Cordona, the sweet and curvy woman who only views him as a friend. But when Nikan is assigned to act as Esperanze's bodyguard during a weekend education conference, he knows it's the perfect opportunity to seduce her off her feet—away from the pack.
To put his plan into motion Nikan cancels one of their hotel rooms, giving them time to get to know one another in a whole different way. But when a man from Esperanze's past shows up in need of help, Nikan must shield her from a group of dangerous rogue shifters, all while trying to prove that they're destined to be mates.
My Review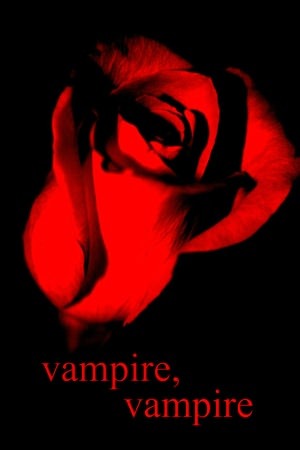 Vampire, Vampire
by Heather Killough-Walden
Published by Amazon Digital Services on July 12th 2012
Genres: Paranormal Romance
Pages: 208
Format: eBook
Source: Purchased
Amazon Kindle
Goodreads


With her latest sizzling release, Vampire, Vampire, New York Times and USA Today bestselling paranormal romance author Heather Killough-Walden shares two scorchingly hot, sweet and savage stand-alone vampire romance novellas.(Total word count approx. 70,000 words)
In Relentless: The Patrick Sinclaire Story, readers are treated to the re-visioned and border-line erotic telling of the tale of a handsome, world-weary vampire sovereign and the woman he would literally do anything to claim as his queen. Intensely arousing, stimulating, and both emotionally and physically provoking - this is not a story for the shy.
In the completely reconstructed Thorn and Grace, an old tale of historical romance is given a very dark make-over. The story of knight meets maiden becomes twisted and shadowed, be-fanged and fallen. A prince turned predator hunts for the one who has betrayed him, in turn becoming a king corrupted by the bitterness within. Will the one he is hunting escape him? And if she doesn't, will she be able to reach the man inside the monster before it's too late?Show More Show Less
My Review
I received a complimentary copy of the book from the Netgalley, publisher in exchange for an honest review. This does not affect my opinion of the book or the content of my review.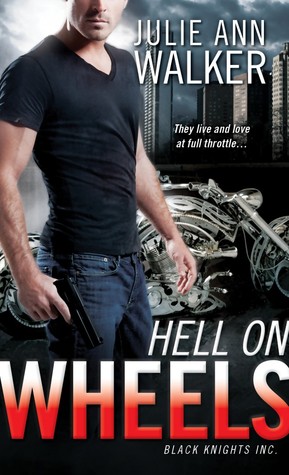 Hell on Wheels
by Julie Ann Walker
Series: Black Knights Inc. #1
Published by Sourcebooks Casablanca on August 7th 2012
Genres: Romantic Suspense
Pages: 349
Format: eArc
Source: Netgalley, publisher
Amazon Kindle | Amazon Paperback
Goodreads


He's the bad boy she's always wanted...
Nate "Ghost" Weller has loved Ali Morgan nearly half his life. But he's done something so heinous he's convinced she'll never forgive him if she discovers the truth, so he keeps his feelings and his secrets to himself. Then she blows into town with a mother lode of bad guys on her tail and Nate can't deny she's in serious trouble. Unfortunately, he's the only one who can help her.
She's the good girl he's kept at arm's length...
Ali knows Nate as the most solemn, aloof man on the planet. Sadly, he's also the sexiest. For years she's avoided him, unable to stomach his dark scowls and brooding silences… especially when she secretly yearns for his touch. Now she must rely on him to save her from the malevolent shadows ghosting her every move. When the bullets explode, so does their passion. But can love really conquer all? Or are some things just too terrible to forgive?
I received a complimentary copy of the book from the Author in exchange for an honest review. This does not affect my opinion of the book or the content of my review.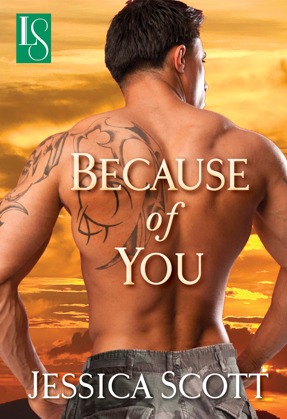 Because of You
by Jessica Scott
Series: Coming Home #1
Published by Random House Publishing Group on November 14th 2011
Genres: Contemporary Romance
Pages: 200
Format: eArc
Amazon Kindle | Amazon Paperback
Goodreads



A Love Story You'll Never Forget:
From the war-torn streets of Baghdad to the bittersweet comforts of the home front, two wounded hearts navigate the battlefield of coming home from war in this explosive eBook original from newcomer Jessica Scott.
Keeping his men alive is all that matters to Sergeant First Class Shane Garrison. But meeting Jen St. James the night before his latest deployment makes Shane wonder if there's more to life than war. He leaves for Iraq remembering a single kiss with a woman he'll never see again - until a near fatal attack lands him back at home and in her care.
Jen has survived her own brush with death and endured its scars. And yet there's a fire in Shane that makes Jen forget all about her past. He may be her patient, but when this warrior looks her in the eyes, she feels, for the first time in a long time, like a woman. Shane is too proud to ask for help, but for Jen, caring for him is more than a duty - it's a need. And as Jen guides Shane through the fires of healing, she finds something she never expected - her deepest desire...
Loveswept brings you the very best of classic romance - from treasured favourites to exciting new talent, these are love stories you'll never forget. Find out about other titles in the series and choose your next Loveswept hero at www.lovesweptbooks.co.uk
My Review
I received a complimentary copy of the book from the in exchange for an honest review. This does not affect my opinion of the book or the content of my review.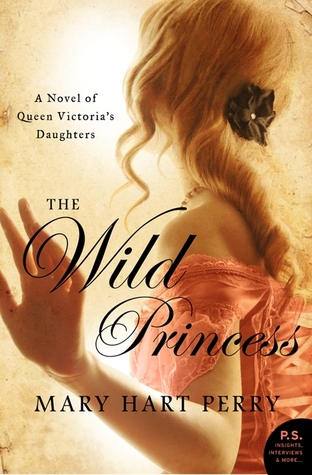 The Wild Princess: A Novel of Queen Victoria's Defiant Daughter
by Mary Hart Perry
Series: Queen Victoria's Daughters #1
Published by William Morrow Paperbacks on July 31st 2012
Genres: Historical Fiction
Pages: 414
Format: ARC
Amazon Kindle | Amazon Paperback
Goodreads


The Wild Princess transports us back to Victorian England and plunges us into the intrigues of the royal court, where the impetuous Louise brazenly followed no one's rules but her own—even marrying a commoner, which no one of royal blood had done in the previous three centuries.
My Review
Continue reading →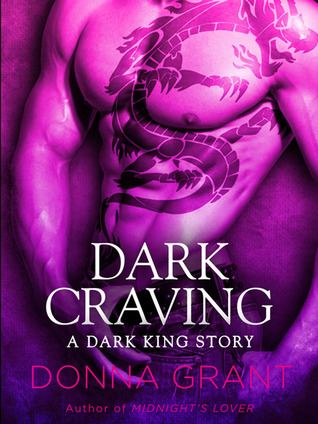 Dark Craving
by Donna Grant
Series: Dark Kings #0.1
Published by St. Martin's Press on July 31st 2012
Genres: Paranormal Romance
Pages: 105
Format: eBook
Source: Purchased
Amazon Kindle | Amazon Paperback
Goodreads


Fueled by ancient magic--and enflamed by human desire--the Dragon King known as Hal can transform himself at will into one of the legendary winged creatures he is sworn to protect. But one thing he can never do is fall in love...with a mortal woman.
Searching for her brother in Scotland--and succumbing to the freezing cold--Cassie Hunter awakens to find herself in the arms of a magnificent Highland warrior. Across his chest is the tattoo of a fiery dragon. And in his heart is a burning passion that, once unleashed, will consume them both...body and soul.
This is a story of destiny and desire, magic and mystery, warriors and lovers.
These are the forbidden cravings of the Dark Kings.
Don't miss the Dark Sword and Dark Warrior novels by Donna Grant--also set in this scintillating world of Highland magic and legendary lovers.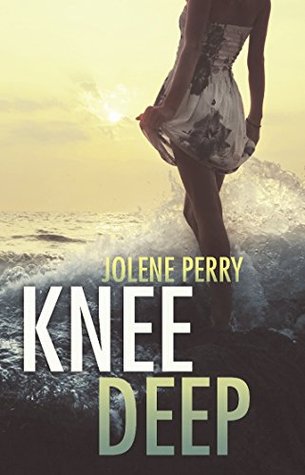 Knee Deep
by Jolene Perry
Published by Next Door Books on April 24, 2012
Pages: 278
Format: eBook
Amazon Kindle
Goodreads


A broken heart. A best friend. A first love.

Shawn is the guy Ronnie Bird promised her life to at the age of fourteen. He's her soul mate. He's more uptight every day, but it's not his fault. His family life is stressful, and she's adding to it. She just needs to be more understanding, and he'll start to be the boy she fell in love with. She won't give up on someone she's loved for so long.

Luke is her best friend, and the guy she hangs with to watch girlie movies in her large blanketopias. He's the guy she can confide in before she even goes to her girlfriends, and the guy who she's playing opposite in Romeo and Juliet. Now her chest flutters every time he gets too close. This is new. Is Ronnie falling for him? Or is Juliet? The lines are getting blurry, but leaving one guy for another is not something that a girl like Ronnie does.

Shawn's outbursts are starting to give her bruises, and Luke's heart breaks as Ronnie remains torn. While her thoughts and feelings swirl around the lines between friendship and forever, she's about to lose them both.
My Review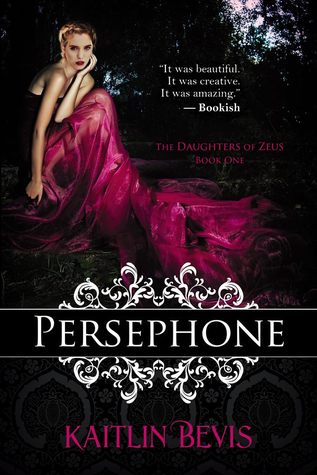 Persephone
by Kaitlin Bevis
Series: Daughters of Zeus #1
Published by BelleBooks Publishing on July 5, 2012
Pages: 194
Format: eBook
Amazon Kindle | Amazon Paperback
Goodreads


Daughters of Zeus, Book One
One day Persephone is an ordinary high school junior working at her mom's flower shop in Athens, Georgia. The next she's fighting off Boreas, the brutal god of Winter, and learning that she's a bonafide goddess—a rare daughter of the now-dead Zeus. Her goddess mom whisks her off to the Underworld to hide until Spring.
There she finds herself under the protection of handsome Hades, the god of the dead, and she's automatically married to him. It's the only way he can keep her safe. Older, wiser, and far more powerful than she, Hades isn't interested in becoming her lover, at least not anytime soon. But every time he rescues her from another of Zeus's schemes, they fall in love a little more. Will Hades ever admit his feelings for her?
Can she escape the grasp of her powerful dad's minions? The Underworld is a very cool place, but is it worth giving up her life in the realm of the living? Her goddess powers are developing some serious, kick-butt potential. She's going to fight back.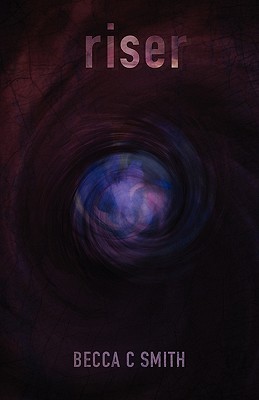 Riser
by Becca C. Smith
Series: The Riser Saga #1
Published by Red Frog Publishing on June 5th 2010
Genres: Young Adult
Pages: 370
Format: eBook
Amazon Kindle
Goodreads


Black swirling holes churning madly in the center of every corpse. This is how eighteen-year-old Chelsan Derée sees the deceased. Her ability to connect to the black spinning holes allows her to control every dead thing within a four-mile radius.
But that's the least of her problems. It's 2320 and Chelsan Derée has to survive another year of high school, which for her is pure and utter torture, mainly due to the fact that her schoolmate Jill Forester's favorite activity is making Chelsan's life a living hell. If that isn't enough, Chelsan's impossible crush on Ryan Vaughn makes her brain do somersaults on a regular basis, especially since she is positive he doesn't know she exists. And being eighteen Chelsan has to deal with the pressure of whether or not she should take a little pill called Age-pro, which cures aging, making the world eighteen forever and highly over-populated.
When Chelsan's mother, Janet, is brutally killed, along with everyone else in her trailer park, Chelsan finds out that she was the intended target. Chelsan must use her power to raise and control the dead to save herself, protect her friends and take down the man responsible for murdering her mother.
My Review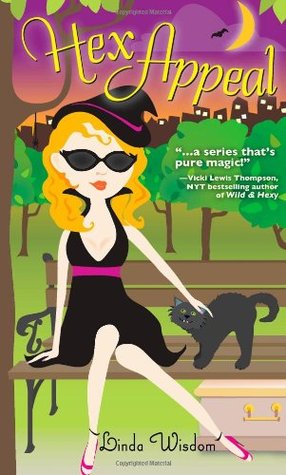 Hex Appeal
by Linda Wisdom
Series: Hex #2
Published by Sourcebooks Inc on November 1st 2008
Genres: Paranormal Romance
Pages: 354
Format: Paperback
Source: Purchased
Amazon Kindle | Amazon Paperback
Goodreads


The second book in the Hex series features feisty witch Jazz and her drop-dead gorgeous vampire cop boyfriend in a new installment. On again, off again for over 300 years, Jazz and Nick are finally back together, but then Jazz thinks Nick has bitten her. Separated again, upset and angry, the two of them start having violent, recurring dreams in which each one figures in disturbing and menacing ways. They can't sleep, they can't eat, and they finally figure out they'd better get together and discover who's poisoning their dreams-and their relationship. Full of the fantastic secondary characters that Linda Wisdom's fans know and love, including Jazz's sister witches and a cast of delectable supernatural male characters, Hex Appeal is fun and funny paranormal romance at its best. "Filled with loads of sass and sensuality, plenty of laughs and a host of oddball characters who'll leave you in stitches and asking for more."-Book Loons "With a rollicking cast of supporting characters, biting wit and sensual scenes, 50 Ways to Hex Your Lover is 'a high-power keg of excitement!'"-Coffee Time Romance 4 Star Review-Romantic Times: "Longtime series author Wisdom makes a wickedly fun jump into the supernatural realm. Offbeat characters...offer insight into this highly intriguing new heroine. The balance of danger, adventure and the supernatural is excellent. With characters as rich and challenging as these, let's hope we haven't seen the last of them." "Wisdom, no stranger to romance fans, delivers a striking opening salvo in her new paranormal series... a zany, hot read." -Booklist