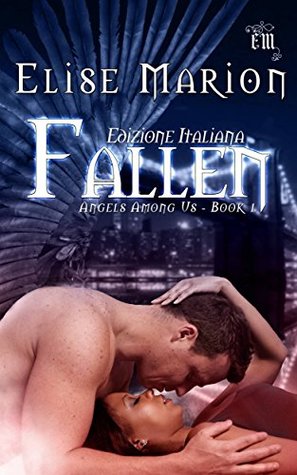 Fallen
by Elise Marion, Michele Bellana, Claudia Bellana
Series: Angels Among Us #1
Published by Marion Press on November 3, 2011
Genres: Paranormal Romance
Pages: 78
Format: eBook
Source: Purchased
Amazon Kindle
Goodreads


Shayla, ballerina professionista, vive per la danza. Quando parenti e amici le voltano le spalle, lei non si lascia scoraggiare, anzi continua ad inseguire i propri sogni più determinata che mai. Quando, in seguito ad un incidente stradale, riporta gravissime ferite alle gambe e rischia di non poter più ballare, le sue speranze cominciano però a vacillare.
Amir entra nella vita di Shayla con l'intenzione di curarla, ma quando la vede, costretta in un letto d'ospedale, lottare con le unghie e con i denti per sopravvivere, nel suo cuore si accendono sentimenti mai provati. Lui, che non conosce amore e desiderio, si ritrova attratto da Shayla come una falena dalla luce; eppure le regole del Paradiso proibiscono agli angeli di innamorarsi degli esseri umani… Se dovesse cedere alla tentazione diventerebbe un Rinnegato, un angelo caduto, condannato a passare l'eternità fra i demoni infernali.
Quando il suo desiderio per Shayla diventerà incontrollabile, Amir dovrà scegliere tra amore e dannazione, tra solitudine e beatitudine. Un angelo che ha vagato da solo sulla Terra per secoli sceglierà di rimanere sulla retta via o cadrà vittima del suo cocente desiderio e sarà condannato per sempre?
I received a complimentary copy of the book from the Netgalley, publisher in exchange for an honest review. This does not affect my opinion of the book or the content of my review.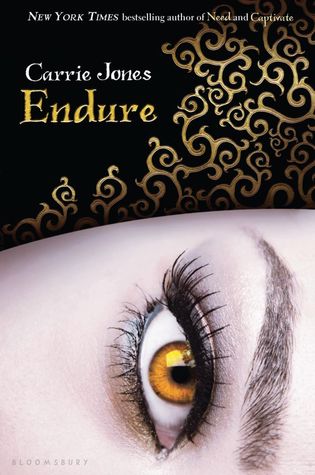 Endure
by Carrie Jones
Series: Need #4
Published by Bloomsbury USA Children's Books on May 8th 2012
Pages: 272
Format: eArc
Source: Netgalley, publisher
Amazon Kindle | Amazon Paperback
Goodreads


It's all-out war (and no-holds-barred romance) in the climactic conclusion to Carrie Jones's bestselling series.
Zara is at the center of an impending apocalypse. True, she's successfully rescued Nick from Valhalla, but it simply isn't enough. Evil pixies are ravaging Bedford, and they need much more than one great warrior; they need an army. Zara isn't sure what her role is anymore. She's not just fighting for her friends; she's also a pixie queen. And to align her team of pixies with the humans she loves will be one of her greatest battles yet. Especially since she can't even reconcile her growing feelings for her pixie king . . .
Unexpected turns, surprising revelations, and one utterly satisfying romantic finale make Endure a thrilling end to this series of bestsellers.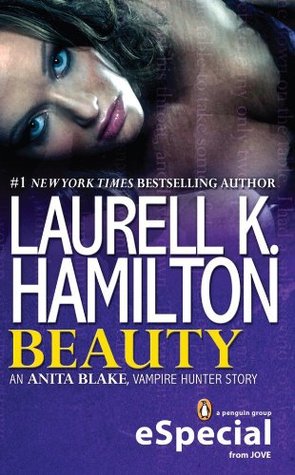 Beauty
by Laurell K. Hamilton
Series: Anita Blake Vampire Hunter #20.5
Published by Penguin on May 8th 2012
Genres: Urban Fantasy
Pages: 33
Format: eBook
Source: Purchased
Amazon Kindle
Goodreads


The steamy outtake that takes readers even further into Laurell K. Hamilton's bestselling novel, Kiss the Dead.
You'd think I'd get used to seeing such a beautiful man and knowing he was mine, but it never grew old, as if his beauty and the fact that he was mine, and I was his, would forever surprise me.
With a vampire like Jean Claude around, it's far too easy for Anita Blake to doubt her own appearance—and the hold it has on those who love her. But one hot tub and two incredibly sexy men—Jean Claude and Asher—will make her feel like the most lusted-after woman alive…or undead. Not bad for a mere human…
Includes an excerpt of Kiss the Dead, the new Anita Blake, Vampire Hunter novel.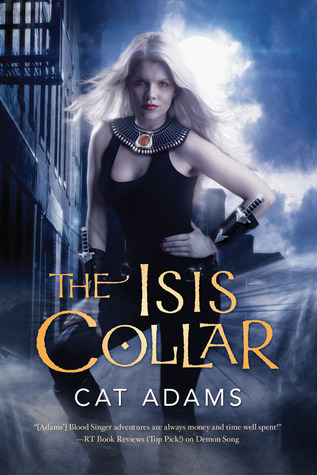 The Isis Collar
by Cat Adams
Series: Blood Singer #4
Published by Tor Books on March 13th 2012
Genres: Urban Fantasy
Pages: 384
Format: Paperback
Source: Library
Amazon Kindle | Amazon Paperback
Goodreads


A clairvoyant's vision sends Celia racing to evacuate a local elementary school before a concealed magical bomb goes off. She gets almost everyone out but is caught in the explosion!
Amazingly, the bomb seems to cause no damage…until two weeks later, when a stubborn bruise on Celia's leg turns out to be the first sign of a magical zombie plague. Schoolchildren and their parents are the next victims. The cure is both painful and in extremely short supply.
Worse, it soon becomes clear that there are more explosions to come. But helping the FBI track down the bomber isn't Celia's only problem. Her abusive, alcoholic mother has broken out of prison on the Sirens' island; her ghostly little sister has possessed a young girl; and one of Celia's boyfriends has mysteriously disappeared in the middle of a casting.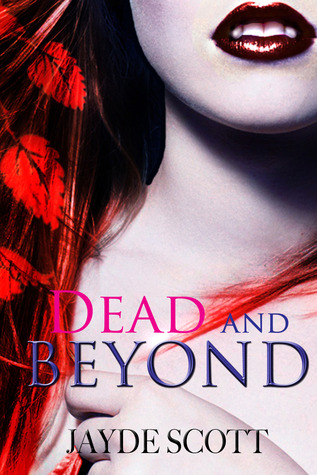 Dead And Beyond
by Jayde Scott
Series: Ancient Legends #4
Published by Createspace on February 25th 2012
Genres: Paranormal Romance
Pages: 292
Format: eArc
Amazon Kindle | Amazon Paperback
Goodreads


Amber Reed is a dead girl walking.
Having just been turned by her gorgeous vampire boyfriend, eighteen-year-old Amber Reed is bestowed with the ability to see ghosts. Between trying to figure out how to control her bloodlust and solving the mysterious disappearance of a friend, Amber realizes someone wants to step into her shoes so badly, they'll do anything to take her place.
When one secret after another pops up, the only person who believes her is her enemy, Devon. Amber can't figure out if he's here to help or save his own immortal race from losing the ancient war against the vampires. What she does know, however, is that she can't resist his good looks just as much as she can't help becoming someone else…
In a world of dark magic and ancient enemies, three powerful courts fight for supremacy, and Amber might just be the pawn in winning this war forever. But how's a girl to survive when everyone wants her dead?
My Review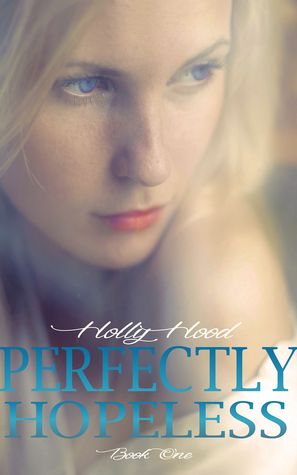 Perfectly Hopeless
by Holly Hood
Published by Self-Published on January 28th 2012
Genres: New Adult
Pages: 185
Format: eBook
Source: Purchased
Amazon Kindle
Goodreads


Every summer, when the willow trees blow lazily in the breeze Maven Wilder goes back to Portwood. At one time she was sure she knew what love was. She thought she was in it, but not anymore.Maven never expected to meet Henri Levitt that summer. A brown-haired, brown-eyed guy that keeps to himself and is always working odd jobs, Henri lives with relatives and comes off a bit depressed. He's happy to stay busy, and if that means little social life, that is fine by him.Nobody in Portwood thinks twice about Henri. And it's only after an embarrassing accident happens at The Yogurt Hut that Maven even notices him. After meeting Henri that day, Maven's life changes in ways she never counted on.Spending the summer with Henri shows Maven there is more to life than heartbreak, and that some people do change you for the better. Maven learns a lot over the summer. And after meeting Henri, her life will never be the same.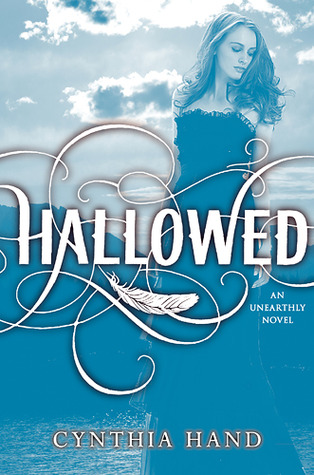 Hallowed
by Cynthia Hand
Series: Unearthly #2
Published by HarperTeen on January 17th 2012
Pages: 403
Format: Hardcover
Source: Library
Amazon Kindle | Amazon Paperback
Goodreads


For months Clara Gardner trained to face the fire from her visions, but she wasn't prepared for the choice she had to make that day. And in the aftermath, she discovered that nothing about being part angel is as straightforward as she thought.
Now, torn between her love for Tucker and her complicated feelings about the roles she and Christian seem destined to play in a world that is both dangerous and beautiful, Clara struggles with a shocking revelation: Someone she loves will die in a matter of months. With her future uncertain, the only thing Clara knows for sure is that the fire was just the beginning.
In this compelling sequel to Unearthly, Cynthia Hand captures the joy of first love, the anguish of loss, and the confusion of becoming who you are.
I received a complimentary copy of the book from the Author in exchange for an honest review. This does not affect my opinion of the book or the content of my review.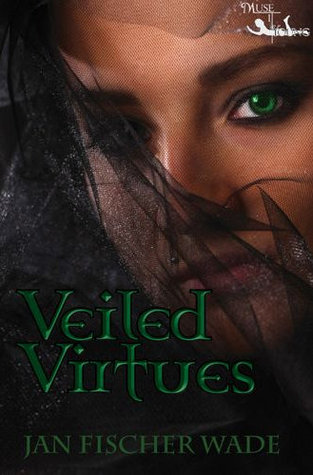 Veiled Virtues
by Jan Fischer Wade
Published by MuseItUp Publishing on February 11, 2012
Pages: 225
Format: eArc
Amazon Kindle
Goodreads


When Paige Stewart left America to house-sit in England, her only thoughts were to get away from her controlling mother and to have fun. Little did she know that her working holiday would turn into a battle between good and evil, or that she would be the epicenter of that battle. She certainly didn't expect to be swept off her feet by a modern-day English knight. But when blood appeared on her keyboard and she discovered her childhood scars bleeding, her holiday took a turn for the eerie and dangerous, and when she ventured into the metaphysical shop run by Nathaniel Brightmore, she found much more than tarot cards and crystals.
My Review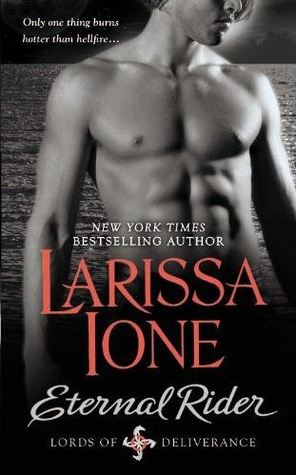 Eternal Rider
by Larissa Ione
Series: Lords of Deliverance #1, Demonica #6
Published by Grand Central Publishing on April 1st 2011
Genres: Paranormal Romance
Pages: 402
Format: Paperback
Source: Purchased
Amazon Kindle | Amazon Paperback
Goodreads


They are here. They ride. The Four Horsemen of the Apocalypse.
His name is Ares, and the fate of mankind rests on his powerful shoulders. If he falls to the forces of evil, the world falls too. As one of the Four Horsemen of the Apocalypse, he is far stronger than any mortal, but even he cannot fight his destiny forever. Not when his own brother plots against him.
Yet there is one last hope. Gifted in a way other humans can't-or won't-understand, Cara Thornhart is the key to both this Horseman's safety and his doom. But involving Cara will prove treacherous, even beyond the maddening, dangerous desire that seizes them the moment they meet. For staving off eternal darkness could have a staggering cost: Cara's life.
My Review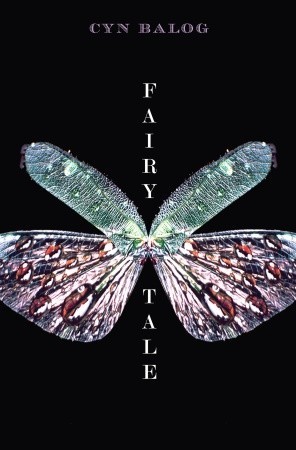 Fairy Tale
by Cyn Balog
Published by Delacorte Books for Young Readers on June 23rd 2009
Pages: 248
Format: eBook
Source: Purchased
Amazon Kindle | Amazon Paperback
Goodreads


Morgan Sparks has always known that she and her boyfriend, Cam, are made for each other. But when Cam's cousin Pip comes to stay with the family, Cam seems depressed. Finally Cam confesses to Morgan what's going on: Cam is a fairy. The night he was born, fairies came down and switched him with a healthy human boy. Nobody expected Cam to live, and nobody expected his biological brother, heir to the fairy throne, to die. But both things happened, and now the fairies want Cam back to take his rightful place as Fairy King.
Even as Cam physically changes, becoming more miserable each day, he and Morgan pledge to fool the fairies and stay together forever. But by the time Cam has to decide once and for all what to do, Morgan's no longer sure what's best for everyone, or whether her and Cam's love can weather an uncertain future.