Review: 'Captured by Her Cougar' by Felicity Heaton
November 5, 2018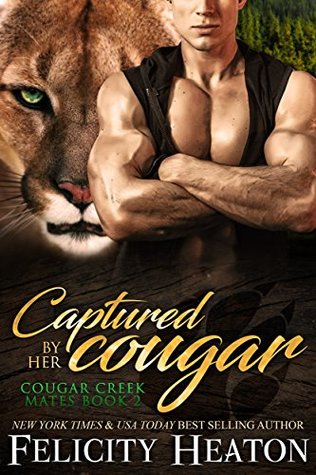 Captured by her Cougar
by
Felicity Heaton
Series:
Cougar Creek Mates #2
Published by
Self-Published
on August 18, 2018
Genres:
Paranormal Romance
Format:
eBook
Goodreads
Purchase at
Amazon
|
Apple

In the wake of an Archangel attack on Cougar Creek, Storm is seething with a need for revenge against the hunter organisation and the key to it might be the petite blonde mortal he's locked in his cabin, one he's determined to make sing for him. Only the beauty has a fiery temperament to match his own, and the more time he spends with her, the more she stokes a fire inside him. One that fills him with a startling and undeniable need to make her sing in another way—in his arms.
Gabriella isn't going to take her captivity lying down. She's going to give the pig-headed brute holding her against her will hell until he finally believes she's innocent. He might be a cougar shifter, but she isn't afraid of him. Or at least she isn't afraid of what he is. The way he affects her, the flames that lick through her whenever they're close, terrifies her though, because the longer she's around the towering sexy-as-sin shifter, the hotter that fire blazes, and it's only a matter of time before it burns away all her restraint.
With the mating heat and the attack bringing cougars back to the creek, Gabriella is a complication Storm doesn't need, but she's one that he wants… because she might just be his one true mate.
Discover four sexy cougar shifter brothers guaranteed to become your next book boyfriends in this hot new shapeshifter romance series from New York Times and USA Today international best-selling author Felicity Heaton, set in the same rich and addictive world as her Eternal Mates paranormal romance series. Book 1: Claimed by her Cougar Book 2: Captured by her Cougar Book 3: Courted by her Cougar Book 4: Craved by her Cougar
My Review
It's back to Cougar Creek in Captured by Her Cougar. This time it's Storm in the spotlight in the series, and he's the complete opposite of Rath. If you read Claimed by Her Cougar, you'll find that Rath is one of the country cougar shifters of the family, while Storm is the city cougar shifter who doesn't want anything to do with Cougar Creek. He's only at the Creek to assist his brothers during the mating season to make sure to break up any fights that happen between the male cougar shifters over the female cougar shifters. Although, now he has another mission and that is to keep the prisoner Gabriella contained in his cabin until she tells them that she isn't with Archangel.
Unfortunately, Storm is getting nowhere with her. She's persistent she's not with Archangel, but he doesn't believe her. He'll do anything to get her to 'sing,' but unfortunately, his fiery attitude is not helping. It doesn't help either when Gabriella has the same fiery attitude.
I love these two together, especially with all the bickering and tension between the two. They both are the perfect match for each other, even with all the drama going on between the two. Gabriella knows how to handle the problematic cougar shifter. Storm though has no idea how to handle her, especially when he realizes that he's falling for her. There's also the issue of everything happening in the mating season and how the other cougar shifters feel about Gabriella being there. So much is happening that you do not want to miss out on reading this novella.
I don't want to give too much away from the storyline because this a quick novella to read. It didn't take me long to finish reading it. This has become my favorite so far in the series until I read Flint and Cobalt's stories. Although, I did get a taste of these two in this book. I may end up enjoying their books more, but right now Storm wins it for my favorites. Some readers may not like his attitude at the beginning towards how he treated Gabriella, but in the end, he will win you over. 🙂 Gabriella also changes her ways at the end too. Like I said before, these two are perfect for each other.
I give the second book in the series 5 stars and highly recommend this book and the series to PNR readers. I recommend reading the first book first though, so you can read Rath's story and also find out what happened to have Gabriella become a prisoner to Storm.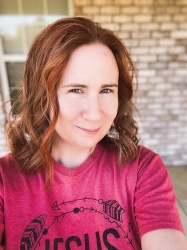 Latest posts by FranJessca
(see all)