Review: 'Judgment Road' by Christine Feehan
February 2, 2019
This book may be unsuitable for people under 18 years of age due to its use of sexual content, drug and alcohol use, and/or violence.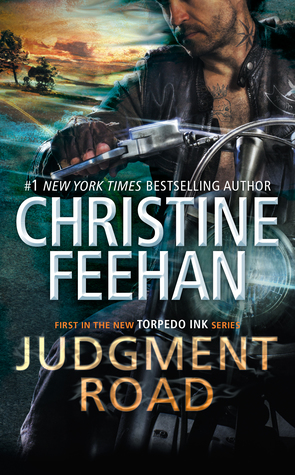 Judgment Road
by
Christine Feehan
Series:
Torpedo Ink #1
Published by
Piatkus
on January 23, 2018
Genres:
Romantic Suspense
Format:
ARC
Goodreads
Purchase at
Amazon
|
Apple
|
Google Play
|
Kobo

An outlaw motorcycle club sets up shop next door to Sea Haven in the dangerously sexy new series from #1 New York Times bestselling author Christine Feehan.
As the enforcer of the Torpedo Ink motorcycle club, Reaper lives for riding and fighting. He's a stone-cold killer who turns his wrath on those who deserve it. Feelings are a weakness he can't afford--until a gorgeous bartender gets under his skin...
Near Sea Haven, the small town of Caspar has given Anya Rafferty a new lease on life. And she's desperate to hold on to her job at the biker bar, even if the scariest member of the club seems to have it out for her. But Reaper's imposing presence and smoldering looks just ratchet up the heat.
Anya's touch is everything Reaper doesn't want--and it brands him to the bone. But when her secrets catch up to her, Reaper will have to choose between Anya and his club--his heart and his soul.
---
Judgment Road is the first book I've ever read by Christine Feehan, and now I'm adding the previous series the author has written to my TBR list on Goodreads. One of the many reasons is due to two of the characters that appeared in the first book in the Torpedo Ink series, actually already had their book and I'm going to make time to read the other books Christine Feehan has written.
FAIR WARNING ahead of time that this book is not for the faint of hearted and it's not suitable for anyone underneath the age of 18. There were times I was uncomfortable with certain parts of the books, but it is due to some of the dark violence and topics that were mentioned or happened in the book when reading it. All I can say is the Torpedo Ink Motorcycle Club is not a motorcycle club you want to mess with, especially since they all have their way of killing someone. This is due to how harshly they were trained in Russia. No other motorcycle clubs know about the Torpedo Ink team, and the team would like to keep it that way. Unfortunately, something is happening to other clubs that will start to impact Torpedo Ink where other clubs will ask for their assistance.
Judgment Road is a good introduction to the Torpedo Ink series with quite a bit of characters being introduced and worldbuilding that is happening in the first book. The first couple chapters alone I didn't know what I was getting myself into when reading the book. Don't get me wrong I've read motorcycle club books before, but never in the PNR genre and like I stated in the previous paragraph this book involved some very dark sensitive subjects to it.
Reaper is the main male character in the book, and I didn't know if I was going like him in the book because how he was already treating one of the female characters. He's the Enforcer of the club, and he's very lethal and scary. The way the author described him made me want to stay away from him and not look back at all. Christine scarily described the other characters too. Although, I'm intrigued by some of them, especially after getting to know their abilities. Reaper's abilities though are downright awful though. He has it out for the new bartender at their bar and wants the Czar to fire her. Something about her is throwing him off.
Anya Rafferty is the new bartender at the biker bar, and she's trying everything to keep her job, even though the scariest member of Torpedo Ink has it out for her for some reason. She's trying to keep her head low because she has her secrets and they come rearing forward sooner than later. Anya ends up falling into the club pretty drastically. I felt for her in the story because she didn't want to be a part of it.
There is a lot of dark times in this book, and after finding out what happened to Reaper, I can understand why he's the way he is now. There's also the big issues that are happening in the book that will show off some of the other Torpedo Ink club members. I'm interested to read more about Absinthe, Code, Steele, Savage, etc. There are so many different characters that are mentioned briefly in the book, but those stuck out to me in this book the most.
Overall, I give the first book to the series 3.5 stars and recommend it to fans of Christine Feehan's other books and readers that love a mixture of PNR/motorcycle club in their books. This book may not be my favorite, but that is due to certain elements that bothered me. I did enjoy the book though it just took me a while to read this book.
Will, I read the next book in the series? Yes. I want to find out more about the other club members and find out about their troubled pasts and find out who they will fall in love with in their stories.

This post contains affiliate links you can use to purchase the book. If you buy the book using that link, I will receive a small commission from the sale. It will help sponsor future giveaways but costs you nothing extra. You can read the full disclosure underneath the Privacy Policy.
---
---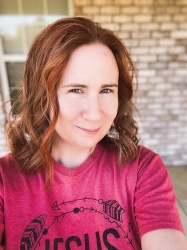 Latest posts by FranJessca
(see all)