Review: 'Magic's Fate' by Sela Carsen
September 24, 2017
I received a complimentary copy of the book from the publisher in exchange for an honest review. This does not affect my opinion of the book or the content of my review.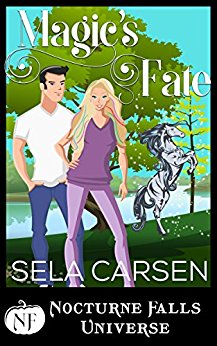 Magic's Fate
by
Sela Carsen
,
Kristen Painter
Series:
A Nocturne Falls Universe story
Published by
Sugar Skull Books
on May 23rd 2017
Genres:
Paranormal Romance
Format:
eBook
Goodreads
Purchase at
Amazon
|
Apple

Fulfill three quests, return the missing shards of an evil sword, or people die. Nothing a wounded Russian sorcerer and an artist with a talent for roping can't handle.
Rodion Czernovitch is in Nocturne Falls recovering from a serious injury and working hard not to fall for his sister's best friend. When evil comes knocking on his door and she accidentally gets in the way, it's time to quit brooding and start preparing for battle.
Carina Valdis just wanted a cup of coffee. But when she ran into her bestie's brother - her big crush - and subsequently into an evil wizard's curse, it's going to take all her skill and patience to teach the overbearing warrior that love and wit (and a couple of rope tricks) can conquer all. Even the threat of death.
My Review
Magic's Fate is the second book by Sela Carsen in the Nocturne Falls Universe and this would be the second book I've read from her too. I definitely enjoyed getting to read some of my favorite Nocturne Falls characters in Magic's Fate. One of many reasons why I love reading the Nocturne Falls Universe stories. I love this world. I definitely wish a town was like this in real life.
Although, this book didn't grab my attention like I wanted it to. It had promise to it. Unfortunately, I didn't click well with one of the characters. Rodion Czernovitch is in Nocturne Falls healing from a serious injury and he's trying his hardest not to fall for his sister's best friend, Carina Valdis. Unfortunately, he definitely didn't listen to himself because he fell for her. His character was mostly not my favorite because of his personality. He also got Carina cursed by his enemy because she ended up getting in the way. Grrr! I did enjoy Carina's character because even though she was cursed, she was determine to be a part of the process of helping get rid of the curse. I also enjoyed reading about the previous characters in the first book Sela Carsen wrote for the Nocturne Falls Universe stories. I love catching up with previous characters.
I give this book 3.5 stars and recommend it to readers of the Nocturne Falls fans and fans of Sela Carsen.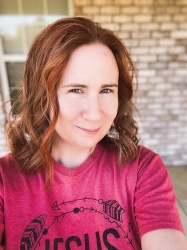 Latest posts by FranJessca
(see all)