Review: 'Shore Excursion' by Marie Moore
March 20, 2012
I received a complimentary copy of the book from the author in exchange for an honest review. This does not affect my opinion of the book or the content of my review.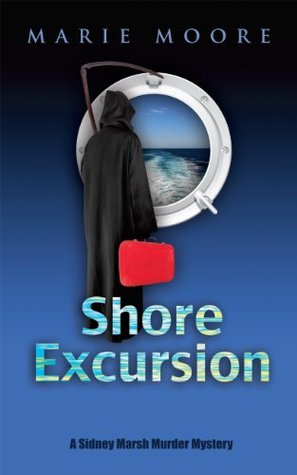 Shore Excursion
by
Marie Moore
Series:
Sidney Marsh Mystery #1
Published by
Camel Press
on January 1, 2012
Genres:
Cozy Mystery
Format:
Paperback
Source:
the author
Goodreads
Purchase at
Amazon
|
Apple

Travel agents may be a vanishing breed, but Sidney Marsh, a New York transplant from Mississippi, is holding her ground--at least on land. She is the tour leader on a cruise through Scandinavia to Russia for a group of eccentric senior citizens who call themselves the High Steppers. Sidney expects her days to be filled with long meals, shopping expeditions and visits to museums, churches and fjords. But this cruise is anything but routine. There is a killer on board, targeting the High Steppers and quite possibly herself. After the first suspicious death, the captain and his crew are grimly determined to carry on as usual. Disgusted with their inaction, Sidney decides to take matters into her own hands and launch her own investigation. She enlists the halfhearted help of her friend and business partner, the flamboyant and fun-loving Jay Wilson. Suspects abound. What about those two handsome young men who stay mysteriously aloof? One of them has his eye on Sidney. So does another passenger, far too charming and again too young to fit the "High Stepper" mold. Then there's Captain Vargos, the arrogant ladies' man whose plans to thwart Sidney's investigation might include seduction. Who is that crew member shadowing Sidney? Is the theater really haunted? Even the High Steppers themselves are not as predictable or harmless as they seem. The closer Sydney gets to the truth, the less she understands. Shore Excursion is the first book in a new mystery series featuring amateur sleuth Sidney Marsh.
My Review
I was in the Navy for over ten years and got to sail the seas a lot while I was in, but I have never been on a luxury cruise liner. Don't even think the Navy ships compare to Carnival or Disney Lines…because they don't. =) How I wish I could enjoy a Carnival Cruise. Maybe someday, but for now, I'm going to stay on land since I did too much sea time in the Navy and also after reading "Shore Excursion", I definitely don't want to be apart of a Murder Mystery or even a ship tipping over to its side (which recently just happened). Eek! I love mysteries every once in a while and after reading the book summary for "Shore Excursion," I knew I had to read it. We're introduced to Sidney Marsh in this book which is a Travel Agent, which in today's world you don't hear much about anymore.
Her job in this book is to be a Tour Leader for the High Steppers which are a lively bunch of senior citizens. Poor Sidney Marsh didn't sign up for a few murder mysteries on board her tour though. She takes it upon herself to try to solve the mysteries on the vessel, but unfortunately, she either has a lot of people telling her not to get involved, or she is getting caught up in dangers herself. It's a win-lose situation for her, but someone has to help her "High Steppers." Marie Moore takes you on some crazy turns and twists through this book. You will never expect really who the murderer is until the light bulb clicks on in your head at the end which is what happened to me. Marie Moore created some fascinating characters in this book, and I have no idea how she kept up with them all, but I adored every one of them. I even felt terrible with the characters that were killed — the whole time I was rooting for Sidney to solve the mystery so we could have some closure.
I look forward to reading the next Sidney Marsh mystery from Marie Moore. If you love mysteries and want to take a ride on a cruise ship (not literally of course) to solve a murder mystery or two, then you need to read this book.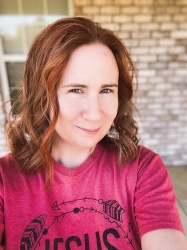 Latest posts by FranJessca
(see all)