Review: 'Hard and Fast' by Erin McCarthy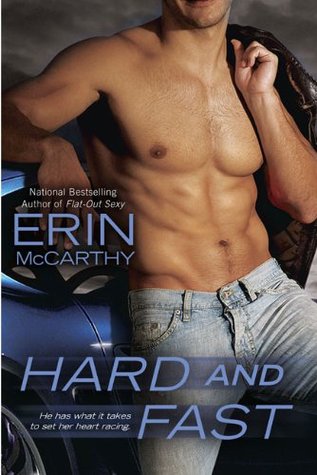 Hard and Fast
by
Erin McCarthy
Series:
Fast Track #2
Published by
Berkley
on May 5th 2009
Genres:
Contemporary Romance
Pages:
304
Format:
Paperback
Source:
Library
Amazon Kindle
|
Amazon Paperback
Goodreads

The sequel to Flat-Out Sexy, starring a bad boy race car driver hero who's met his match-from a hot USA Today bestselling author.
Grad student Imogen Wilson realizes she's hit on the perfect thesis for her sociology degree. If she follows the so-called "rules" on how to get a man, can she steer her way into the world and hearts of stock race car drivers, and establish their dating- and mating-patterns?
Although sexy and reckless racer Ty McCordle is the ideal test subject, Imogen knows that for the sake of science, she can't give in to her growing attraction for him. Yet he's the one who's chasing after her, and Imogen realizes that she actually wants to be caught. A southern gentleman like Ty will satisfy all her curiosity-and make all the risks worthwhile...
My Review

I read the first book from this series, randomly one day since I had to clean up my TBR list a bit on Goodreads.  Well, unfortunately, the list has gotten more significant because I had to add the rest of the Fast Track Series to my TBR list.  What can I say, I love NASCAR drivers.  Go Dale Jr.!  =)
The second book is about Imogen and Ty this time around.  I got a taste of them in the first book, and I already could tell in the first book they would hook up.  I fell in love with both of these characters. I loved the storyline that Erin McCarthy created for both of these characters, and of course, I have a crush on Ty McCordle.  I know he's a fictional character, but I feel so sympathetic of him.  I want to give him a large hug…or maybe more.  ***Evil Grin***
Imogen is College Student who is very intelligent.  She's doing her thesis for college on how you could land a race car driver in specific steps.  She never expected though; she would land the heart of Ty so quickly though.  He's chasing after her.  She didn't think he would be interested in her.
Ty McCordle, of course, is a little suspicious on dating Imogen because she's so smart and he's never chased after a girl like her before.  You will learn a lot about why Ty McCordle is the way he is in this book.  You'll find out he has a specific disability which he's very embarrassed by in the story.  I felt terrible for him, and I wish he would've brought it up to Imogen at the beginning of his difficulty he has because when he finally spills the beans, she's very sympathetic about it.  See guys, if you bring up something that you're embarrassed by, almost 99% of the woman is going to understand and is going to want to help out.  There is at least 1% of women who don't know of course and the girl that Ty saw at the beginning of the book was that 1%.  I could've slapped that skinny, lettuce eating wench.
All and all, this book I enjoyed so much more than the first book because of the characters.  Maybe because I can relate to Imogen a little bit.  Just a tiny bit.  My husband always says how he landed such an Intelligent Wife.  Who by the way, got A's in both my college classes the first half of Spring Semester.  =)  So proud of myself even with having two girls at home who tend to keep me on my toes.
I look forward to diving into the next book hopefully next month.  I can't wait to read Suzanne's story.
Five Full Moons for this book.  =)


I guess I should type a bio here. I'm FranJessca or Fran for short. I'm the owner of Book Lovin' Mamas and main Reviewer. I've been reviewing books since I got out of the Navy in 2011. Now 8 years later, I'm still reviewing, but this time with my youngest sidekick.
When I'm not reading and reviewing, you can find me at my day job during the week and on the weekend taking care of our little farm.

Latest posts by FranJessca (see all)