Review: 'Wayward One' by Lorelie Brown
March 21, 2013
I received a complimentary copy of the book from the author in exchange for an honest review. This does not affect my opinion of the book or the content of my review.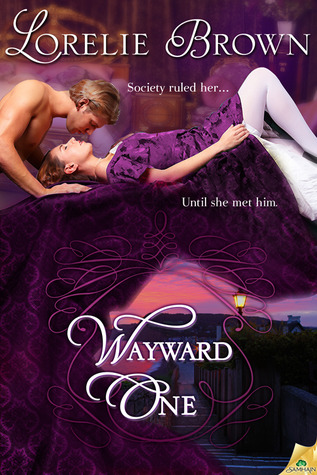 Wayward One
by
Lorelie Brown
Series:
Waywroth Academy #1
Published by
Samhain Publishing
on February 5, 2013
Genres:
Historical Romance
Format:
eArc
Source:
the author
Goodreads

He'll protect her with every vicious bone in his body.
During her ten years at the prestigious Waywroth Academy, Sera Miller clung to a strict code of propriety to shield herself from rumors that she isn't an orphan at all. She's a bastard. Now she wishes she had never allowed her friends to talk her into snooping into the mysterious source of her tuition.
Her benefactor isn't the unknown father she dreamed of one day meeting, but Fletcher Thomas—underworld tycoon, gambling den owner, and a man so dangerously mesmerizing that he could spark the scandal Sera has worked so hard to avoid.
Fletcher is only two steps away from leaving the life of crime he inherited from his father. First he plans to join an aboveboard railroad consortium, then claim the one thing his ill-gotten gains have kept safe all these years—Sera.
With every wicked caress, Sera fights harder to remember society's rules and reject the painful memories his touch resurrects. Accepting Fletcher's love means accepting her past—a risk too great for a woman who has always lived in the shadows. No matter how safe she feels in his arms.
Warning: This book contains a do-gooder heroine, an accidentally charming hero with tendencies toward caveman-itis, inappropriate household décor and fabulous sex against a wall.
My Review
I seriously want to gush over the cover for a minute before I go into my review.
The cover alone had me sold on reading this book.  I love the colors chosen for the cover and how the cover models are placed….and the dress, of course, is GORGEOUS!!!
Sera Miller had a very rough life when she was younger and when her mother passed away, she went off to Waywroth Academy where she learned how to become a very proper woman and to keep herself from being disgraced from society.  She never knew who took care of the expense of going to the Academy and when she finds who the person is that helped her…she is more in shock than ever.
Digger, otherwise known as Fletcher Thomas now has always felt compelled to protect and look after Sera.  He has known for a while and all he wants is for her to be happy and be loved.  He knows he did bad things when he was younger, but he's trying to make up for it.
He wants to help Sera further than giving money for her to attend school and now he wants her to help him be accepted into society as well.
When Sera decides to help she is thrown into a world where she's not used to and a world where she wanted to avoid at all cost.  Fletcher keeps being a very difficult man to be with and she cannot help, but start to really have feelings for him.
She's even threatening in Fletcher's home to leave, but she has no idea who the culprit is.
It's going to be very difficult for Sera to keep herself proper around the handsome Fletcher, especially when he tends to be there for her whenever she needs him the most.
Lorelei Brown gives you a historical romance that has a lot of angst, romance, and sweetness.
She gives you two characters that you will be rooting to get together because they are made for each other.  They have known each other for a while and it also helps when you have the sexy Fletcher trying everything to let Sera know he loves her and then Sera trying to fight her feelings, but she just cannot after so long.  It's inevitable.  =)
Fletcher is definitely a character who I adore a lot of in the story.  He had his bad ways, but when he was around Sera, he was different.  He stole my heart and when the steaminess happens between him and Sera….yeah…he kind of stole my heart more.
Sera got on my nerves during certain parts of the book, especially towards the ending.  She kind of overreacted over something and I felt bad for poor Fletcher.  Although, Sera did have qualities I loved about her.  She could be difficult at times because she was all about not being snubbed by society…but she did put Fletcher in his place several times in the book when he truly needed someone to.
Overall this book definitely was a very enjoyable and sexy book from the very talented Lorelei Brown, who readers know her as Katie Porter.  I had a hard time in certain parts, but other times I had to keep turning the page on my iPad.  I am a sucker for a historical romance book though because I love when an author can make me feel like I am back in time and that is what Lorelei Brown did.
I look forward to reading more of Lorelei Brown's books in the very near future.
I give "Wayward One" 4 full moons and highly recommend it to historical romance readers out there.
I received a complimentary copy of the book from the author in exchange for an honest review.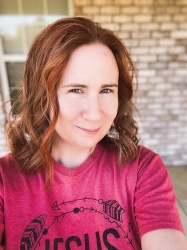 Latest posts by FranJessca
(see all)