I received a complimentary copy of the book from the author in exchange for an honest review. This does not affect my opinion of the book or the content of my review.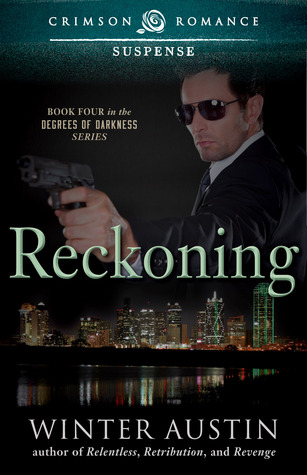 Reckoning
by
Winter Austin
Series:
Degrees of Darkness #4
Published by
Crimson Romance
on March 31, 2014
Genres:
Romantic Suspense
Format:
eArc
Source:
the author
Goodreads

The honeymoon is over for Cody and Remy LeBeau. And Cody's darkest secret haunts her, threatening to destroy their marriage.
The brutal murder of a former judge sets in motion a domino effect of killings that all point back to Cody and her father. She suspects her father is hiding something sinister from her and Remy. But the closer she tries to get to her husband, the more she feels Remy drifting away from her, taken by his job and his stubborn instance that she's not trusting him enough. Then her ex-boyfriend sends her a warning note, and with her world spinning out of control, Cody turns to the only man she does trust to help her and protect Remy. Her actions produce a result she's not prepared to handle.
Remy watches as his once happy marriage is pulled apart brick by brick. With threats closing in all sides, he's forced to resort to his cold, secretive style that has kept him alive. If he's to have any chance at succeeding, he must rely on the assistance of the last person on earth he wants to reach out to, even if the result continues to push Cody away.
Death will have a reckoning, and for Cody and Remy it could mean the end of everything they've loved.
My Review