ARC Review: 'Reckoning' by Winter Austin
April 16, 2014
I received a complimentary copy of the book from the author in exchange for an honest review. This does not affect my opinion of the book or the content of my review.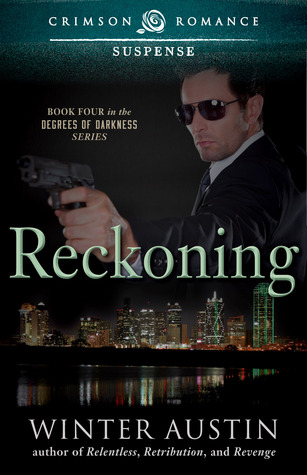 Reckoning
by
Winter Austin
Series:
Degrees of Darkness #4
Published by
Crimson Romance
on March 31, 2014
Genres:
Romantic Suspense
Format:
eArc
Source:
the author
Goodreads

The honeymoon is over for Cody and Remy LeBeau. And Cody's darkest secret haunts her, threatening to destroy their marriage.
The brutal murder of a former judge sets in motion a domino effect of killings that all point back to Cody and her father. She suspects her father is hiding something sinister from her and Remy. But the closer she tries to get to her husband, the more she feels Remy drifting away from her, taken by his job and his stubborn instance that she's not trusting him enough. Then her ex-boyfriend sends her a warning note, and with her world spinning out of control, Cody turns to the only man she does trust to help her and protect Remy. Her actions produce a result she's not prepared to handle.
Remy watches as his once happy marriage is pulled apart brick by brick. With threats closing in all sides, he's forced to resort to his cold, secretive style that has kept him alive. If he's to have any chance at succeeding, he must rely on the assistance of the last person on earth he wants to reach out to, even if the result continues to push Cody away.
Death will have a reckoning, and for Cody and Remy it could mean the end of everything they've loved.
My Review
Reckoning is the fourth book to Winter Austin's Degrees of Darkness series, and it ended the series with a HUGE bang.  I was not prepared to cry while reading this book, and I was not prepared for what Winter Austin put Remy and Cody through in this book.
I thought initially that Revenge was the last book I would read of Remy & Cody's story, but Winter surprised me by saying their story was not done yet.  I should have known from the beginning because there was something left opened in the very first book.  In Reckoning, we get the complete closure of it all.  Winter did a fantastic job on making everything come to together for Remy and Cody, but she didn't make it easy for either one them.
Cody went through the most in this book again, at least that was my opinion after I read it.  She was tested again and again, and this time it was her past that crept up on her and her Daddy's past colliding with it all.  Cody believes the one person she hates the most is back to seek to harm her even further her ex-boyfriend that her father scared away with his gun so many years ago.  There is also the fact her father is acting weird, but she has no clue why.  All she knows is that she must find out the truth on who is behind the messages, but she finds something about herself that she is scared to reveal to anyone. She also is scared to talk about that one night she had with her ex-boyfriend that made her lead down a dark path.
Remy in the story is doing his job of being a detective trying to figure out who killed a judge and his wife with his partner Heath Anderson.  When other people wind up dead with the same kind of markings from the previous killings, Remy starts getting pieces of the puzzle together on what is happening. He starts thinking that his wife, Cody is keeping something from him.  He is determined to find out what, so he can protect her.
Cody once again proves herself in this book that she is strong and she can deal with anything.  I was scared she was going back to original ways at first, but I knew she had her reasons to be afraid of and turned off from everyone around her.  I felt very sympathetic for her and wanted everything for her to have some happiness and peace finally.  Remy in the story proves once again he's very protective of his family and friends.  He wants to help Cody, but she's stubborn.  He was persistent though, which makes me adore his character a lot.
Remy and Cody are a fantastic couple and Winter made me adore them more in each book, even when they were a pain to each other.  I'm so glad they finally get their happily ever after in this book, but it comes with tears being shed and people getting hurt or killed in the process.  Reckoning proves to be just as intense as the other books in the series, but this one you will need to prepare yourself to have tissues on hand.  Be prepared also to have some vast secrets come out in this book about Cody's father and what happened to her mother.  By far the best part of this book is the epilogue, and I may have shed a tear then too.  (There is another scene I cry at…but don't want to give away the details on it)  Gosh darn it…I'm going to miss Remy and Cody, but I look forward to what Winter has planned next to write.
I give this book 5 full moons and highly recommend it romantic suspense readers out there.
Books in the series are Relentless (Book 1), Retribution (Book 2), Revenge (Book 3), and Reckoning (Book 4).  The titles alone will tell you what to suspect in each story.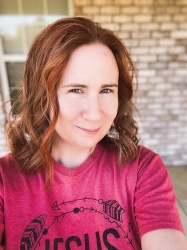 Latest posts by FranJessca
(see all)