ARC Review: 'Once Bitten' by Heather McCorkle (Excerpt + #Giveaway)
April 27, 2017
I received a complimentary copy of the book from the publisher in exchange for an honest review. This does not affect my opinion of the book or the content of my review.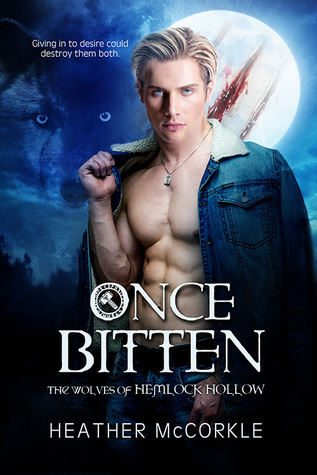 Once Bitten
by
Heather McCorkle
Series:
The Wolves of Hemlock Hollow #1
Published by
entangled Publishing Select Otherworld
on April 24th 2017
Genres:
Paranormal Romance
Format:
eArc
Goodreads
Purchase at
Apple
|
Kobo

One night was all it took to change everything. One moment of weakness, and now I'm becoming. Werewolves were supposed to be things only seen in movies, not things that exist in real life. Instead of med school and homework, my life is filled with a laundry list of things that were once impossibilities. Groups fighting over whom I belong to. The possibility of dying if I don't learn everything before the next full moon. Figuring out how to survive in a world I never knew existed. But the biggest danger? Ty: history professor, super sexy Viking werewolf, and the man who's been assigned by the Council to teach me how to survive becoming a werewolf.
Once Bitten is the first book I've read from author Heather McCorkle and I'm really glad I decided to read this book from her. So what drew me to read this book? First it was the cover because it definitely caught my eye and I always enjoy books that have eye candy on them. 🙂 They look great on my bookshelves, so everyone can stare at them. Second, it was the synopsis because werewolves are one of my favorite paranormal creatures to read about and I really like how the synopsis grabbed my attention because it was written in first person.
Sonya the main character in the story who happens to be the one telling the summary of the story in the synopsis has her life change. One minute she's a med student working at bar without family, the next she's being bitten and has pack members trying to kidnap her to be apart of their pack. She has no idea of this world, but she's about to find out thanks to a werewolf/man who has been assigned to teach her their werewolf ways and also prepare her for her first shift.
Once Bitten is full of action due to everything that is happening with Sonya and her teacher. Sonya is forced into a world she has no clue about and she is battling with werewolves that are out to kidnap her, but she has no idea why. Ty who is Sonya's teacher I found interesting because he's a werewolf that doesn't really belong to a pack. He's new at that this werewolf teacher thing too, but he actually did a pretty good job on taking care of Sonya in the story. Sonya also took care of herself very well. I really liked her character in the story.
There was some things I was confused with, especially when it came to the storyline and how the flow of it ended. I definitely wasn't expecting how it ended, but I was surprised by it. I would've loved to have more scenes between Sonya and Ty too because those two were interesting together. I loved the scened of them going swimming. There was a lot of tension between those two in the story more than action. It wasn't an insta-love between the two, but more of a confusing try to fight it off tension because they were not sure if they would get in trouble.
I love the switching of POVs in the story because I got to be inside both of their heads in the story and got to see in different angles.
Overall, I give this 3.5 stars and look forward to reading way more books from Heather McCorkle and more on the Wolves of Hemlock Hollow. If you're looking for a book with werewolves (some hot Icelandic talking ones that look like sexy Vikings) I definitely recommend this book.

This post contains affiliate links you can use to purchase the book. If you buy the book using that link, I will receive a small commission from the sale. It will help sponsor future giveaways but costs you nothing extra. You can read the full disclosure underneath the Privacy Policy.
---
---

Trapped beneath Ty's body after he executed a particularly impressive leg sweep on me, I realized the problem. How could I not? Its clear blue eyes bore a hole straight through me. The press of all that muscle against my thin tank top and mostly bare legs made me dizzy. Pink lips with the slightly raised ridge lining them drew me in, making me want to lick, bite, and suck on them. All right, it wasn't really his lips I was thinking about at this point. By the feel of the hard line pushing against my groin, it became clear I wasn't the only one feeling the effects.
"I think I know what the problem is," I said between labored breaths.
It came out sounding as horny as I felt, but at the moment, I didn't care.
Ty smiled and ran his hand along my jawline. "Too many clothes?" he suggested in a voice deepened by desire.
My traitorous eyes fluttered closed but I forced them back open as I fought the instinct to lean into his hand. Just when I thought he might be serious, the pressure of his body against mine disappeared. One moment he lay on top of me, the next he stood over me, offering me his hand. I accepted it, not because I needed it, but because I wanted to touch him. Which led me right back to the problem.
"Precisely," I said as I stood and brushed pine needles from my jogging shorts with my free hand.
His guilt-filled eyes widened. "I am sorry. I should not have said that."
"No, Ty. I'm sick of fighting what might be between us, and sick of wondering if it's just the ver›a heightening my desire," I said, keeping my tone as matter-of-fact as I could. The last part wouldn't come out, the part about how I was terrified of going mad and sick to death of the fear.
Those delicious lips quirked up. "That is not how it works."
I raised an eyebrow at him. "It might be. The ver›a is heightening my desire, so I need to master it."
Shaking his head, Ty walked over and grabbed a towel that hung from a tree branch. Beads of sweat trickled down between his pectoral muscles, making me want to follow them with my tongue. His arms and chest flexed as he wiped sweat from his forehead and the back of his neck.
The reaction it stirred deep in my center only confirmed my suspicions of this being a hormonal imbalance.
"Once you have mastered your strongest emotion, you hold the key to mastering them all. And anger was definitely your strongest emotion," he said.
From a nearby stone table, he picked up two water bottles and handed me one. "You think the ver›a is the reason for your desire, yes?"
I accepted the water bottle and took a long drink.
When I lowered it he stepped deep into my personal space. Knowing a lesson was coming, I resisted the urge to step back and instead craned my neck back to look up at him. Moments like this reminded me of how tall he was. This close his body heat radiated from him, reaching out to me as if it could draw me in. He caught a drop of water that lingered on my bottom lip and spread it across my mouth, teasing the edge of my teeth as he almost pushed his finger inside. Just like that I grew wet. Nostrils flaring as he took in
my scent, his eyes fluttered closed.
"No, maybe, I don't know," I breathed. "Well, the reason it's so strong, maybe."
His finger moved from my lips to my arm, tracing a line down it that burned deep into me in the most wonderful way.
"Then knowing the reason, you should be able to control it, to banish it like you can the anger."
As he spoke his finger traced its way back up the inside of my arm to my waist, running upward until it outlined the edge of my breast. My nipples hardened in an instant, aching for much more than a grazing touch.
He leaned down and whispered in my ear. "So banish it."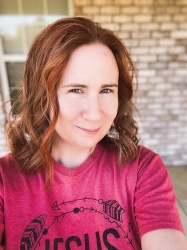 Latest posts by FranJessca
(see all)