ARC Review: 'Reaping the Immortal' by Pamela Labud
January 27, 2017
I received a complimentary copy of the book from the author in exchange for an honest review. This does not affect my opinion of the book or the content of my review.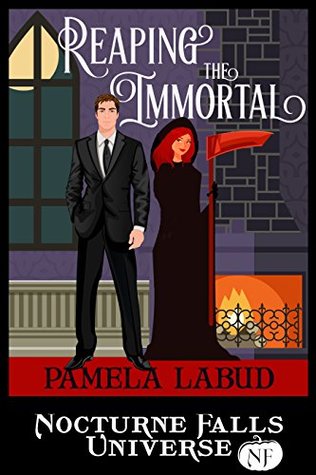 Reaping The Immortal
by
Pamela Labud
,
Kristen Painter
Series:
A Nocturne Falls Universe story
Published by
Sugar Skull Books
on January 24th 2017
Genres:
Paranormal Romance
Format:
eArc
Goodreads
Purchase at
Amazon
|
Apple

Holly Dent is one overworked Reaper. After receiving orders from the Reaper's Guild, she's arrived in the beautiful Nocturne Falls for her next assignment—to assist the passing of one Max Hyland. She quickly realizes he's devilishly handsome, wickedly charming and, Immortal. Immune to her magic, he has only one real power—not dying!

Careful with his heart Max is resigned to remaining alone for all eternity—until the beautiful Reaper appears on his doorstep. Even though she's bent on helping him pass from this life to the next, he can't help wanting to learn more about her.

Torn between her growing affection for Max and completing her assignment, Holly calls upon her old mentor for help. However, as she and Max become closer, she learns that her former teacher has plans of his own, for taking the soul of an Immortal gives a Reaper great power—enough to destroy the Guild once and for all. Holly and Max must find a way to defeat him, for, if they fail, Max's life is forfeit. Magic, intrigue and romance ensue—when it comes to Reaping the Immortal…
My Review
I decided to read Reaping the Immortal last out of all the Nocturne Falls Universe books released on January 24th since it was the longest out of all of them.
The title alone caught my eye because how could someone possibly reap an immortal who can't actually die? Well, Holly Dent has been tasked to reap Max Hyland who resides in Nocturne Falls as a funeral director. The only problem is Max is not ready to be reaped. Once Holly gets there, she realizes that may be she's wrong about reaping Max.
I really enjoyed the characters in Reaping the Immortal because I got to read the back stories about the characters and also got more time with them and the dilemma they were both facing. I didn't get much of the Nocturne Falls previous characters in the stories like the other Nocturne Falls Universe, but that is definitely okay. Reaping the Immortal still had the Nocturne Falls world to it, which made it an enjoyable read. What I found ironic in the story is how Max is a funeral director and he's an immortal. Yes, he's just an immortal. He doesn't have any crazy powers. He just has lived for a very long time. He also has a twin brother in the story who is complete opposite of him.
The storyline does include a villain in the story and I actually predicted who the bad guy was from the beginning. The bad guy to me wasn't very intimidating at all. At least not to me. You will get a POVs with the bad guy too in the book, which was a interesting to read.
Poor Holly is confused some parts in the story due to her task and also dealing with the handsome Max. I would be too though. Her task of being reaper is not easy and I feel for her in the book. She's never felt this way by anyone before and let's just say these Max and Holly are adorable together. There's not much romance in the book, but there is a lot of the characters being together. At the end there's some more romance though between the characters, but it's not the hot and heavy kind of romance. It's the long lasting romance. 🙂
I give this book 4 stars and highly recommend this to fans of Pamela Labud and fans of the Nocturne Falls series by Kristen Painter. I look forward to checking out what other books Pamela has written and adding them to my never-ending TBR list. 🙂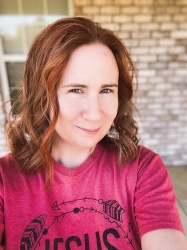 Latest posts by FranJessca
(see all)