ARC Review: 'Reaver' by Larissa Ione
December 17, 2013
I received a complimentary copy of the book from the publisher in exchange for an honest review. This does not affect my opinion of the book or the content of my review.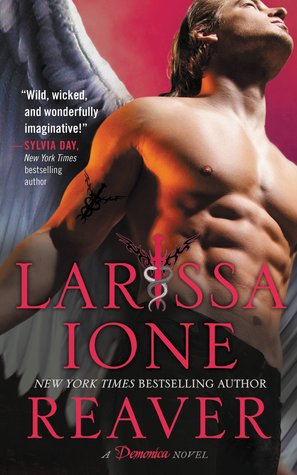 Reaver
by
Larissa Ione
Series:
Lords of Deliverance #5
,
Demonica #10
Published by
Forever
on December 17, 2013
Genres:
Paranormal Romance
Format:
ARC
Source:
the publisher
Goodreads
Purchase at
Amazon
|
Apple

WARRIOR OF HEAVEN
Reaver is an angel with a past, a record, and a less-than-heavenly attitude. Powerful enough to fight alongside the fiercest battle angels-and crazy enough to risk his wings on a one-way mission to hell-he's agreed to go where no angel has ever gone before...to steal the most seductive and dangerous prize of Satan himself.
ANGEL OF HELL
Harvester is one of the Fallen, a once-heroic angel who sacrificed her wings to work as an undercover agent in hell. But now her cover has been blown, and she's been doomed to an eternity of agonizing torture. Even if Reaver can snatch her away from Satan's lair, even if they can fight their way out of the underworld's darkest depths, there is one thing Harvester can never escape-her newfound thirst for an angel's blood...
My Review
Oh boy, I am speechless after reading Reaver, and I have no idea where to start with my review. I know for dang sure, I am not going to spoil anything about this book because this is a MUST READ for fans of Larissa Ione's books. If you have been waiting patiently as I have for Reaver's book, you will not be disappointed with how Larissa wrote his and Harvester's story.
Larissa picks up to where Rogue Rider left off at, and how Reaver is determined to save Harvester from Satan's wrath. She is being tormented for what she did, and she is being held to do something that Heaven does not want her to help within the story.
Larissa throws so many twists and turns for Reaver and Harvester to deal with, especially once Harvester is rescued. All I can say is, this book has so much action from beginning to end. There is no part in this book that will make you want to stop reading. You have what Harvester and Reaver are dealing with in their present time, and then they are also dealing with their past excursions. ( I do not want to give any of this way…so you will have to read the book to find out ) You may end up staying up late at night to finish it once you start reading it. That is definitely what I did. I needed to devote a few hours in my day to read Reaver without interruptions. It's kind of hard when you have a husband, two children, a dog, and two crazy cats that want your undivided attention. Let's say this Book Lovin' Mama gave the stare that made everyone leave her alone.
We have all the characters from the previous Lords of Deliverance books and even my favorites from the Demonica series showing up. *sigh* – How I have missed my favorite demons –
What I loved most about Reaver is that Larissa gives us, two characters who have gone through a lot and they continue to go through a lot together, but they are there for each other. They both have dark sides to them. Reaver from his past excursions and Harvester from her most recent ones that she is not proud of since the beginning. Reaver though, has no clue what he did, and in this book, you find everything about him, you always wanted to know. (Oh and there is another shocker to Reaver's past)
You even see another side of Harvester that makes you adore her even more. At least I felt for the poor Harvester, especially when she has to make a particular choice towards the end of the book. I did not like her from previous books, but Larissa explains everything on why Harvester acted the way she did. She still has her bubbly, mean personality even at the end. ( She never changes her character)
I could go on and on about this book, but I do not want to spoil Reaver for anyone. He has become a favorite angel of mine, and he may have topped to be one of my favorite male characters from Larissa's books.
If you are looking for a book that is action-packed, filled with sexual tension, and down-right crazy monumental then this book is definitely for you. Larissa has such an addicting writing style. I swear every book I pick up from her is never disappointing. Instead, every book leaves me wanting more. I LOVE the characters she creates and makes us love and even hates.
I give this book 5 full moons and highly recommend it to Larissa Ione fans out there and paranormal romance readers. Please…if you have not read the previous books, you need to. You will miss out on the previous characters and what has continued with each story. If you have not read any of Larissa's books before…what are you waiting for?!!! Make it a 2014 resolution to read the Demonica and Lords of Deliverance series. You will not regret it one bit.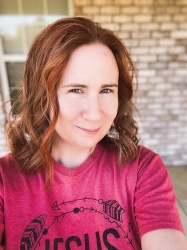 Latest posts by FranJessca
(see all)