ARC Review: 'Unclaimed' by Sara Humphreys
December 6, 2013
I received a complimentary copy of the book from Netgalley, the publisher in exchange for an honest review. This does not affect my opinion of the book or the content of my review.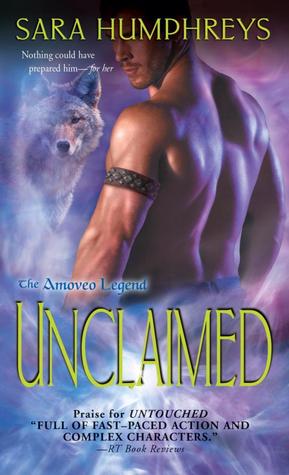 Unclaimed
by
Sara Humphreys
Series:
The Amoveo Legend #5
Published by
Sourcebooks Casablanca
on December 3, 2013
Genres:
Paranormal Romance
Format:
eArc
Source:
Netgalley, the publisher
Goodreads
Purchase at
Amazon
|
Apple

She Works Hard to be Normal...
Tatiana Winters loves the freedom of her life as a veterinarian in Oregon. It's only reluctantly that she agrees to help cure a mysterious illness among the horses on a Montana ranch—the ranch of the Amoveo Prince. Tatiana is no ordinary vet—she's a hybrid from the Timber Wolf Clan, but she wants nothing to do with the world of the Amoveo shifters.
But There's No Escaping Destiny...
Dominic Trejada serves as a Guardian, one of the elite protectors of the Prince's Montana ranch. As a dedicated Amoveo warrior, he is desperate to find his mate, and time is running out. He knows Tatiana is the one—but if he can't convince her, he may not be able to protect her from the evil that's rapidly closing in...
My Review
Unclaimed is the fifth installment in the Amoveo Legend Series by Sara Humphreys, and I have to say each book has claimed a piece of my heart. I have loved this series since the moment I read the first book because Sara gives you a different story about shifters. Not just wolves, cats, and such…but all kinds of shifters.
If you have not read this series, you are missing out on an opportunity on being sucked into a story about the Amoveos (who are full shifters) and hybrids (half-shifter/half-human) that are trying to make a life together. Unfortunately, the Purists are still making their life difficult. They believe Amoveos should only be with pure Amoveos and not hybrids.
In Unclaimed though, we get the story of Tatiana and Dominic. Tatiana is the strong-willed, stubborn hybrid and Dominic is the over-protective, alpha-male and they are not the usual mates. Tatiana does not want anything to do with the Amoveos ways and is only there to help with the horses at the Amoveos Prince's Montana ranch. Dominic though is going to make it difficult for the veterinarian to do her job, especially with his sexy over-bearing ways. He has his priorities too with his guardian duties, but the beautiful hybrid is going to make him want to protect her, especially with what is happening at the ranch.
Unclaimed gives you suspense on what could be happening to the Prince's wife's horses. The guardians are also on high alert when they keep picking up a Purist signature in the area but have no idea, which it is. They need to figure out what is happening before someone gets hurt or killed.
I loved every bit of this story because of how Sara makes me continuously swipe at my Kindle screen to find out what is going to happen next. Before I knew it, I was at the end of the book realizing that Sara left me hanging with certain characters. The whole time I was reading this book I ended up going through so many emotions, especially at the ending. I was not expecting that twist, but it makes me want the next book right away.
I loved Tatiana's character, primarily when she handled everything that was thrown at her. She was not your typical hybrid.
Dominic won me over the minute he was introduced, even when moments he wanted to walk away from everything. He was the perfect, sexy alpha male hero in this book and he dealt with a lot of stuff from Tatiana. He was always there though.
Another thing I adore about Sara and the Amoveo Legend series is that she makes sure to bring in the previous characters in the story. =) I love finding out what is going on with the other hybrids and Amoveos.
I give this book 5 full moons and highly recommend it to paranormal romance readers out there. Make sure you read the previous books first though. You will need to know what happened to the earlier characters and what happened to make Purists come forward.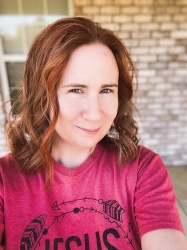 Latest posts by FranJessca
(see all)