ARC Review: 'Rush' by Joan Swan
August 28, 2013
I received a complimentary copy of the book from the author in exchange for an honest review. This does not affect my opinion of the book or the content of my review.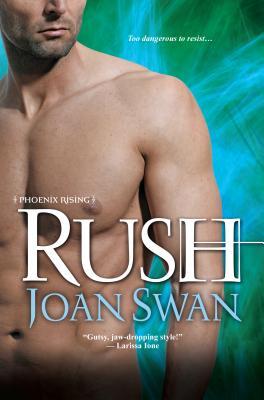 Rush
by
Joan Swan
Series:
Phoenix Rising #3
Published by
Brava
on August 27, 2013
Genres:
Paranormal Romance
Format:
ARC
Source:
the author
Goodreads
Purchase at
Amazon
|
Apple

Jessica Fury, Washington lobbyist, has money, connections, and her own firm. But five years ago she had something better: happiness. Her firefighter husband, Quaid, was handsome, courageous, and crazy about her. Then one day he walked into a chemical inferno—and never walked out. Jessica has been through hell to get back on her feet. And then a rumor surfaces that could bring a miracle or shatter her world – again.
Q has been a prisoner forever. He's honed his mind and body into weapons. He's developed abilities no one else understands. But he's still at the mercy of a cabal of ruthless men, who blank his memory, test him like a lab rat, and tell him lies. Although his past has been erased and his future looks grim, instinct tells him he has a woman to live for. What his mind can't remember, his body can't forget…
The heat is on.
My Review
Rush is the third book in the Phoenix Rising series, and it is one tearjerker from the moment I picked up the book to the minute I read the last page. Joan Swan made me break down into a bubbling baby several times in this book. I will admit it; I had to wipe my eyes and nose several times, while the hubs looked at me crazy. Jessica and Q's story was heart-wrenching.
Here it is the poor woman, Jessica, though she lost her husband, Quaid, that day in the warehouse when they were apart of a firefighting team, and now she's being told by the same people she worked for that they think Quaid is alive. They found his coin, and a bunkmate that talked to this so-called Quaid says that it is her husband and now they must find him and get him back to see for themselves if it is true.
When Jessica comes face to face with the man, who is supposed to be Quaid, she is going to find out he does not remember her at all and that he is not the same man. Jessica and her friends (who are in previous books and other characters as well) are trying to figure out what happened to Quaid, or what he knows himself by, Q. They each try to get him to remember, but he has no clue who they are.
He was forced to be experimented on by the same people, who caused every one of them, Jessica and her friends to have abilities they are still learning about for themselves. Now, they must come together and find out from the key players, who made this all happen to them, to come to justice…or at least figure out what it is else up their sleeve.
Jessica is not the easygoing character at first. She has gone through a lot, and it will take her a while to come to terms what happened, and she has been trying to forget about what her abilities are. I loved her character because she grew at the end of the book. She was not stable at first and then eventually got over her insecurities and finally accepted everything.
The minute I read Q's character, I knew it was not going to be easy for him to accept what Jessica and his former friends are saying. Every time I was reading his side of the story, I was tearing up inside. He had no recollection of his past at all, and he had no idea what he was supposed to be doing when he was with the bad guys. I felt so sorry for him and what he had gone through and kept going through in the story. I was always rooting for him to receive some of form of recollection of what happened to him and made him the way he was. He was the main reason, why I was crying like a baby. The tough guys can break you down literally.
Joan Swan did not make it easy for any of her characters in this book. Not only was Jessica and Q suffering, but their friends too were trying to come with terms with everything. I loved the banter between the characters, especially when the sexual tension came about throughout the story.
The best scene was after Jessica and Q did something together, their friends found out and made a big deal of it, while Q was clueless. He just kept stuffing his face with mango, agreeing that food is so much better after you do the deed. Have to love clueless men. LOL Poor Jessica was dealing with everyone at that moment.
What I love most about Joan and her Phoenix Rising series, is that she picks up from where it left off, but with different characters and continues with what is going on with the former firefighters. You can also tell that she did her research when writing this series and my husband even read the part when Alyssa used hypnosis on Quaid. He was amazed at how well-detailed she wrote it into the story.
I give this book 5 full moons and highly recommend it to romantic suspense readers out there.
This book will have it all, action, suspense, romance, and paranormal elements. It will make you go through a box of tissues after you read the last page too…if you are anything like I am. I still cannot get over that ending. (*tear*tear*) I loved every page of this story and now I am anxiously waiting for Mitch's story since he has intrigued me since the first book. I must know, who ends up with my favorite character. I may have to go through the book and steal him for myself. =)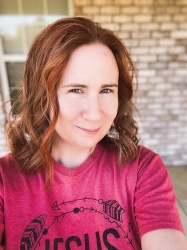 Latest posts by FranJessca
(see all)