ARC Review: 'The Boys Next Door' by Rosalie Lario
September 5, 2014
I received a complimentary copy of the book from the author in exchange for an honest review. This does not affect my opinion of the book or the content of my review.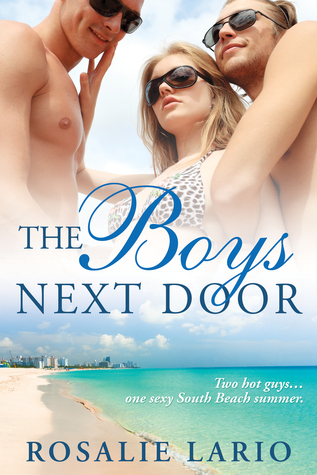 The Boys Next Door
by
Rosalie Lario
Published by
Self-Published
on September 1, 2014
Format:
eArc
Goodreads

Life just got a bit more complicated…
After a heartbreaking betrayal, Lexi Ferrell is determined to get as far away as possible from her small hometown. So when she scores a scholarship to a prestigious law school in Miami, she jumps at the chance to live right on South Beach. Sun, sand, and an endless stream of beautiful people: who could resist? But her apartment complex provides far more than she asked for…in the form of two yummy new neighbors.
Matt Eisler and Ben Santos are best friends. Nothing could tear them apart...or so they thought. But when Lexi enters their life, neither one can resist wanting to make her his own.
Torn between the hot surfer boy and his exotic Latino roommate, Lexi vows to stay away from them both. But as she soon discovers, Matt and Ben are impossible to resist. And they'll take her any way they can get her…even if it's together. Could the three of them ever make it work? Because now that she's experienced one night of unforgettable passion, the last thing she could ever do is choose between the boys next door.

I read The Boys Next Door in one sitting because I had a hard time putting it down. I'm used to reading Rosalie Lario PNR books, so I couldn't wait to read her New Adult Contemporary Romance book. First off, the setting of the story is in Florida. Yup…I'm a proud Floridian, and second, it involved one girl falling for two hot guys. =) Both guys are complete opposites, but they are best friends. Nothing could tear these best friends apart until they meet the Lexi Ferrel. Lexi has moved down to South Florida to get away from what happened to her in her hometown. She receives a scholarship to Law School in South Beach and jumps on the chance to get away from her ex-boyfriend troubles. She never thought she would end up falling for the sweet surfer boy and his bad boy player best friend. She knows she's supposed to be studying, but she can't resist these two, but she knows she can't fall for them both. She doesn't want to break up their unusual friendship.
The Boys Next Door has a lot of New Adult elements to it, where there is angst, tension, etc. There are moments of romance and sexy times. I can see why Lexi had a hard time picking between the two best friends. Each had the unique qualities that made them irresistible. Matt with his sweet, charming personality and Ben with his straight-forward bad boy personality that readers will swoon over and some readers may enjoy Ben or Matt, but in my case, I loved both just like Lexi did. Lexi went through a lot before she got to South Beach, and she deserved some happiness.
There is a lot of build-up of tension and questioning between the characters on what they are doing until Rosalie gives a HEA. If there is one thing I enjoyed most about The Boys Next Door is the different points of view. You get to read Lexi, Ben, and Matt's POV in the story to understand all aspects of what the characters are dealing with in the story. I loved being inside of Matt and Ben's heads to read how they handled the situation with Lexi. Poor Ben was dealing with the biggest struggle of it all. The Boys Next Door was short, but I was able to connect with the characters from the beginning, and the storyline kept me interested. Hence, not being able to put it down.
I will say this; I was proud of what Lexi did during a particular situation with a certain Professor she had. You Go Girl!!! =)
I give this book 5 full moons and recommend it to New Adult, Contemporary Romance readers out there.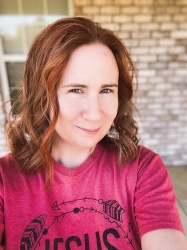 Latest posts by FranJessca
(see all)