ARC Review: 'The Good, The Bad, and The Vampire' by Sara Humphreys
January 10, 2016
I received a complimentary copy of the book from Netgalley in exchange for an honest review. This does not affect my opinion of the book or the content of my review.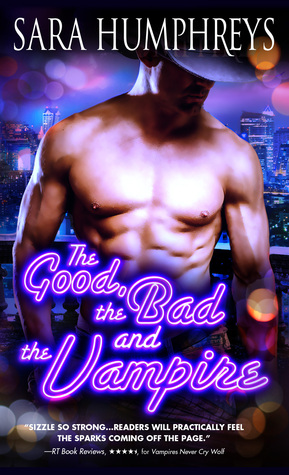 The Good, the Bad, and the Vampire
by
Sara Humphreys
Series:
Dead in the City #4
Published by
Sourcebooks Casablanca
on January 5th 2016
Goodreads
Purchase at
Amazon
|
Apple

Beloved author Sara Humphreys' acclaimed paranormal romance series continues with sweltering attraction between two vampires who have all the time in the world to satisfy their desires...
He wants eternity?Dakota Shelton is a vampire cowboy with a penchant for cinnamon lollipops and Johnny Cash. Though highly skilled and deadly dangerous to his enemies, he's still a Texas good ol' boy at heart. And he has that heart set on wooing Trixie LaRoux-the most badass punk rock chick in town-the old-fashioned way.
Over her undead body...Trixie is tough as nails and sharp as a silver stake-the last thing she wants is a man to sit on a porch and not grow old with. So it'll take going to hell and back fighting a new threat to vampires before she admits Dakota's courtship makes her blood hum. Turns out chivalry's not dead after all.
Praise for The Good, the Bad, and the Vampire...."Sara Humphreys combines vampire and cowboy into a devastatingly sexy hero! The Good, the Bad, and the Vampire is a compelling, pulse-pounding, titillating adventure that grabs you from the first page, tosses you down, and steals your breath. Humphreys is a must-read in the paranormal genre!"--NYT Bestselling Author, Rebecca Zanetti
My Review
This is one of my favorite series from Sara Humphreys because it involves vampires and NYC. Although, I will admit every series/book Sara has written has become a favorite of mine. In fact I already had this book on my kindle from Netgalley, and when I went to Barnes & Noble the other night I saw The Good, The Bad, and The Vampire on the bookshelf and had to get it. I couldn't resist the sexy cover and the book needed a home to go to. (Those are my excuses for buying the book and what I had to tell the hubs) 🙂  It's now in my bookcase with the rest of the Dead in the City series, so I can drool over them and read them over and over again.  *sigh*
I couldn't resist starting this book because it involves two opposite characters and I always love reading about opposites attracting.
– A cowboy vampire, Dakota Shelton, who works as a Sentry and is new to the New York coven.
– A  feisty punk rocker city girl, Trixie, who's a vampire that suffers from her past.
These two are complete opposites of each other, and they know it. Their personalities don't stop each other from getting to know each other, even though Trixie doesn't want to get attached to Dakota. She doesn't want what happened in her past to affect her future. She also has a secret that she doesn't want to share with the coven. Unfortunately, that secret is going to come out, when Dakota tails her one night.
Sara writes an interesting storyline in The Good, The Bad, and The Vampire because it involves another paranormal creature that was thought to be extinct. I was fascinated with how Sara introduced the paranormal creatures that are a big threat. Dakota knows them too well due to what he did to them in his past. Trixie though has never encountered them, and they are awfully close to someone she's been watching over.
The best part of the story is how the characters get to go to Texas. I loved finding out about Dakota's life before becoming a Vampire. I have to admit, whenever I was reading Dakota's dialogue I was giving him a Texas accent in my head. I couldn't help it. I loved this Cowboy Vampire. I also enjoyed finding out about Trixie's past. She went through a lot and I understood why she afraid of her future.
Be prepared for a whirlwind drama, action, mystery, and romance in the fourth book to the Dead in the City series. I give this book 5 stars and look forward to the next book even more after reading this one.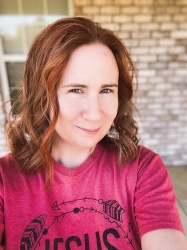 Latest posts by FranJessca
(see all)