ARC Review: 'The Summer He Came Home' by Juliana Stone
April 6, 2013
I received a complimentary copy of the book from Netgalley, the publisher in exchange for an honest review. This does not affect my opinion of the book or the content of my review.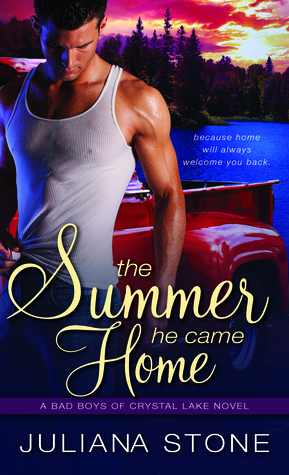 The Summer He Came Home
by
Juliana Stone
Series:
Bad Boys of Crystal Lake #1
on April 2, 2013
Genres:
Contemporary Romance
Format:
eArc
Source:
Netgalley, the publisher
Goodreads
Purchase at
Amazon
|
Apple

Sometimes the best place to find love is right back where you started…
Falling asleep in a different bed every night has made it easy for Cain Black to forget his past. It's been ten years since he packed his guitar and left Crystal Lake to chase his dreams. Now tragedy has forced him home again. And though Cain relishes the freedom of the road, one stolen moment with Maggie O'Rourke makes him wonder if he's missing out on something bigger than fame.
For Maggie—single mother and newly settled in Crystal Lake—love is a luxury she just can't afford. Sure, she appreciates the tall, dark and handsome looks of prodigal son Cain Black. But how long can she expect the notorious hellion to stay?
The last thing either of them wants is something complicated. But sometimes love has its own plans.
My Review
This book is my first book from the author, Juliana Stone and now I must check out the other books she has written because if her writing style is like this book…then I know I will have to start auto-buying her. =) I had a hard time putting down "The Summer he came Home."
Cain Black is finally back in Crystal Lake after so many years being away. He's not making a trip for reasonable terms. His best buddy, Jesse was killed in action, and he's attending his friend's funeral. Cain and his three friends, Jesse, Jake, and Mac, became the Bad Boys of Crystal Lake all because of that one incident while pulling a high school prank.
Now they are without one of their bad boys. Cain thought once he attended the funeral, he would be back on the road with his rock band and making more of his music.
He never thought he would fall for Maggie O'Rourke, who happens to be not his usual type of girl, but for some reason, he is entranced by her.
Maggie O'Rourke is not looking to hook up with anyone. She is just wanting to do her job and take care of her son while trying to stay hidden from her past. Unfortunately, the bad boy, Cain will not leave her alone and he will do anything to win her over. What he does not realize is that Maggie has her secrets she's trying to hide, and he is trying to make her know she can trust him.
I could go on and on…but I will not spoil the best parts, and I do not want to do that.
I loved both characters in the story, Cain, and Maggie because both had their dilemmas they were working through it.
Both Cain and Maggie are the complete opposite of each other, and that made me love them even more. Cain being the bad boy rocker and Maggie being the sweet and innocent mom, who will do anything for her son.
Juliana knows how to make you go through the tissues a lot in this book. You will not only cry for Maggie and what she goes through, but you will come close to the secondary characters in the story too. I want to know more about what is going on with Raine and Jake. There is something else going on then what is going on I understand it.
Can I also say…how much I adore Maggie's son, Michael. He is such a sweetie. He puts his Mom in her place several times, and he may be young, but he knows what is going on. =)
I love every bit of this story and look forward to the next book.
I give this book 4.5 full moons and highly recommend it to contemporary romance readers out there.
You will fall head over heels for Cain and his charming, sexy ways. (Oh, some of the hot things he said to Maggie made me so jealous and also the things he did for her) =)
I look forward to the next book in the series. Here's hoping it's Jake's story. =)
I received a complimentary copy of the book from Netgalley from the publisher in exchange for an honest review.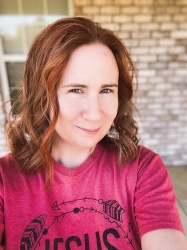 Latest posts by FranJessca
(see all)