I received this book for free from Netgalley in exchange for an honest review. This does not affect my opinion of the book or the content of my review.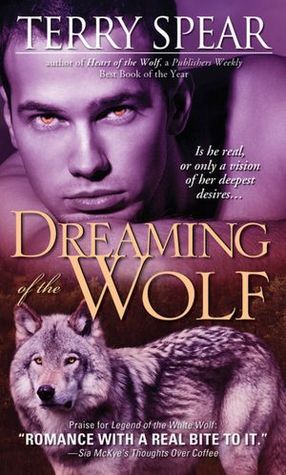 Dreaming of the Wolf
by Terry Spear
Series: Heart of the Wolf #8
Published by Sourcebooks Casablanca on December 1st 2011
Genres: Paranormal Romance
Pages: 363
Format: eArc
Source: Netgalley
Amazon | B&N
Goodreads


Book 3 in Terry Spear's Silver Town Wolf Series
A FIERCE HUNTER...Alicia Greiston is a no-nonsense bounty hunter determined to bring a ring of mobsters to justice. Her dogged pursuit of the crime family has forced her to avoid relationships- any man would only become a target for retribution. Luckily, Jake Silver is more than a man, and his instincts are telling him to stop at nothing to protect her.
AN ANIMAL PASSION...However, the mob isn't entirely human either, and soon Alicia must flee for her life. When Alicia and Jake's passion begins to spill over into their dreams, Jake learns he will have to do more than defend her- he'll have to show his mate the way of the wolf.
Silver Town Wolf Series: Destiny of the Wolf (Book 1) Wolf Fever (Book 2) Dreaming of the Wolf (Book 3) Silence of the Wolf (Book 4)A Silver Wolf Christmas (Book 5)
Praise for Wolf Forever: "Riveting and entertaining...makes one want to devour the rest of Terry Spear's books."-Fresh Fiction "Sensual, passionate, and very well written...another winnter of a story."-The Long and Short of It "A must read...the chemistry is sizzling."-RomFan Reviews "Full of nail-biting suspense, sexy scenes, and plenty of hot alphas...Spear knows how to keep her readers riveted."-Love Passion Romance
My Review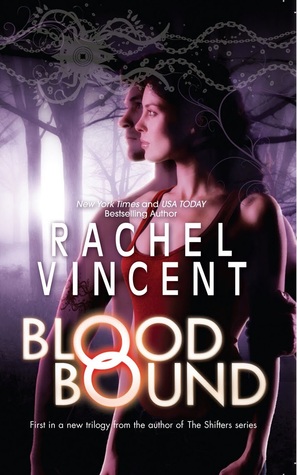 Blood Bound
by Rachel Vincent
Series: Unbound #1
Published by Mira on September 1st 2011
Genres: Paranormal Romance
Pages: 463
Format: Paperback
Source: Library
Amazon | B&N
Goodreads


Bound by blood, condemned by fate
As a bloodtracker, Liv is extremely powerful. And in a world where power is a commodity that can get you killed, Liv's learnt to survive by her own rules.
Rule number one? Trust no one.
But when a friend's daughter goes missing, Liv is bound by a potent magical oath. She can't rest until the child is safe.And that means trusting her dangerous ex, Cam.
A sinister prophecy tells that she and Cam will be the death of each other, yet Liv's tired of being a slave to destiny. She's ready to play the forces controlling her world at their own game.

No matter what the cost.

My Review
I received this book for free from the Author in exchange for an honest review. This does not affect my opinion of the book or the content of my review.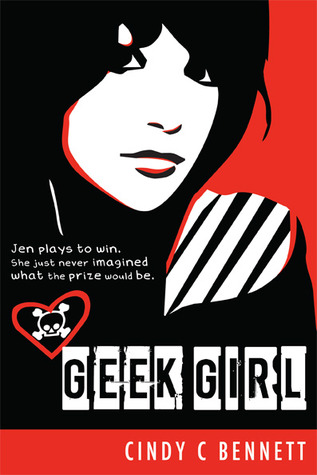 Geek Girl
by Cindy C. Bennett
Published by Cedar Fort on July 26th 2010
Genres: Young Adult
Pages: 318
Format: Paperback
Amazon | B&N
Goodreads


"Think I can turn that boy bad?" 17-year-old Jen turns her life upside down when, out of boredom, she makes a bet that she can turn school geek Trevor into someone like her. Instead, the goth girl finds herself sucked into his world of sci-fi movies, charity work, and even -ugh!- bowling. To truly belong with him -and with her new foster family- she must first come to terms with her violent past.
My Review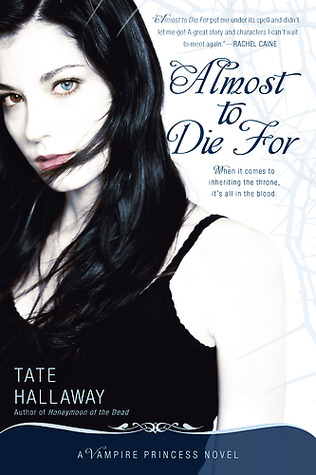 Almost to Die For
by Tate Hallaway
Series: Vampire Princess of St. Paul #1
Published by NAL on August 3rd, 2010
Pages: 241
Format: Paperback
Source: Library
Amazon | B&N
Goodreads


On her sixteenth birthday, Anastasija Parker learns that her so-called deadbeat dad is actually a vampire king. And he wants Ana to assume her rightful position at his side, in spite of the fact that she has witch's blood running through her veins - from her mother's side.
Too bad witches and vampires are mortal enemies. And now Ana's parents are at each other's throats over her future. It's up to Ana to make a choice, but deciding your eternal destiny is a pretty big deal for a girl who just wants to get through high school.
 My Review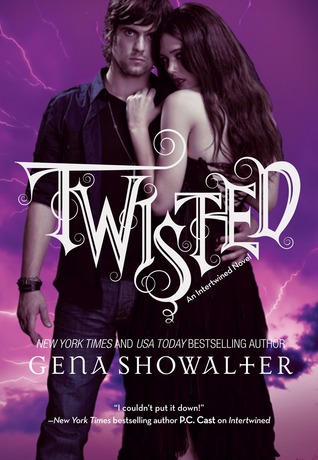 Twisted
by Gena Showalter
Series: Intertwined #3
Published by Harlequin on August 30th 2011
Pages: 564
Format: Hardcover
Source: Purchased
Amazon | B&N
Goodreads


His vampire girlfriend might have brought him back to life, but he's never felt more out of control. There's a darkness within him, something taking over; changing him. Worse, because he was meant to die, death now stalks him at every turn. Any day could be his last.
Once upon a time, the three souls trapped inside his head could have helped him. He could have protected himself. But as the darkness grows stronger, the souls grow weaker - just like his girlfriend. The more vampire Aden becomes, the more human Victoria becomes, until everything they know and love is threatened.
Life couldn't get any worse. Could it?
My Review
I received this book for free from Netgalley in exchange for an honest review. This does not affect my opinion of the book or the content of my review.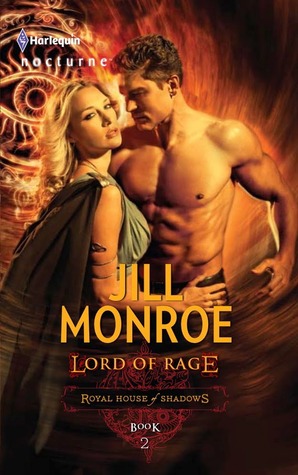 Lord of Rage
by Jill Monroe
Series: Royal House of Shadows #2
Published by Harlequin on September 20th 2011
Genres: Paranormal Romance
Pages: 282
Format: eArc
Source: Netgalley
Amazon | B&N
Goodreads


Once upon a time…the Blood Sorcerer vanquished the kingdom of Elden. To save their children, the queen scattered them to safety and the king filled them with vengeance. Only a magical timepiece connects the four royal heirs. Now they must return and save Elden…and time is running out…
Princess Breena had been dreaming of her warrior lover when she was ripped from her Elden castle and thrown into a strange, dangerous realm. Lost and alone, she prayed for survival and vengeance for her stolen kingdom. She found both in a woodland cottage…in a dark bear of a man.
The goldenhaired beauty had eaten his food and slept in his bed when Osborn found her. Though he wanted to awaken his virgin princess to carnal pleasures, Breena wanted more—including his warrior skills. Skills the oncelegendary mercenary had long buried. Now Osborn had a choice—risk his life or deny his princess her fairytale ending.
My Review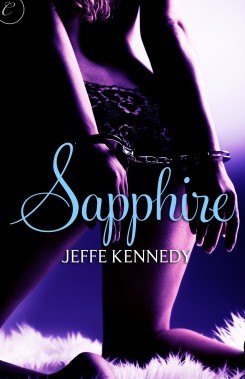 Sapphire
by Jeffe Kennedy
Series: Facets of Passion #1
Published by Carina Press on October 1st 2011
Genres: Erotic Romance
Format: eArc
Source: Netgalley
Amazon | B&N
Goodreads


A successful executive, M. Taylor Hamilton is on track with her ten-year plan. Too bad her personal life consists of hitting the gym and grocery shopping. Enter the seductive Adam Kirliss. They may have a working relationship, but everything changes at an office party when he handcuffs her to the rail of a yacht.
Taylor writes off the adventure as too much champagne, but when Adam challenges her to a date, she agrees to meet up with him. And follow his rules. They share a night of exquisite intimacy, brimming with both pain and pleasure. But afterward, fearful of losing her heart, Taylor pulls back emotionally.
Adam is determined to prove that she longs for the loss of control he can give her--and the passionate release it provides. How can he make her see that he wants her, and not just her body?
32,000 words
My Review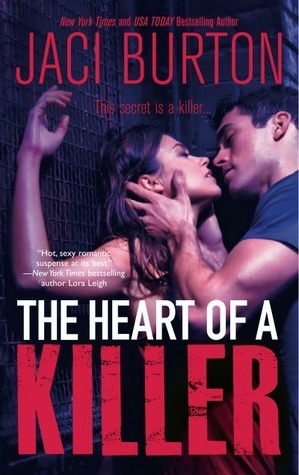 The Heart of a Killer
by Jaci Burton
Series: The Killer #1
Published by Mira Books on October 18th 2011
Genres: Romantic Suspense
Pages: 407
Format: eArc
Source: Netgalley
Amazon | B&N
Goodreads


No one said coming home would be easy. But for Dante Renaldi, it's murder.
Before the Special Forces hero has even unpacked his bags from twelve years of active duty, he's embroiled in murder—corpses bearing the brutal trademark he's seen only once before—on the worst night of his life.
The last time Detective Anna Pallino saw Dante Renaldi, they were in love. Now, he's part of the connection to a string of fresh homicides and a horrible assault that Anna only survived thanks to him.
More than anything, Anna wants to trust Dante. But as the bodies and the coincidences stack up, Anna will have to decide, and fast: Is the man she owes her life to the very same one who wants her dead?
My Review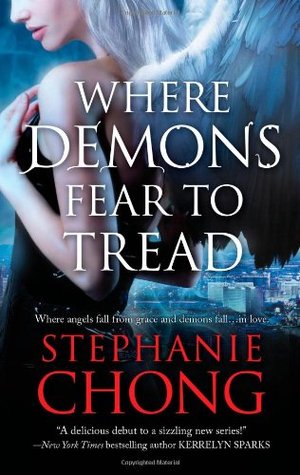 Where Demons Fear to Tread
by Stephanie Chong
Series: The Company of Angels #1
Published by Mira on August 23rd 2011
Genres: Paranormal Romance
Pages: 358
Format: Paperback
Source: Library
Amazon | B&N
Goodreads


Fledging guardian angel and yoga teacher Serena St. Clair dares to enter Devil's Paradise nightclub on a mission—to retrieve the wayward Hollywood "It Boy" she's assigned to protect. But she's ambushed by the club's owner, arch demon Julian Ascher. The most powerful demonic entity in Los Angeles, Julian is handsome as sin, a master of temptation who loves nothing more than corrupting pleasure-seeking humans. He won't release the lost soul Serena is supposed to guard. Unless she accepts his dangerous wager…....
After the disastrous way his human life ended, Julian vowed that no woman would get the better of him again. Yet this sexy-sweet angel, smelling of fresh ocean air and happiness, triggers centuries-old feelings. Now, their high-stakes game of seduction, where angels fall from grace and where demons fear to tread, will lead them either to an eternity in hell… or a deliciously hot heaven.
My Review
I received this book for free from the Author in exchange for an honest review. This does not affect my opinion of the book or the content of my review.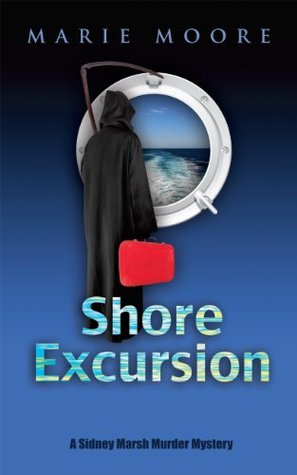 Shore Excursion
by Marie Moore
Series: Sidney Marsh Mystery #1
Published by Camel Press on January 1, 2012
Genres: Cozy Mystery
Pages: 219
Format: Paperback
Source: the Author
Amazon | B&N
Goodreads


Travel agents may be a vanishing breed, but Sidney Marsh, a New York transplant from Mississippi, is holding her ground--at least on land. She is the tour leader on a cruise through Scandinavia to Russia for a group of eccentric senior citizens who call themselves the High Steppers. Sidney expects her days to be filled with long meals, shopping expeditions and visits to museums, churches and fjords. But this cruise is anything but routine. There is a killer on board, targeting the High Steppers and quite possibly herself. After the first suspicious death, the captain and his crew are grimly determined to carry on as usual. Disgusted with their inaction, Sidney decides to take matters into her own hands and launch her own investigation. She enlists the halfhearted help of her friend and business partner, the flamboyant and fun-loving Jay Wilson. Suspects abound. What about those two handsome young men who stay mysteriously aloof? One of them has his eye on Sidney. So does another passenger, far too charming and again too young to fit the "High Stepper" mold. Then there's Captain Vargos, the arrogant ladies' man whose plans to thwart Sidney's investigation might include seduction. Who is that crew member shadowing Sidney? Is the theater really haunted? Even the High Steppers themselves are not as predictable or harmless as they seem. The closer Sydney gets to the truth, the less she understands. Shore Excursion is the first book in a new mystery series featuring amateur sleuth Sidney Marsh.
My Review