Review: 'Aces Wild' by Amanda Carlson
June 4, 2014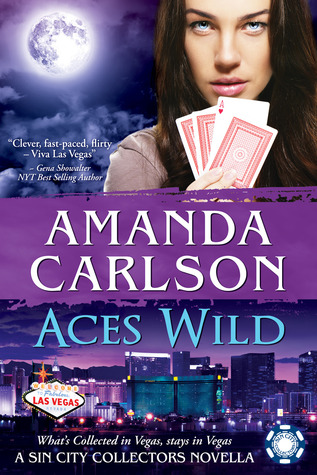 Aces Wild
by
Amanda Carlson
Series:
Sin City Collectors #1
Published by
Amanda Carlson Inc
on June 2, 2014
Genres:
Paranormal Romance
Format:
eBook
Source:
Purchased
Goodreads
Purchase at
Amazon

Welcome to Vegas. Home of the Sin City Collectors. The job description is easy: Bring the offending supernatural in to the Boss and don't ask any questions.
Nevada Hamilton has learned a few things since becoming a Sin City Collector, and staying away from vampires is one of them. After botching her first Collection, the vamp getting away after causing as much damage as possible, she hasn't been assigned to another one since.
But when she receives her next playing card, she's in for a surprise. Not only is a vampire her next target, but they've paired her up to make sure she gets the job done right. Refusing a Collection is not an option, but when she discovers who she's working with, making the mission as difficult as possible for her new partner becomes her top priority…
Being a hellhound isn't enough to protect Jake Troubadour from Nevada Hamilton, no matter how thick his skin is. Finding out he has to work with the beautiful dhampir, after not seeing her for three years, is a low blow—but Jake is a professional. He takes his Collections as seriously as he does running his bar. He'll do whatever it takes to get the job done, but after that, he's out. No more chances for the girl who wrecked his bike and scarred his soul so long ago. But even with his heart dead set against it, this hellhound quickly finds he's not immune to love after all.
What's Collected in Vegas, stays in Vegas...
My Review
Aces Wild is first novella to the Sin City Collector series and if every other book is like this one, I am already hooked. In Aces Wild, we have vampires, dhampirs, hellhounds, shifters, and witches in the city of Las Vegas…otherwise known as Sin City. Some of these supernaturals are apart of the Collectors. These collectors are told to bring in offending supernaturals to their boss without any questions. Some times though the offenders are supernaturals that Collectors don't want to collect. Like in the case of Nevada Hamilton. She doesn't want anything to do with vampires, even though she's half one. She has her reasons why she doesn't want to collect vampires and once you read Aces Wild, you'll find out why. There's another thing she doesn't want to be apart of…and that is having a partner. She ends up partnering up with Jake Troubador who happens to be a hellhound…and well she had a thing with him. She doesn't want him there to help with her latest collection even though, she's going to need his help more than ever in this one. These two have a lot of tension between each other. ( I mean whole A LOT!!)
Amanda did an amazing job with character development and world-building in such a short novella. The action alone will have you turning the pages, at least that is what my excuse is. The minute I started reading I knew I would have a hard time putting it down. Let's not forget to mention the drama that happens, when the truth comes to light on why Nevada was chosen to collect this one particular offender. I also want to mention that there is some very steamy moments between the characters…oh boy…very steamy! (I need a cold shower kind of steamy moments)
It's nothing new that Amanda Carlson is one of my favorite Urban Fantasy Authors and in Aces Wild she did an amazing job in the PNR genre. I fell in love with the characters and the Sin City Collector storyline. I look forward to reading the next installments even more after reading the first novella in the series. Amanda did a kickass job on starting the series off and I want more from this series already!!!!
I give this book 5 full moons and highly recommend it to PNR readers out there. Need something quick to read this summer or right before bedtime, this is the novella for you.
The next novella in the series comes out next month…and I will definitely be reading it as soon as it comes out. =)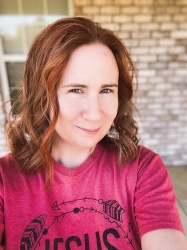 Latest posts by FranJessca
(see all)