Review: 'The Defender' by Adrienne Giordano
June 2, 2014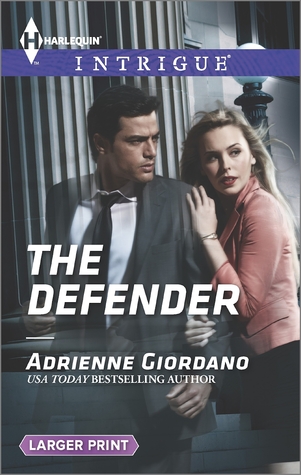 The Defender
by
Adrienne Giordano
Published by
Harlequin
on June 1, 2014
Genres:
Romantic Suspense
Format:
ARC
Goodreads
Purchase at
Amazon

A TOUGH-AS-NAILS FBI SPECIAL AGENT AND A STUNNING BLONDE ATTORNEY WITH SOMETHING TO PROVE JOIN FORCES IN THE DEFENDER.
By all accounts Penny Hennings was the sort of woman FBI special agent Russell Voight went for. Smart, sexy and with just enough sass to keep him honest. Then she went sticking her nose in undercover FBI business. He knew her legal reputation would skyrocket if she won this case. But every move she makes undoes all the work Russell's put into taking down the city's biggest crooks. And the criminals they're after will do anything to avoid the witness stand—including kill. So it's time to pool their resources and collaborate. Even if working together every day takes them late into the night…and into the line of fire.
My Review
The Defender by Adrienne Giordano is a fast-paced romantic suspense novel that will keep your heart pounding and hands sweating to figure out what is going to happen next to the characters.
If there is one thing I enjoyed most about this book is how Adrienne kept me on my toes with the characters in the story. She kept me on the edge of my seat, to find out if the characters would ever get the bad guy and get their justice finally on what was occurring.
The Defender was my first book from Adrienne Giordano and the minute I started reading chapter one, I knew I was going to have a hard time putting down this book. Let's just say Adrienne opens up the book with a heart pounding scene. From the beginning to the very end, it was a book that was full of action and suspense.
The characters alone made the story interesting due to Penny Hennings being a defense lawyer who happens to be very strong-willed and stubborn. She always wins cases and ends up going up against a FBI agent, who ends up saving her life and protecting her from a man that wants her current client. Did I mention Penny is stubborn…yeah…she kind of drove me crazy with her stubbornness, but the woman definitely handled certain situations very well. She just drove me crazy with the big situation that was happening in the book. Ugh!
Russell Voight was my favorite character in the story. He was your typical alpha special agent male, but he knew how to handle Penny. He was able to deal with even her fiasco at the end because the man definitely adored her from the beginning. Sometimes I questioned his adoration of her…but they were definitely perfect for each other.
I give this book 4 full moons and highly recommend it to romantic suspense readers out there. I'm going to go back and read The Prosecutor because I want to read Penny's brother's story, Zac. He seemed to be a very interesting character as well. I look forward to reading way more books from Adrienne Giordano in the future. =)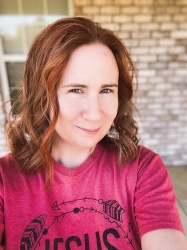 Latest posts by FranJessca
(see all)