Review: 'ASMODEUS – Demon of Lust Part 1' by Sara Humphreys
July 28, 2013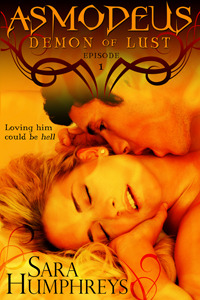 ASMODEUS: Demon of Lust Part 1
by
Sara Humphreys
Series:
Princes of Hell #1
Published by
Sara Humphreys
on June 25, 2013
Genres:
Paranormal Romance
Format:
eBook
Source:
Purchased
Goodreads

A hot new serialized novel by author Sara Humphreys.
When Kai Kelly inherits her estranged grandfather's estate in Bliss, Idaho, life becomes anything but blissful. The discovery of a beautiful but unusual ring in the attic, leads to much more than she bargained for. Kai may not realize what she has in her possession, but the boys in Hell sure got the message.Lucifer and the six other princes of Hell, existed for several millennium believing that the Ring of Solomon–an object with the power to control demons– had been destroyed. However, the moment Kai slips the ring on her finger, the tremor of it's power ripples through the underworld.Knowing the ring's existence could mean the destruction of all demons, Lucifer sends his six princes to earth in search of the ring and it's bearer. There's one catch, a demon can't take the ring from it's owner, it has to be given willingly…or they have to be dead.Asmodeus, the Demon of Lust, is happy to have another opportunity to visit the mortal world and dally with a human female…or twelve. However, when he arrives on earth, he realizes Lucifer made all the demons mortal in an effort to keep them motivated, focused on their mission and immune from the powers of the ring.When Asmodeus meets Kai along a deserted section of highway in Magic Valley, it's more than the ring she wears that catches his eye. He plans to woo the ring out from under her but before long, the lines between lust and love blur.When the other members of the brotherhood realize Asmodeus has found the ring, they descend on Bliss, determined to get the ring from Kai at any cost.When Asmodeus is faced with choosing between the brotherhood and his one true love, he realizes the battle for Hell is nothing compared to the battle for her heart.
My Review
Serialized novels are my new addiction. I rather pay $0.99 for 75 pages for a few ebooks that lead up to the very last book…instead of paying $12.99+ for an ebook that some publishers are doing now (some of the ebooks are even more than the print copy of the book). Plus, serialized novels, make you want more after you read each short novel. (They also come out pretty quickly which is always a plus for me)
Sara Humphreys takes us into the world of the Princes of Hell in her first serialized novels of Asmodeus aka the Demon of Lust. Sara did a fabulous job introducing Asmodeus and the other Princes of Hell. So far Asmodeus is the one, who has intrigued me the most with his way of trying to win over someone. He is the Demon of Lust, but Kai Kelly, the one he is supposed to seduce can resist him. Any gal, who can resist the Demon of Lust gets major props.
Asmodeus is a character, who will win over any reader due to his charm and sexy ways. He helped Kai in this book with what she needed to be done at her Grandfather's house that she inherited. Asmodeus did have a secret agenda to helping Kai, but in the end, he won me over with that charm of his.
I will not go into describing the book any further because like I said in the beginning its a very short novel and I will be spoiling it for anyone, who wants to read it. I am one of those, who hate spoilers in reviews. If you are a fan of Sara Humphrey's other novels, you will enjoy Asmodeus tremendously. If you have never read any of her novels before then what are you waiting for? Here's your chance.
I definitely enjoyed this first short novella of Asmodeus and look forward to reading the rest of the short novels soon. It kept me entertained at every page and I was addicted to Asmodeus's character as soon as he was introduced. I give this book 5 full moons and highly recommend it to readers of the paranormal romance genre.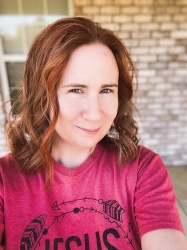 Latest posts by FranJessca
(see all)