Review: 'Deep' by Kylie Scott
April 3, 2015
I received a complimentary copy of the book from the publisher in exchange for an honest review. This does not affect my opinion of the book or the content of my review.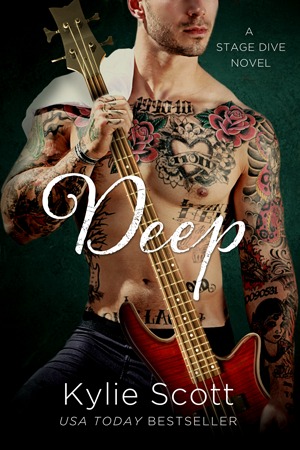 Deep
by
Kylie Scott
Series:
Stage Dive #4
Published by
St. Martin's Griffin
on March 31st 2015
Genres:
Contemporary Romance
Format:
eArc
Source:
the publisher
Goodreads
Purchase at
Amazon
|
Apple

Don't miss a beat with the fourth and final novel in the USA Today bestselling Stage Dive series from Kylie Scott.
Positive. With two little lines on a pregnancy test, everything in Lizzy Rollins' ordinary life is about to change forever. And all because of one big mistake in Vegas with Ben Nicholson, the irresistibly sexy bass player for Stage Dive. So what if Ben's the only man she's ever met who can make her feel completely safe, cherished, and out of control with desire at the same time? Lizzy knows the gorgeous rock star isn't looking for anything more permanent than a good time, no matter how much she wishes differently.
Ben knows Lizzy is off limits. Completely and utterly. She's his best friend's little sister now, and no matter how hot the chemistry is between them, no matter how sweet and sexy she is, he's not going to go there. But when Ben is forced to keep the one girl he's always had a weakness for out of trouble in Sin City, he quickly learns that what happens in Vegas, doesn't always stay there. Now he and Lizzie are connected in the deepest way possible... but will it lead to a connection of the heart?
My Review:
Deep is the fourth and final book in Kylie Scott's Stage Dive series and she ended the series with a bang with Ben's story. Ben is the bass player of Stage Dive, and he's known as the type that doesn't do relationships and will never really settle down. Unfortunately, his world is about to change with a one night stand.
Lizzy has been fascinated with the sexy, tall, bearded bass player since the moment she met the band, but Ben only wants to be friends. He has reasons on why he wants to be just friends, and that reason is Mal. (Oh boy Mal doesn't make it easy for Ben in this story) Lizzy tries everything to gain his attention, but he's been hardheaded and stubborn until a trip to Las Vegas changes everything.
Lizzy and Ben's world is going to turn a 360 with one single test that could bring them together or separate them further. It's definitely up to them to decide which one it will. Or in the case of reading Deep, you'll realize it's actually up to the one sexy tattooed bass player to determine their future. (Ben you were a jerk at times with deciding your future)
Ben is the hard-headed stubborn rockstar of Stage Dive. The man can't make decisions on what he wants really, but he knows how to piss off Lizzy constantly. I felt for Lizzy in the story because here it is, she wants his attention and to show him how much she cares about him. Unfortunately, Ben is too scared to do anything. I could've throttled the man at times for Lizzy. Lizzy had a vast support system with the other Stage Dive members and I truly enjoyed having all the rest of Stage Dive and their girls in Deep. I enjoyed reading more of Mal. (He will always be a favorite of mine). He's crazy humor, and downright straightforward personality makes him irresistible and SEXY! Anne is one lucky woman!
Kylie writes the story by starting in present time and then going back to when Ben and Lizzy hooked up. This made the story flow very well, and I wanted to find out how these two finally hooked up. Poor Lizzy though throughout the story had to deal with so much.
She even knew how to handle Ben's obnoxious crazy sister. (You'll want to hurt her when she is coming forward in the story.)
In the end, Deep was a fantastic ending to a very addicting series that I plan on reading again. I'm sad that Stage Dive has come to an end, but I know Kylie is writing another series I know I will enjoy too. She's one author I automatically always buy her books because I know she'll write some addicting characters that I will adore, and unforgettable stories that will require being read again and again.
I give this book 4.5 stars and highly recommend it to readers that enjoy rock star romance books. Just be warned Mal is MINE!  Yup…he won me over since the beginning, and he'll always be unforgettable. =)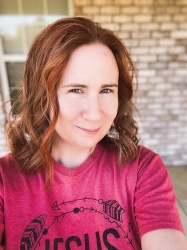 Latest posts by FranJessca
(see all)