Review: 'Deadtown' by @NancyHolzner
April 11, 2015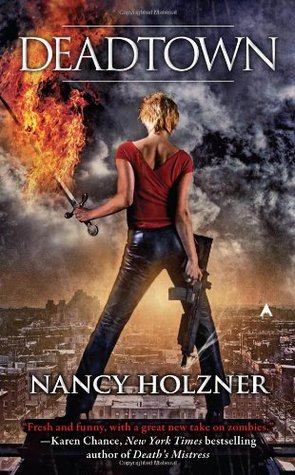 Deadtown
by
Nancy Holzner
Series:
Deadtown #1
Published by
Ace
on December 29th 2009
Genres:
Urban Fantasy
Format:
Paperback
Source:
Purchased
Goodreads
Purchase at
Amazon
|
Apple

If you were undead, you'd be home by now...
They call it Deadtown: the city's quarantined section for its inhuman and undead residents. Most humans stay far from its borders-but Victory Vaughn, Boston's only professional demon slayer, isn't exactly human.
My Review:
I've actually wanted to post this review for a while now, but life has definitely gotten in the way. I finished this book last month, when I was heading to Texas with my husband. I'm now waiting for some more free time to start the second book in the series because I thoroughly enjoyed the first book in the Deadtown series by Nancy Holzner.
I had the pleasure of meeting Nancy at the Coastal Magic Convention this past February, and after sitting down with Nancy at the Author/Blogger Speed Dating event I was anxious to buy/read the Deadtown series.  I actually bought the first 5 in the series at the convention and had them signed by Nancy.  Yup…she sold me on her series.  =)
I've always loved the UF genre due to the kick ass hero/heroine that takes stage in the book, the amazing world-building, and the addicting story lines for each book with the same characters. UF is the genre that helps me get out of reading funks and Nancy's Deadtown definitely helped me get out of a slump I was having. In fact the moment I started Deadtown I was on the edge of my seat with the first scene in the book until the very end. I loved how Nancy introduced the main character Victory Vaughn and what she is dealing with in Boston. Boston is definitely not your normal city in Deadtown.
Here Victory is dealing with demons that inhabit Boston…especially in people's nightmares that end up killing them. She's the best of the best when it comes to slaying demons, but she's about to meet her match in Deadtown. The one demon that ruined her life is back and she must face it by herself.
A little background of Boston without giving too much away. Supernaturals are not really welcome in the world, but due to what happened in Boston, supernaturals are coming forward to gain some rights in the world. Unfortunately, there are some humans that don't want that at all. Victory is in the middle of it at all due to what she is. She's a shifter, but she's a special kind of shifter that humans want to find out more about. She'll do anything to just go her job, but when things hit close at home…she will do anything to protect her family.
There are certain things in the book that irked me, but believe me the craziness that Victory had to endure in the book kept me from being too irked. One of the moments is with Victory's so-called Beau, Kane.  Grrrr! He got on my nerves and I'm glad what happened towards the end.
I could go on and on how much I enjoyed this book though…but I must make some time to read the next book.
I look forward to reading the next in the series as soon as some of the projects at my work are taken care of. I need more of Deadtown and its inhabitants.
I give this book 4.5 stars and highly recommend it to Urban Fantasy readers out there. Believe me if you enjoy books with zombies, shifters, demons, and many other supernatural beings…you'll want to read this book/series. I needed a book full of other supernatural creatures with a kick-butt storyline and I got it from this book.
Oh…and I hope to meet Nancy again and tell her in person how much I'm enjoying her books.  I'm so glad I made her day, when I bought ALL five of her books at the Convention. She made my day when she described her series to me because I knew I found another addicting series to read.  =)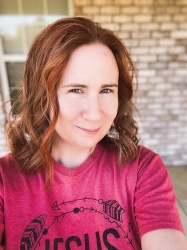 Latest posts by FranJessca
(see all)