Review: 'Forsaken' by Kristen Day
September 17, 2012
I received a complimentary copy of the book from the blog tour host in exchange for an honest review. This does not affect my opinion of the book or the content of my review.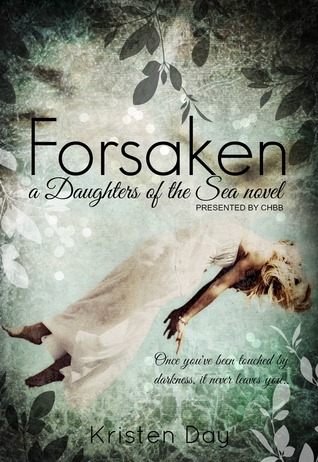 Forsaken
by
Kristen Day
Series:
Daughters of the Sea #1
Published by
Crushing Hearts and Black Butterfly
on July 18th 2012
Genres:
Young Adult Fantasy
Format:
eBook
Goodreads
Purchase at
Amazon

Once you've been touched by darkness, it never leaves you… Abandoned by her parents as an infant; seventeen year old Hannah spent her childhood wading through countless foster families until being adopted by the Whitmans three years ago. Unfortunately, Atlanta's high society wasn't quite ready for Hannah…or the strange events that plague her
Chilling visions of murder, unexplained hallucinations, and a dark, mysterious guy who haunts her nightmares all culminate to set in motion a journey of self-discovery that will challenge everything she's ever believed; not to mention her sanity. Sent to live at The House of Lorelei on Bald Head Island, NC for 'kids like her', Hannah quickly realizes things are not what they seem. Her fellow 'disturbed' teens are actually the descendants of mythical Sea Gods and Goddesses. And so is she. But when Finn, the ghost from her dreams, appears in the flesh; her nightmares become reality and her dark visions begin coming true. Inexplicably drawn to him, she can't deny the dangerous hold he has on her heart. The deadly secrets he harbors will ultimately test her courage and push the boundaries of her love. She must decide if she is ready to embrace the ancient legend she is prophesized to be a part of. The fate of all the descendants will forever depend upon it.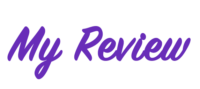 I received a complimentary copy of "Forsaken: A Daughter of the sea Novel" in exchange for an honest review for the Blog Tour back in 2012 with YANR (now known as Mark My Words Book Publicity)
Every once in a while I find myself diving into a book that takes me away from the paranormal romance genre or erotica genre. There are just some days I need a break and when I read the description of "Forsaken," I knew it was a book I was going to enjoy reading. These are the kind of books; I would dive into as a pre-teen or teen to get away from the drama of homework. (Yes I said drama…because homework was crazy and still is today)
Forsaken is about a girl, Hannah, who was orphaned as an infant and forced to go through several foster families until one family finally adopted her. Hannah has never felt like she belonged into the high society of her adopted family and certain events have started to happen to her lately. Her adopted-mother is making her see several doctors find out why Hannah is having blackouts and acting strangely. She even swears that this one guy in her nightmares keeps re-appearing and warning her about certain things. One day though, she is forced to see a doctor that may know what is going on with Hannah. Hannah then is told to go away to a boarding school which she will fit in at more comfortably.
When Hannah is sent to The House of Lorelei, she never fathomed that the guy in her nightmares was real and he saves her on the first day at the House of Lorelei. She also never believed that her nightmares were coming true.
While Hannah is there, she starts to realize that the House Of Lorelei is very special, and so are the people who go there, including her.
Hannah is about to find out what happened to her birth parents and what is going on with her. With the help of her new friends and the guy in her nightmares, she will learn the truth of what she is supposed to do from now on. She will also have to survive because in one of her nightmares she knows someone is out to get her.
My thoughts on Forsaken is that it was a delightful read. I had a hard time putting it down.
Well, it did only take me one day to read, that alone should tell you something. =)
I have always been a fan of mythology, and this book dived into it a bit with several twists. Kristen Day explains what is going on very well and the story of what happened to Hannah and her parents. I love her take on the sea gods and goddesses and the differences of each of the students and where they fell underneath.
This book is full of mystery, love, and action that will make you want more after reading it. Kristen Day's writing is fabulous, and I cannot wait to see what happens next with the characters. I mean she did leave me hanging at the end, which was a doozy.
My favorite scene is when Hannah goes to the dance. (sorry not giving it away) Let's say; I was happy for her. =) (I was even pondering what was unique with her date, Finn)
I recommend this book to anyone who loves the young adult genre and loves mythology. This is a definite read you will enjoy.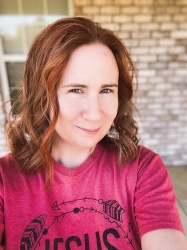 Latest posts by FranJessca
(see all)