Review: 'Just for Now' by Rosalind James
I received a complimentary copy of the book from the Blog Tour Host in exchange for an honest review. This does not affect my opinion of the book or the content of my review.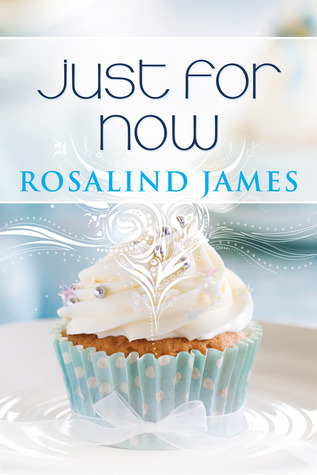 Just for Now
by
Rosalind James
Series:
Escape to New Zealand #3
Published by
Rosalind James
on January 1, 2013
Genres:
Contemporary Romance
Pages:
310
Format:
eArc
Source:
Blog Tour Host
Amazon Kindle
|
Amazon Paperback
Goodreads

There's no place like home . . .
For teacher Jenna McKnight, nothing spells "heartbreak" like finding her husband with somebody else--in her bed. It's clearly time to reinvent herself. A new body, a new city, and a new job later, she's done just that. The beautiful Auckland villa isn't really her home, though. Finn Douglas and his kids aren't really her family, however much she wishes they were. And playing house can be a dangerous game.
Rugby star Finn Douglas is just looking for a temporary nanny and housekeeper. Not a girlfriend, and definitely not a wife. He can't resist Jenna's cooking, it's true. Who knew he'd have so much trouble resisting her? He wants to do what's right for his kids. But waiting is so hard . . .
My Review
I am officially making it known now how much I want to move to New Zealand after reading this book and the first two to the Escape to New Zealand series.  Rosalind James makes me want to pack my bags today and catch a flight to this dreamy, exotic country that I have to eventually visit or maybe live one day.  I already told my hubby it is my goal to see New Zealand.
I am loving every Escape to New Zealand book so far and I cannot wait to read the 4th book.
Jenna McKnight has dealt with a severe heartbreak before when she though the man she married loved her and wanted to spend the rest of his life with her.  Until one day she comes home from a meeting that was cancelled and finds out the truth about her husband and why he is never with her.  She decides to drop everything and leave so she can finally make something up herself.  She did end up leaving the states because of her husband and she never wants to move back since she has no one there.  Instead, she answers an advert to take up nanny duties until she takes up teaching again.  She never though she would become the nanny of two children that she already knew and help out the vice-captain of the All Blacks team, Finn Douglas.
Finn Douglas needs a nanny temporarily while his original nanny he hired is away taking care of family.  He ends up hiring Jenna, which he had a bad impression with at first, but decides to give her a go.  Of course his friends are making it difficult since they find Jenna being irrestible, especially when she cooks very well and Finn's kids already adore her.
It is going to be a challenge for both Fin and Jenna to keep their emotions from going haywire…and eventually those feelings are going to be hard to resist.
This definitely was an emotional book out of the other two.  I literally was in tears toward the end. Both Finn and Jenna had their pasts that kept them from getting involved fully.  When the truth came about for both of them, they realized they had suffered pretty much the same thing.  Finn just wanted to do what was right for his kids and Jenna felt the same way.  She did not want to become too attached, but it was kind of hard due to having two kids, Sophie and Harry that admired you from day one.
Rosalind definitely knows how to make me fall in love with characters.  I loved how Jenna and Finn finally got together and how much Finn helped Jenna get over what happened to her.  Jenna even helped Finn get over his issues.
This will probably be my 2nd favorite of the books so far, until I probably read the 4th one and then I'll have an even harder time deciding which is my all time favorite.
I definitely recommend this book as well as the first two books to contemporary romance readers and also readers who enjoy sports.  You will definitely learn a lot about rugby from these books, as well as New Zealand and its cultures.
I even enjoyed this book because it had recipes from what Jenna actually cooked in the back of the book that I will definitely be trying out.  This book made me very hungry while reading it as well.
Looking forward to the next book in the series.  I need more of New Zealand and what it has to offer.  =)



I guess I should type a bio here. I'm FranJessca or Fran for short. I'm the owner of Book Lovin' Mamas and main Reviewer. I've been reviewing books since I got out of the Navy in 2011. Now 8 years later, I'm still reviewing, but this time with my youngest sidekick.
When I'm not reading and reviewing, you can find me at my day job during the week and on the weekend taking care of our little farm.

Latest posts by FranJessca (see all)