Review: 'Rush Into You' by Brianna Lee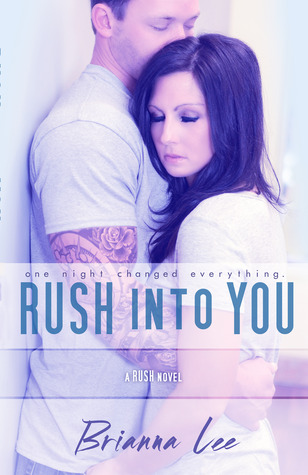 Rush Into You
by
Brianna Lee
Series:
Rush #1
Published by
Self-Published
on May 6, 2014
Genres:
New Adult
Pages:
310
Format:
eArc
Source:
Blog Tour Host
Amazon Kindle
Goodreads

I had it all.
I was captain of the cheerleading squad and star of the debate team.I was smart and popular and living the dream.
Until that night. That one fateful night changed everything.
Now everyone hates me—everyone.They stay far away. It's safer.
Drugs numb the pain, and sex pays for the drugs.Being alive is my punishment.
Then I meet him. Ryker Rosse.Tattoos, sinful body…and his eyes. His eyes are irresistible. He is captivating. He treats me with respect. He sees me.
Ryker brings happiness into my life of regret, but I don't know if I deserve happiness. Some mistakes can never be forgiven.Or can they?
My Review
Rush Into You is Brianna Lee's debut novel and it definitely made my emotions go haywire, especially with the constant moments of holding back tears during certain scenes. (I'm still sobbing thinking about those particular scenes)
Brianna's writing style is very descriptive and emotional, specifically with going into detail with what the main character, Gabby endured with her addiction problem and her emotional state.  I've only known a few authors that made me feel the emotions of the characters and actually feel like I was there witnessing what the character was going through.  Brianna is one of those authors.  My previous Creative Writing professor would be giving this book an A+ on how well detailed each scene was and how the characters reactions were.  (Not only Gabby)
Brianna made me feel for Gabby immediately, even in the prologue.  Brianna starts off Gabby's story with a heart wrenching scene that continues to haunt her, then she immediately gives us the hardship of what the past did to her.  Gabby needed a someone to see the good in her though, specifically with what happens to her in the first couple of chapters.  Ryker is introduced in the story and I would classify him as the knight in shining armor riding in with a white horse.  He came in Gabby's life for a reason and I immediately fell for him…just like Gabby fell for him.  He's the tattooed sexy bad boy that rides a Harley during the day and races a Ducati at night illegally. He's such a sweetie though with a kind heart.  (One scene with his niece…yup…instant attraction.  I adored how he was there for his niece.) Here it is Ryker doesn't care what Gabby did in the past.  He just wants her to open up to him, but she refuses.
And that is something that bothered me about Gabby from the beginning.  She keeps everything inside without sharing what she went through.  She hasn't properly grieved with what happened in the past.  She shuts it all off.   She even tries to keep this secret from Ryker, even after he comes back into her life a year after an incident that he was there to help her.  Ryker though…doesn't push her.  He just wants to make her happy and try to get her to realize she's a good person no matter what she did.  Again…I love him!
Let me just say, some people may be bothered with what Gabby did.  I was at first until the very end when Gabby tells how she feels.  I'm not one person to condone what Gabby did, and what she did to try to get through it all.  When she finally opens up at the end with Ryker and every one else that she needed to open up to…I felt for the poor girl.  She didn't mean for it to happen and it has affected her for years.  It takes a stranger…Ryker…to open her up and show her happiness.  She really needed that happiness. Brianna doesn't make it easy with the drama towards the end of the story and even in the middle for Gabby.  Happiness did not come easy for the poor girl.  =(
Brianna does an amazing job on her debut novel and the first in her Rush series.  I look forward to reading the next books in the series, which will be different couples.  I definitely found another author I need to keep up with now, and her future books automatically have gone on my automatic buy-list.
I give this book 4 full moons and recommend it to new adult readers out there.  I do warn you…certain scenes may be graphic and very emotional.  You may feel angry at times and at other times happy.  But…be prepared for a ride inside a young woman's head who has been through hell and is trying to better her life and still deal with her demons.  Her guardian angel/knight helps her though.  ****Oh…before I forget another thing about Ryker…involving the bedroom…one word…HOT!!!****  (Brianna definitely put in some very steamy scenes with the characters.  Gabby is definitely a lucky gal.)


I guess I should type a bio here. I'm FranJessca or Fran for short. I'm the owner of Book Lovin' Mamas and main Reviewer. I've been reviewing books since I got out of the Navy in 2011. Now 8 years later, I'm still reviewing, but this time with my youngest sidekick.
When I'm not reading and reviewing, you can find me at my day job during the week and on the weekend taking care of our little farm.

Latest posts by FranJessca (see all)