Review: 'The Dragon Finds Forever' by Kristen Painter
February 25, 2017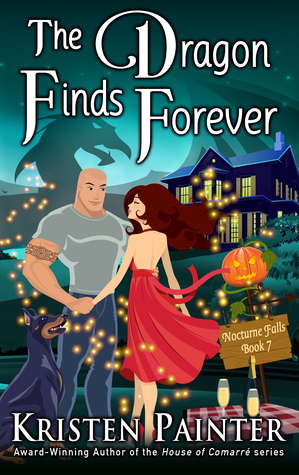 The Dragon Finds Forever
by
Kristen Painter
Series:
Nocturne Falls #7
Published by
Sugar Skull Books
on February 21, 2017
Genres:
Paranormal Romance
Format:
eArc
Goodreads
Purchase at
Amazon
|
Barnes & Noble

Welcome to Nocturne Falls, the town that celebrates Halloween 365 days a year.
The tourists think it's all a show: the vampires, the werewolves, the witches, the occasional gargoyle flying through the sky. But the supernaturals populating the town know better.
Living in Nocturne Falls means being yourself. Fangs, fur, and all.
Monalisa Devlin is a Will O' The Wisp, a rare and potentially dangerous creature. Unfortunately, her greedy father makes sure she lives up to that potential. Monalisa is magically compelled to obey her father's evil commands--until he finally agrees to free her in exchange for one, last mission: Travel to Nocturne Falls and use her powers to force Ivan Tsvetkov back into the ring.
Once a champion on the supernatural MMA circuit, Ivan 'The Hammer' Tsvetkov retired after a devastating injury that left him unable to shift into his dragon form. Wounded and embittered, Ivan wants nothing more than to be left alone. Until an infuriating, stubborn, delicately beautiful stranger shows up on his doorstep and demands that he rebuild his life.
Posing as a rehab therapist seemed like the easiest way to get close to the smoldering recluse, but Monalisa quickly realizes that nothing about this mission is going to be easy. To gain his trust, she shares more of herself than she ever has before, and as their connection deepens, so does the weight of her secrets. She thought she was willing to do whatever it took to win her independence...but when her deception blows up in her face, will Monalisa discover that the loss of Ivan's heart is too high a price to pay? Or will their love rise from the ashes to burn stronger than ever?
---
The Dragon Finds Forever has become a favorite of the Nocturne Falls series after reading it. If you haven't dived into the Nocturne Falls series yet, you're definitely missing out on a fascinating town and its amazing characters that Kristen Painter has created.
Some things I really enjoyed about the seventh book in the series.
Getting to know dragon shifter/MMA fighter Ivan "The Hammer" Tsvetkov
Getting to know my first ever Will O'The Wisp character who has such a pretty name, Monalisa Devlin.
The storyline of a so-called rehab therapist and MMA fighter falling for each other
The crazy family drama that Monalisa deals with in the story
The secondary characters that I know so well and love in this story, Pandora, Willa, Bridgette, Jayne Frost, etc.
I could go on and on with what I really enjoyed about the 7th book, but I don't want to give anything away. The synopsis alone had me intrigued with the storyline and characters that Kristen came up with for Ivan and Monalisa's story. Ivan is such a sexy protective dragon shifter, who I wouldn't want to piss off, especially when it comes to his friends and now Monalisa. Monalisa is strong female character who only wants her freedom and goes through a lot in the book, especially when she starts falling for Ivan (her mission that her father gave to her).
Like, I said I could go on and on about this story and Ivan and Monalisa. All I'm going to say is that if you haven't dived into the Nocturne Falls series you are missing out. Kristen Painters makes me wish Nocturne Falls and its characters were really real. I would definitely move out of the country to live in a close knit Halloween town like Nocturne Falls in a heart bit. My hubs would think I was crazy, but my daughters would gladly move to a town full of supernatural creatures that celebrate Halloween year-around. It is one of there favorite holidays.
I give this book 5 stars and can't wait to read the next book in the series. I'm hoping a certain character that I met in Las Vegas in this book gets his own book because he was interesting in The Dragon Finds Forever, especially since he was able to spar with Ivan.

This post contains affiliate links you can use to purchase the book. If you buy the book using that link, I will receive a small commission from the sale. It will help sponsor future giveaways but costs you nothing extra. You can read the full disclosure underneath the Privacy Policy.
---
---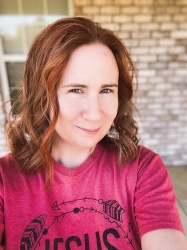 Latest posts by FranJessca
(see all)